Graham Reid | | 2 min read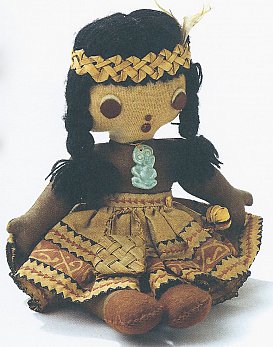 Although many of our toys were produced in factories, others came from the backyard shed and the kitchen table: trolleys, tin canoes, dolls' houses, dolls' clothes, soft toys, made by cash- or import-strapped parents or by children themselves.
In a world where basic sewing, woodwork and metalwork skills were taught, toys could be homemade, although they were not always the wholesome things parents and teachers were expecting: shanghais and cracker pistols sneaked through the classroom and out into the world.
Toys are the products of the the society that makes them. The traditional toys of my childhood – trains, trucks, cars and soldier, dolls, doll's houses and play kitchens – reflected a time when gender roles were more rigid and facilitated the acting out of the grown-up worlds of motherhood, work and warfare.
Today, when Japanese popular culture has joined with American toy companies, the worlds of play are infinite.
Why be an imaginary housewife or train driver when shows like Power Rangers, Transformers and ThunderCats provide the framework for play at another level, play in imaginary places where most adults have never been?
Attempting to unravel how children use toys is a fascinating and difficult task. Are toys a fantasy version of the adult world or something different and unexpected?
Why, for example, do some girls describe a favourite game with the pink icon of consumerism as "Barbie torture"?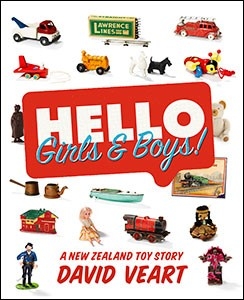 As I was writing this book, and as I spent time with toy makers and collectors' groups, I realised that in the 21st century something else was happening, something not seen here in over 200 years.
Maori stories involving toys do not speak only of children: kites, tops and stilts were often in the hands of adults, and powerful adults at that.
Now we are seeing this pattern again.
In the Fifties, the Customs Department may have been confident enough to define toys as things used by children, but these days kites, jigsaw puzzles, dolls, toy trains and soldiers are made specifically for adult customers.
Once again toys entertain us all, adults and children –a return to a time when everyone played.
-- from the introduction to Hello Girls and Boys! A New Zealand Toy Story by David Veart (AUP, $65)
David Veart worked as a Department of Conservation historian and archeologist for over 25 years and is an expert on historic and significant Auckland landmarks. His previous books include First Catch Your Weka; A Story of New Zealand Cooking (finalist in the history category at the Montana Book Awards in 2009) and Digging Up the Past: Archeology for the Young and Curious (finalist in the non-fiction section of the 2011 New Zealand Post Children's Book Awards). He was a recipient of the CLNZ Writers Award in 20102 which allowed him to work on this book.
He is now a full time writer.
Other Voices Other Rooms is an opportunity for Elsewhere readers to contribute their ideas, passions, interests and opinions about whatever takes their fancy. Elsewhere welcomes travel stories, think pieces, essays about readers' research or hobbies etc etc. Nail it in 1000 words of fewer and contact graham.reid@elsewhere.co.nz.
See here for previous contributors' work. It is wide-ranging.