Graham Reid | | 4 min read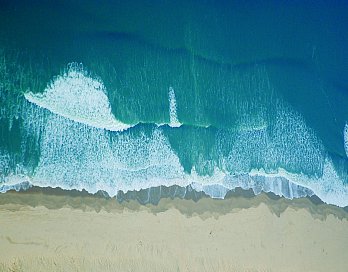 My earliest music memory is preparing for the primary school end of year concert with The Holy Faith nuns teaching us When Irish Eyes are Smiling. I was confused and a little ashamed when tears welled up in my own eyes as the melody went lilting round the hall.
Music, it seemed, had me at its mercy.
The Marist Brothers took up my musical education as I moved into forms one and two. They fast tracked us from The Seekers to Leonard Cohen. From Georgy Girl to Suzanne in the space of the first term.
There must have been epic rugby matches, the First XV knife-edging victories over St Kents and Kings but my abiding schooldaze memory is morning assembly, 600 boys in short pants, soulfully singing 'and she feeds you tea and oranges that come all the way from China'. That seemed to me to be the height of sexual sophistication.
A little later there was swaggering Jerry Lee Lewis in the Auckland Town Hall, rock'n'rolling country, 'knocking out windows tearing down doors'.
Can you imagine the impact that had? Soon after came the King Crimson/Frank Zappa soundtrack to our very colourful Friday night escapades down in Vulcan Lane.
Then that road that generations of New Zealanders have travelled.
My own mother, your brothers and sisters, our grandchildren, out to the airport or in my case down to the docks.
Away from these islands. First to the USA, to North Carolina and gobsmacked wonder as I discovered the open cast treasure trove of American music. Then London and the folk clubs where one summer night it was music again that waylaid my locomotive.
An evening of Dixieland jazz, a French girl . . . and off I went to Gare du Nord.
The railway workers must have been on strike for I never got the train back.
Years passed, France became my home. Kids arrived. I settled down and did the job you do when you're not qualified to do anything else. I taught ….. English.
A whole new music culture opened wide : Gainsbourg, Ferré, Lavilliers. Peter Gabriel was womading world music, cassettes giving way to CDs and our house breathed it all in and out like a noisy old lung.
To my great regret I have no natural musical talent of my own. That and a fairly wide lazy streak kept me from performing. I was content to listen and be transported by others.
But having small children does something to the creative juices doesn't it? How many of us have walter-mittyed up a wildly successful career as a children's storywriter as we enthralled our kids with bedtime stories?
I could feel a trickle of juice myself and at some point a very strange thing happened to me. There was a St Paul on the road to Damascus situation and I started to believe that I could write and sing my own compositions. Lyrics would bubble up from god knows where, they would come pre- wrapped in a melody like the sandwiches you buy in a service station.
I was a songwriter. Kind of.
I couldn't play a note of music and my voice was not to be relied upon. No-one "got" my songs, for I never sang them twice the same way. My voice would waver, slowing down, speeding up.
I'm good with money but I can't count those goddamn beats to the bar
But I wrote my lyrics, taped myself and bided my time.
We travelled a lot and the songs would mostly come when I was out hiking the hills or pacing the dunes. Or at five in the morning. Or floating in a whisky glass.
Family mythology has it that my son has perfect pitch. It was great Aunty Beryl that put that idea in our heads. I'm not sure it even truly exists, but man it sounds impressive! My soul would have gone long ago if you could buy that down at the crossroads.
We hothoused him with music lessons but he wasn't going to learn like that. Oh the frustration to see all that talent not being exploited! It was in there though and eventually found its way out, oozing through every pore in the end.
He took himself off to Belgium, formed a garage band and dived enthusiastically into a bohemian lifestyle. I didn't particularly like his post punk music and my "songs" were certainly not visible on his radar. But life lurches forward and lo and behold, a kind of grace came down on both of us, ……we agreed to music make together.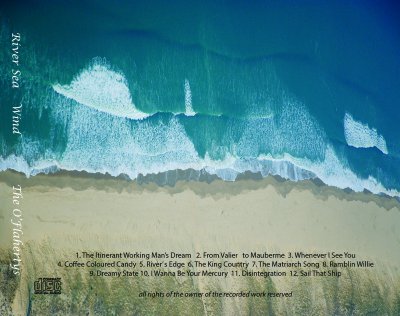 I'd long the places to write about and they are there in my lyrics and titles: Valier and Maubermé are two prominent mountains in the French Pyrenees. As you travel south from Toulouse and from a distance they appear to bookend the ridge line. It is a special place for me, we've been there over and over down through the years in good times and bad; The King Country comes from a week spent in Kakahi, my brother in law's very special fishing hole; The Itinerant Working Man's Dream was partly born in Golden Bay. All those back packers working in the fields and orchards . . .
River's Edge is the stream that flowed past the back of our garden and was a recharge your battery spot when dark clouds filled my sky.
The recording happened quickly, there were no drawn out negotiations. The time was right. My daughters are there on backing vocals, my mother shows up in a guest slot. My son has breathed life into my lyrics.
Judge for yourself. Our album -- by The O'Flahertys, of course -- is River Sea Wind and it is available at bandcamp here.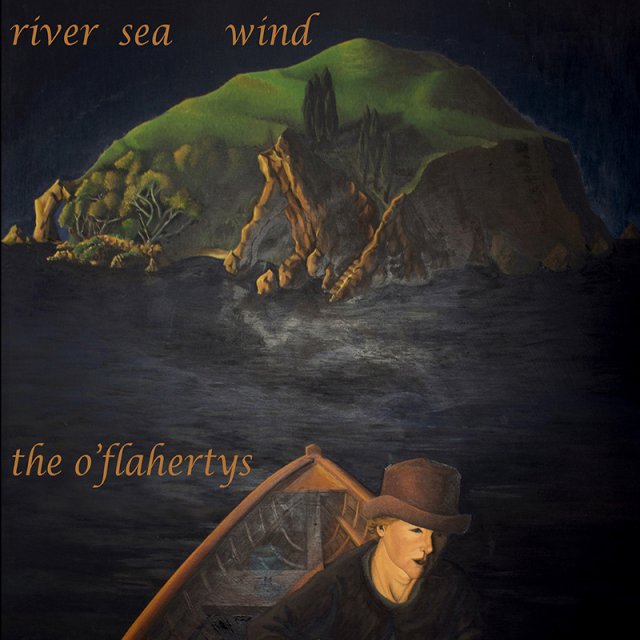 Other Voices Other Rooms is an opportunity for Elsewhere readers to contribute their ideas, passions, interests and opinions about whatever takes their fancy. Elsewhere welcomes travel stories, think pieces, essays about readers' research or hobbies etc etc. Nail it in 1000 words of fewer and contact graham.reid@elsewhere.co.nz.
See here for previous contributors' work. It is wide-ranging.