Graham Reid | | 4 min read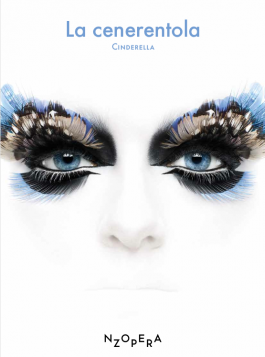 In his recent preview of La Cenerentola by NZ Opera, the Herald's William Dart noted the prolific composer Rossini could rewrite an aria in the time it would have taken him to retrieve the dropped original from the floor.
It's not inconceivable to me he might have dashed off several variations of La Cenerentola – a version of the Cinderella story -- in a couple of hours, and then chosen one via eeny-meeny-miny-mo.
Such is the tale presented by NZ Opera under the direction of Australian Lindy Hume – light and frothy fare beautifully packaged . . . but still leaving me hungry.
Though the magnificent stage sets, artful lighting and lavish, brightly-hued costumes give the production a rich quality, some magical ingredient is missing.
That may be more to do with the composer than the performers however.
For all his clever use of parallel expressions of different sentiments and difficult arpeggios, Rossini's version of the classic tale isn't as enjoyable as that of the darker Grimm brothers, which many of us are familiar with.
A Grimm opera would be more meaty and satisfying, if more grim.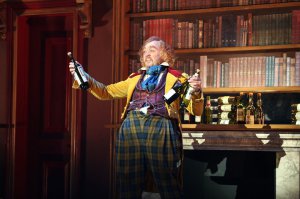 In this production, set in Victorian England, Angelina (Cinderella) is a servant in her stepfather's shop (Don Magnifico's Emporium), subjected to the vain demands and taunts of her two stepsisters, and ignored by her heavy drinking stepfather.
Don Ramiro the Prince swaps places with his valet to discover undetected what the eligible women in his kingdom are like.
Directed to the emporium by the wise Alidoro (the fairy godfather) -- who has previously elicited the true nature of the three women within by disguising himself as a beggar -- Don Ramiro meets Cinderella.
And so the romance begins.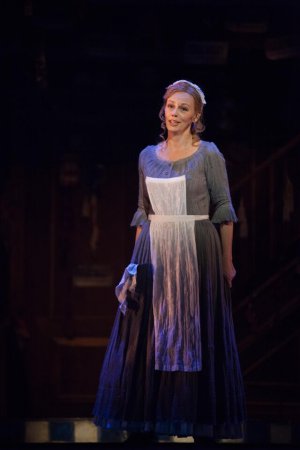 The public appetite for a fairytale ending/royal-marrying-commoner story hasn't diminished since Cinderella first appeared in the 17th Century. And Cinderella has been everywhere lately – ballet productions, Kenneth Branagh's recent movie retelling, the forthcoming Cinderella on Ice. So staging an opera of the timeless classic now is an obvious choice.
However, even taking into account the conservativeness of the Victorian era, perhaps more could have been done to make the heroine relevant in the 21st century?
Disney has in recent years made its heroines feisty and with a few adventures under their belt before they get their happy-ever-after with a dazzling dress and all-singing finale. But nowhere is it evident, despite the director's note in the programme, that Rossini's Cinderella is cheeky, strong-willed and not a victim.
Whatever inner reserves she had to sustain years of abuse and neglect from her stepfamily without succumbing to utter despair wasn't believable, so the character simply doesn't engender much sympathy.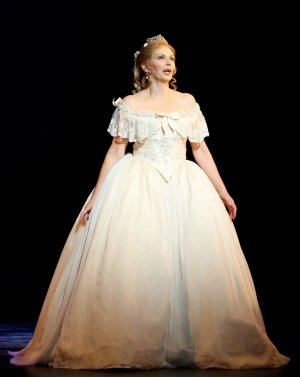 She comes across as too meek and forgiving.
Sarah Castle, though pretty and delicate as a Cinderella should be, is slightly disappointing. Her voice was at times hard to hear, its remarkable power and control only evident in the higher register.
She needed to increase her projection to be heard over the wonderful APO (whom, under conductor Wyn Davies received thunderous applause at the end).
Tenor John Tessier, baritone Marcin Bronikowski and the excellent Ashraf Sewailam – as respectively, Don Ramiro, Dandini the Valet and Alidoro (the latter last seen here as Sparafucile in Rigoletto) – gave impressively solid performances.
But it was Andrew Collis, Amelia Berry and Rachelle Pike as the stepfather and stepsisters who were the highlight of the show.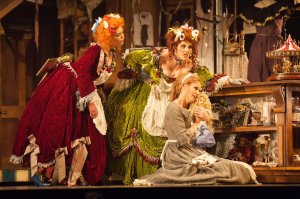 Broadly drawn characters, they wouldn't seem out of place in a British panto with their caricature gesturing, pouting and at times physical performances. Their voices remained strong and clear and they were hugely enjoyed by the audience.
I couldn't say I was rooting for the virtuous Cinderella to win against such fun, over-the-top baddies.
There are great dollops of humour throughout: the opening scene where the prince is presented with a showreel of eligible ladies; some of the all-male chorus dressed as women (two of whom are dead ringers for Conchita Wurst); Cinderella's awkward explanation of her family situation, a cleverly scripted nod to the local wine industry . . .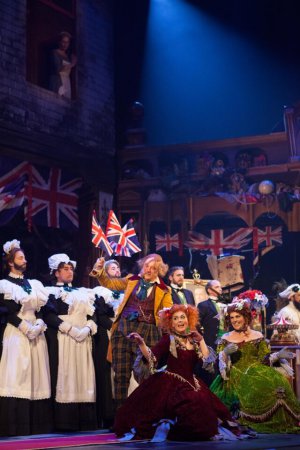 The frantic waving of flags at the wedding couple on the palace balcony and a Ziegfeld Follies-like dance around Cinderella when she walks among the common folk poke fun at our obsession with royalty.
Overall, it is a very enjoyable evening -- and on Auckland's opening night wonderful to see the audience, requested to dress up for a royal betrothal, resplendent in all their finery.
Much like going to a school ball though, it was the event itself rather than the meal which will be remembered.
NZ OPERA'S LA CENERENTOLA DATES
Aotea Centre, Auckland: Wednesday, June 3 and Friday, June 5 at 7.30pm, and Sunday, June 7 at 2.30pm.
Images supplied: Credits from the top; Stephanie Do Rozario, Jan Bradley (of Cinderella) and Neil MacKenzie (final two).
Other Voices Other Rooms is an opportunity for Elsewhere readers to contribute their ideas, passions, interests and opinions about whatever takes their fancy. Elsewhere welcomes travel stories, think pieces, essays about readers' research or hobbies etc etc. Nail it in 1000 words of fewer and contact graham.reid@elsewhere.co.nz.
See here for previous contributors' work. It is wide-ranging.