Madeline Bocaro | | 4 min read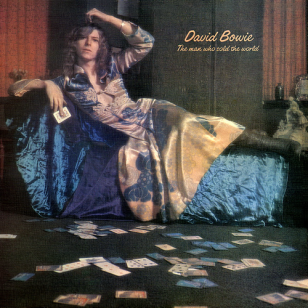 In a recent interview, Tony Visconti told of David Bowie's Spiders from Mars drummer Woody Woodmansey's relentless enthusiasm and desire to bring Bowie's The Man Who Sold the World album (1970) to a live audience.
It would be difficult, especially for Bowie producer/bassist Visconti.
He had to rehearse countless hours and get his fingers in shape to perform the herculean bass lines that he had originally played on the album. Thankfully Visconti mastered them once again, and another smashing live tour of Woody Woodmansey's Holy Holy ensued and played the Highline Ballroom in New York on January 8, the day Bowie's new ★/blackstar album was released, and his 69th birthday.
On drums, Woody is as important as Ringo. We knew that by listening to him, but watching him in all his glory is an incredible treat – especially in play with Visconti. On most of the album's songs, Visconti's complex bass parts are like guitar solos. Usually bass and drums are supplementary, but here they are the focal point.
With a stellar seven-piece band the songs came alive, and TMWSTW transcended five decades. The album was unappreciated at the time of its release in 1970, and was shunned for its album cover of Bowie wearing a dress.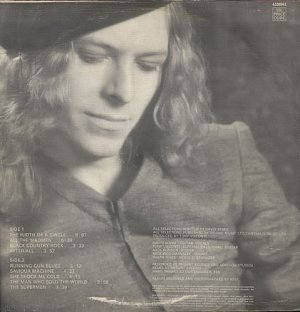 Along with Hunky Dory, it was the transformative bridge between Space Oddity and The Rise and Fall of Ziggy Stardust and the Spiders From Mars albums. Many of the songs have never been performed live, and others not since 1974.
As you're reading this, all I need to do is mention the album's song titles to send shivers up your spine, as you imagine hearing these live. The show began with the epic Width of a Circle, All The Madmen, Black Country Rock, After All, Running Gun Blues, Saviour Machine, She Shook Me Cold, The Supermen, and of course the title track.
The sound was pure and clean – like virgin vinyl! Most of the studio sounds were replicated exactly; on 'All The Madmen' it was miraculous to hear the (Moog) 'recorder' sound, and the little insane mumbling guy.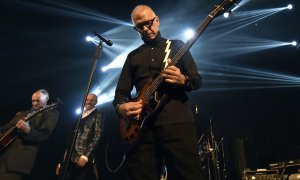 On vocals was Glenn Gregory of Heaven 17 who has more of a strong Peter Murphy (Bauhaus) voice, which perfectly suited the Bowie songs. There was stellar guitar work by James Stevenson, Paul Cuddeford and Terry Edwards (also on sax and percussion). Berenice Scott was brilliant on keyboards/synth replicating TMWSTW album's Moog sounds.
During an encore of classics from the Space Odyssey album, Hunky-Dory, Ziggy Stardust and Aladdin Sane, the crowd went wild. Old friends reunited after decades. Complete strangers joined hands in celebration. One fan stood on a chair at the front facing the crowd, conducting us to sing along, with tears streaming down his face. These were the songs that told us that we are not alone.
Bowie's wonderfully bizarre lyrics about space, insanity and alienation somehow comforted a generation of young teens, and made us feel a part of something special. The songs came from Bowie's tormented soul, yet they were perversely uplifting, thanks to Bowie's portrayal of a lovely alien with an encouraging smile, the gorgeous melodies and (Ronson's) poignant arrangements.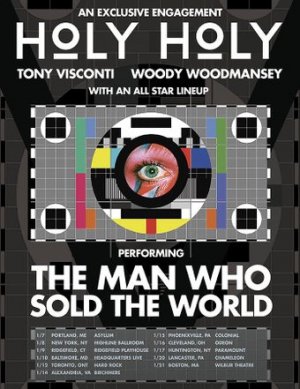 The encore began with Five Years. Woody's iconic chilling isolated beats segued (just like on the album!) into Soul Love without hesitation, Moonage Daydream, Ziggy Stardust, Oh You Pretty Things, Changes, Life on Mars?, Watch That Man, Wild Eyed Boy From Freecloud, Time, Rock 'n' Roll Suicide, Suffragette City…all were magical.
Visconti thanked dearly departed friends (Spiders from Mars) Trevor Boulder and Mick Ronson. He acknowledged that without Ronson's arrangements and genius, these songs would have never existed.
At the start of the encore Visconti held up his cell phone and dialed Bowie's phone number. He asked us to sing happy 69th birthday to David, and we obliged.
But I would rather stay here with all the madmen, than be at Bowie's boring birthday party.
This was the real celebration - hearing the multitude of perfect songs that David created in the course of five years in the early 1970s played by Woody and Tony & Co.
I don't think anyone will be performing ★/blackstar live 50 years from now, but David Bowie's iconic songs from his early days will still resonate on their 100th anniversary and beyond.
There was a sweet opening set by Tony Visconti's (and Mary Hopkin's) son Morgan and daughter Jesse, who also sang stunning back up harmonies during the Bowie set, and soloed on a gorgeous Lady Stardust in a pure voice inherited from her mom.
The band came out for a meet and greet afterwards to great accolades. They enjoyed the show as much as we did.
After dates in the UK and Japan, Holy Holy now hits the USA. If you are anywhere near, don't miss it!
The Man Who Sold the World USA tour 2016
Jan 15 Phoenixville, PA Colonial Theatre
Jan 16 Cleveland, OH The Odeon
Jan 17 Huntington, NY The Paramount
Jan 20 Lancaster, PA Chameleon Club
Jan 21 Boston, MA Wilbur Theatre
New York native Madeline Bocaro has written and consulted for Dazed & Confused and Mojo magazines, and for biographies including Stardust: The David Bowie Story (McGraw Hill, 1986), Yoko Ono (MacMillan & Co., 1987), The Wild One – The Story of Iggy Pop (Omnibus, 1988) and Mick Ronson – The Spider With The Platinum Hair (Independent Music Press, London, 2003).
She was a research assistant on the Klaus Nomi documentary film The Nomi Song in 2005. Madeline was a staff writer for CMJ from 1976 to 1981. She has contributed articles to Discoveries, Goldmine and Chicago's Roctober magazine.
You can read a collection of her writings at: www.madelinex.com. She previously appeared at Elsewhere, here.
There is a lot about David Bowie including interviews, reviews and overviews at Elsewhere starting here.