Graham Reid | | 7 min read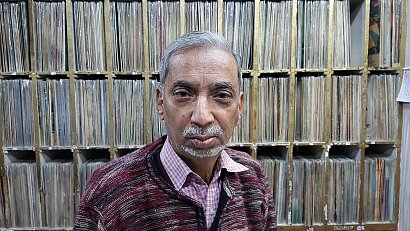 Returning from the success of last year's incredible sell-out reopening of Auckland's St James Theatre, A Weird Night Out is back. On Friday 8 July, the Weird Together collective continue their annual promise of transforming an unusual space into a totally unique party experience for one special night only.
The Mahatma Gandhi Centre, centrally placed on Auckland's New North Road will play the perfect venue to host Weird Together's globally-minded musical and visual aesthetic. The city fringe venue will be completely transfigured into a multi-room explosion of sights, sounds, art and culture from all corners of the globe by Ella Mizrahi from Celery Productions, who adds her ingenious touch to the Weird proceedings for the fourth year in a row.
Weird Together will be launching their all-new live show and will feature an appearance by New Zealand music legend Leonard Charles and friends, and Concord Dawn's Matthew Harvey will showcase his brand new bassline heavy house music project Coldwater.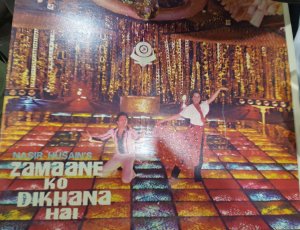 Fat Freddy's hypeman Slave will be bringing his famous Red Bull Music Academy Radio show to the live arena, with an all-star cast of top-secret guests plucked from the archives.
Weird Together's Nick Dwyer says, "Over the last few years we've been dedicated to bringing back the spirit of mid 90's rave culture by taking over some of Auckland's most unique spaces and filling them with a little bit of magic. Off the back of our St James event we knew we had to come with something special this year.
"We've been eyeing up the Mahatma Gandhi Centre for a while now and so it's with the greatest of delight we have assembled some of our favorite artists to join us in what will be another one of those weird nights out to remember!"
And for Elsewhere Nick D picks five of his favourite Indian dance tracks he's picked up on his travels around the subcontinent.
Details about the Weird Night Out are beneath the clips . . .
Charanjit Singh - Raga Bhairav (Ten Ragas To a Disco Beat - 1982)
When speaking about the history of Acid House, the sub-genre within the then bourgeoning and mutating house music scene, defined primarily by that unmistakeable squelch from the Roland TB-303, there is of course one city that lays claim to it it's birthplace – Chicago.
And one record that has the most reputable claim at being the first ever 'acid-house' record, which was the 1987 Trax Records release from Chicago trio Phuture, which went by the name of 'Acid Tracks' - a seminal track that melted a millions minds collectively around the world, and ensure that that 303 squelch didn't leave the dance floors for many years to come.
Little did anyone realise that five years earlier a Bollywood session musician who went by the name of Charanjit Singh would beat them to the formula for an acid house classic.
After decades working in Bollywood and at a time when disco was all the rage in Bollywood films, he took a trip to Singapore and purchased the newly released Roland TB-303, a bass synthesizer with built in sequencer, and the Roland TB-808, one of the worlds first programmable drum machines and set about making Ten Ragas To A Disco Beat, a record that sounded like nothing else in Indian music at the time.
As a result of that it was a commercial failure but thanks to the Internet and global digging culture it was re-released in 2010 and has been finally getting the global recognition for the pioneering work that it is.
Bobby Lahiri 'Jimmy Jimmy Aaga' (Disco Dancer – 1982)
So still in 1982 and while Charanjit Singh was crafting an underground masterpiece, another artist working in Bollywood was taking disco from the United States and easternizing it to become the biggest musical sensation in Bollywood cinema at the time.
As many will know, in India the music industry is Bollywood and the popular hits are those that feature in those big, colourful, over-the-top dance sequences in the box-office smashes of the time.
In 1979, as disco's popularity was on the decline in the west it was taking on an all new life in India and it was a prerequisite for all successful films to have at least one big budget (and more often than not completely absurd) disco dance sequence.
Still only in his mid-20's Bappi Lahiri was the disco king, and was the go-to music director for some of the era's biggest hits.
I'm going for an obvious choice here, but it's still great this track. Taken from the movie soundtrack to Disco Dancer (which I guess you could lazily call the Indian equivalent of Saturday Night Fever), it caught the attention of M.I.A who sampled it on her second album Kala. The film was a huge worldwide success and the soundtrack still loved today, so if you ever want to score points with your Indian friend or neighbour just memorize the lyrics and Kim Yashpal's incredible moves.
R D Burman - Dil Lena Khel Hai Dildar Ka (Zamaane Ko Dikhana Hai –1981)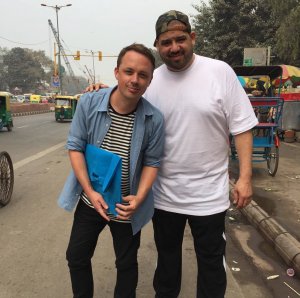 Okay, whereas the last choice was blatantly one of the biggest commercial hits of the time and I may get scoffed for my choices amongst the more discerning Indian vinyl enthusiasts, this next record should hopefully keep the trainspotters happy too.
I'd never heard of this record until a few months ago when I was in India.
I was working on a tour with renowned producer and digger Kenny Dope who had the tip-off about this one spot in New Delhi, which was a goldmine for Indian record digging.
We took a trip to Old Delhi and made our way through the chaos, walked through a tiny shoe shop (?!) and up the narrow stairs at the back and entered what would definitely be the holy grail of used record shops in the whole country.
It was insane; tens of thousands of records, and the guy running the store knew everything that was asked for (see photo at the top of the page).
They definitely seemed like they were on Discogs and knew what things were worth as some of their prices were hefty but I managed to walk away with this.
Again, another example of that big disco scene that was a hallmark of all of the films of that era, the production on this track composed by R D Burman is nuts.
The vocal might leave a few people cold of course but the instrumental track itself is an incredible example of what these forward thinking Bollywood composers, who knowing nothing of what Italian artists were doing with their own synthesized take on disco, were pioneering incredibly unique electronic disco.
Kamal Hassan / Ilayaraja – 'Vikram Vikram' (Vikram – 1986)
Okay, something now from the Tamil film industry based in Chennai, which is the capital of the state of Tamil Nadu. Known colloquially as Kollywood (a portmanteau of Kodambakkham, a residential neighbourhood in Chennai, and Hollywood), the Tamil film industry has always been seen as a bit of an underdog compared to the dominant force of Bollywood, but with that they have a massive fan base all over India.
They definitely had a lot of cult classics throughout the 80s and some incredible soundtracks.
This one has definitely gotta be my favourite.
Taken from the 1986 film Vikram, it's produced by Ilayaraja (who's productions are definitely worth hunting out) and sung by the movie's star (and producer) Kamal Hassan who is a massive star in Kollywood. Bonus points for the fact that he sings all of his songs in the film, as apposed to the industry standard of having a playback singer sing all the songs which are lip-synced by the movie stars.
The early electro inspired beat on this is mad.
Salma Agha / Sapan-Jagmohan 'Sote Sote Adhi Raat' (Siskeyan – 1983)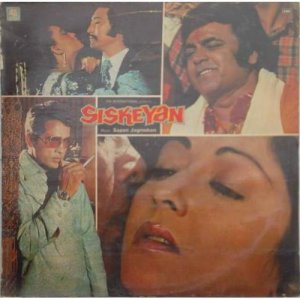 And finally, taken from the 1985 'Siskeyan' there's this the musical partnership from Sapan Dasgupta and Jagmohan Bakshi, who are nowhere near as famous as the likes of the Bappi Lahiri's and the R D Burmans of the Bollywood world, still managed to craft a number of the era's hidden gems.
Sung by Salma Agha, It was covered by Australian band The Bombay Royale a few years back, but (no disrespect intended) it's got nothing on the original. I've got to thank my good friend Munbir Chawla who runs one of the top contemporary Indian music and culture sites for putting me onto this one.
Unfortunately the clip has no images, but it's all about the sound.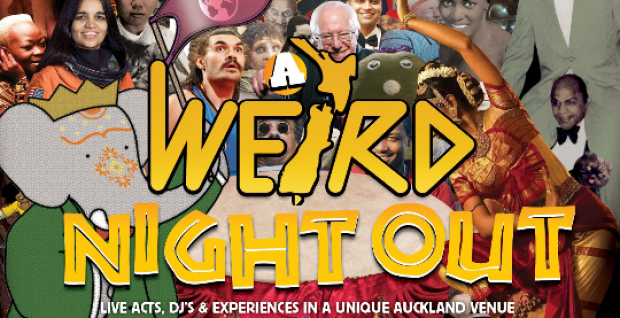 Featuring: Weird Together, Leonard Charles Presents: Basement Donuts, Coldwater, Aroha, Azbo, Pippin and Red Bull Music Academy Radio's Logg Cabin with MC Slave.
7PM – 12AM R18 - Fully Licensed
Tickets from here.
Other Voices Other Rooms is an opportunity for Elsewhere readers to contribute their ideas, passions, interests and opinions about whatever takes their fancy. Elsewhere welcomes travel stories, think pieces, essays about readers' research or hobbies etc etc. Nail it in 1000 words of fewer and contact graham.reid@elsewhere.co.nz.
See here for previous contributors' work. It is wide-ranging