Graham Reid | | 7 min read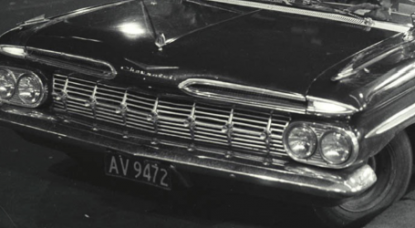 Auckland's Queen Street has long been a place for young people with wheels. In 1976 the cars would converge from mainly out West (Te Atatu, Henderson, Massey, Glen Eden, Blockhouse Bay), along with some from Central (Mt Roskill, Sandringham, Balmoral) . . .
And the East (Glen Innes, St Heliers).
Friday and Saturday nights were the biggest.
Some cars would appear and never be seen again. Others were near permanent fixtures any night of the week. It was a point of pride to appear by midnight whatever repairs might have been necessary that week. Spectators would actually come into the city just to look at the cars on a Friday or weekend night.
George Lucas' widely screened American Graffiti in '73 was a catalyst for increased cruising activity, spiked up the already existing scene. US-style cruising was already becoming an endangered pastime over at home base, but that didn't deter anyone here.
Immaculate cars appeared regularly on the 'golden mile' driven by young people enjoying their very own "Glory Days". Hot rodders organised cruises and such, like on Auckland's North Shore, and on out to Beachlands and beyond.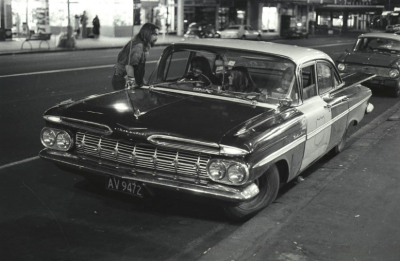 The V8 'boys', and 'girls' of Queen Street weren't hot-rodders. V8ers were an outsider culture. Noisy, relentlessly mobile, often illegal in various ways, keeping unsociable hours and openly enjoying life. The cars were the main, but not only, reason for our existence. Partying was a very popular pursuit. The more fetishistic 'rodders' tolerated us at best.
We were unhelpful to their goal of establishing good automotive relations with the mainstream. Parents wondered where their sons and daughters were at 3am. Were they hard at it somewhere? You bet.
Subcultures flourished. Fledgling punks were already sneaking down byways off Queen Street into their influential but short lived venues. At sunrise, 'dawn of the dead time', Afroed disco fans would appear blinking from their dens, in large groups on foot. Hare Krishna devotees had permanent dibs on several prime corner sites. Transvestites trotted down the sidewalk, slim young white boys gee'd up by glam rock. The no nonsense brown 'gals' work patch was more upper Queen St/K Rd.
The V8ers proved a resilient community and enduring friendships remain.
"The V8 Boys are we! We drive so carefully a bottle of piss, a root and a kiss the V8 Boys are we!" – Songcraft by Minga.
Not all females sat in the middle of a bench seat. There was a bunch of feisty women who owned and drove their very own US iron. Colleen, Gloria, Cindy, Erin, Jeannie, Chrissie, Charmaigne and dozens more.
As well as cruisin' the downtown area and parking up in Queen St, the V8s made their own barrel of fun. Saturday morning might be a 'run' to the Puhoi pub, via Orewa and Waiwera taverns. A motorised pub crawl beginning mid morning and taking in all sorts of venues. Ouzo and lemonade anyone?
Tamaki Drive, a great harbourside vista. Useful for a change of scene, to cool down a hot runner or to visit the "Captains Table" in Mission Bay for peppery deep fried meatballs. "Mickey Sav" lookout was a handy spot too. Vehicles would park up all along the 'Drive for impromptu socialising.
On Sunday afternoons lines of cars would gather at the corner of Long Drive, St Heliers for a gossip, a few quiet drinks and some fresh air and sunlight. Meat sometimes cooked on a thick steel plate sitting on two bricks placed above a fire on the footpath below the large Phoenix palm.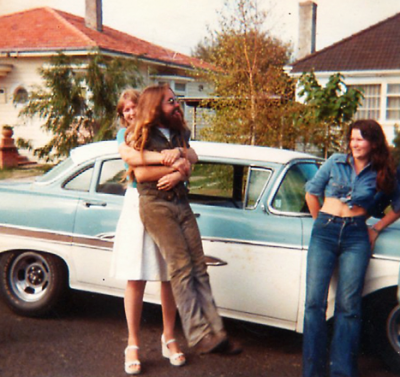 Cars would form 'trains' and other vehicles might have to wait at green lights until the last car had chugged past to be able to move on. Burnouts? No worries for some. Flame burnouts? Pass the diesel.
Another amusement was driving the quickest from Customs St to K Rd without using Queen Street. Liverpool St was a good test of how well your drum brakes were set up. Races around the Mission Bay Fountain and other public reserves chewing up the grass were classic vandalism.
"Penis" the council cleaning wagon caught many out with the sneaky curb cleaning spray going underneath parked cars and splashing up onto the footpath, dirtying clean cars and the odd few wearing clean jeans.
The nutritional centre of the city was the White Lady in Shortland St. Pete Washer's near perfect burgers. Toasted buns, melted butter slapped on with a paint brush, grilled onions, fresh lettuce, hefty butchers mince patties.
One guy in a yellow 64 Impala convertible used to regularly order a burger – triple egg, triple meat, no salad– – hat might see food safety officials called these days. Other contenders were two 24 hour coffee bars plus Ivans on Ponsonby Rd, the Greasy Greek on Balmoral Rd, and the Zebra on Sandringham Rd.
Beverages featured also, the quart 'bottle of piss' was popular, carried around by the dozen in wooden crates and glugged down at a steady rate. Lion Super and Leopard lager cans fitted nicely between the legs for driving purposes. Wine-like drinks, 'Muscato Bianco' ahead of its time with a screw top, and 'Cold Duck' aka 'chuck' had their fans.
Culture was available too – with 'buck a head' concerts, free outdoor rock music at Albert Park, midnite to dawn and double feature movie sessions. Every Auckland sub urb had one or more cinemas in addition to the Queen Street strip. With names like Princess, Capitol, Victory, Mayfair, Cameo, Berkley and Ambassador.
Video players not yet invented. More serious road movies were a little older than Graffiti: "Easy Rider", "Vanishing Point", "Two Lane Blacktop". Newcomers such as "Aloha Bobby and Rose" were coupled with "American Grafitti" or "Bullitt" and "The Mechanic" that were watched for their car scenes.
Semi-organised street drags happened for a while at Beaumont Street underlooking the harbour bridge, complete with taped torch start lights and cop lookouts. There was some cross-over here with V8ers and a fringe of 'rodders and drag racers. Vehicles -- in addition to the usual Fairlanes, Galaxies, Customlines and Impalas -- included a 'blown' (supercharged) Jeep, a Z28 powered short wheelbase Landrover and a clean white Pontiac GTO with slicks amongst many others.
Racing in the streets next to the tank farm (oil company depots) was probably not the smartest venue. At least one car ended upside down in the harbour. Out of towners and their hangers on would check out the scene along with V8ers from places like Hawkes Bay, often with parts to sell or casing to steal.
On New Year's Eve we would park cars up in the after noon taking every available space and then head off elsewhere till dark. One year hundreds of people blocked off cops in Queen St between two intersections to allow a grudge race to proceed and TV news showed a guy in a black '64 Impala driving down the footpath scattering people in all directions.
What is it about '64 Chev driv ers?
"Wish I didn't know now what I didn't know then"
– Bob Seger, Against the Wind
By the early Eighties the joke was over for some. "Crank" or "toot" had been around in quantity for several years. Perfect for all night driving. Watch the road turn purple and the centre line yellow. Speed was excellent, for a while longer than it should have been perhaps.
Snitches and leather-jacketed 'undercovers' led to jail time and other unpleasantness. People did not pack in the lifestyle because of these seedy cops, but the easy camaraderie of the Seventies slipped away.
Healthy suspicion its replacement.
The scene splintered.
Bright, American Graffiti nights now more the bleached existential highway of Monte Hellman's "Two Lane Blacktop".
I kept an American vehicle of some description until the new millennium but rarely ventured into "town". By the mid Eighties the downtown Auckland streets were an impractical place for car culture of the kind photographed by Murray Cammick (see below).
Parking and one-way restrictions, street closures, and extra laws. Todays kids are way more likely to be impounded under 28 day legis lation than asked "When are you guys gonna go home, so we can knock off..." by exasperated cops as we were.
Happily, not all the original Queen St V8s ended their days as satin black battle wagons. Dozens of them actually made it through and still reside in garages all over Auckland and surrounds. A handful of the drivers have stayed true all these years too, owning the same car/s, or knowing well who does. Impressive collections have been built latterly from US imports. Certain models being more appreciated here than there.
"I gotta one track mind..."
– Johnny Thunders
Good times, sparkling summers, a rolling party, fabulous people. What more could you want?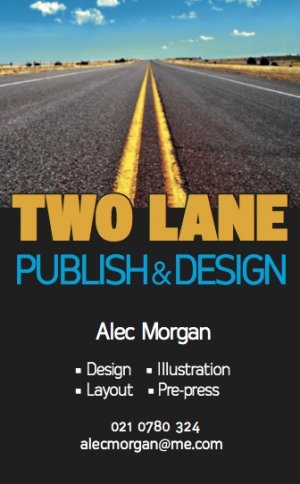 Alec Morgan, age 60, admits to a previous life as a short order cook at the Rembrandt Hotel and Zebra Takeaways, a car industry worker South Auckland, a union president (Nthn Storeworkers Union) and publicity officer for the National Distribution Union. He is a lifelong unionist and political activist – from Bastion Pt to '81 Springbok tour (Biko Squad) through to TPPA movement 2016 and says, "Yes, I have an SIS file that they won't release to me (several "volumes"– probably two manilla folders!".
He was in the Socialist Unity Party with Bill Andersen and others, learnt layout in the Eighties ("light boards and waxed-up copy") is a Mac loyalist and his best friend was a cousin of Fred Faleauto Herbs' drummer "where I learned more about reggae".
He's been a freelancer since 1997, first in the Far North (Tokerau Beach) until the last couple of years back in Auckland, but he'll be returning North via Whangarei for a year or two in September. "Then for good!"
His nickname Relic was given to him during the period he has written about here, "and that seems to have stuck".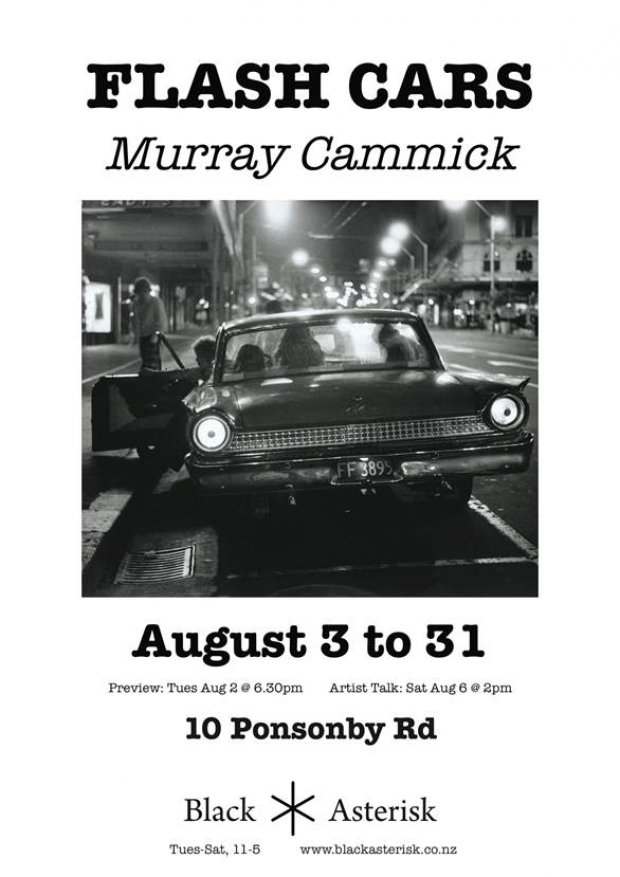 Other Voices Other Rooms is an opportunity for Elsewhere readers to contribute their ideas, passions, interests and opinions about whatever takes their fancy. Elsewhere welcomes travel stories, think pieces, essays about readers' research or hobbies etc etc. Nail it in 1000 words of fewer and contact graham.reid@elsewhere.co.nz.
See here for previous contributors' work. It is wide-ranging.