Graham Reid | | 5 min read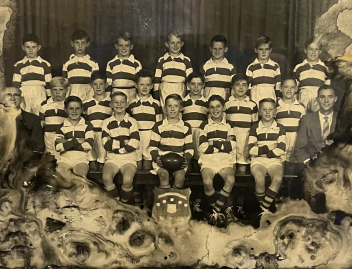 For anyone who knows me this will come as a surprise: I was a pretty good rugby player.
Well, I should have been, I played it often enough.
When I was five my parents enrolled me at the Cornwall Park rugby club in the midgets grade.
As I've mentioned previously, I think my Auckland-raised dad wanted his wee boy from Scotland to fit in and that involved rugby.
The midgets played across the field between the try-line and the 22 (or 25 yard line in old money, as it was then). I think we played 10 minute halves which involved kids running up and down with the ball and sometimes passing and doing a bit of close hugging which looked a bit like tackling. Every now and again someone would grab the ball and run to the try-line as parents on the sideline cheered and yelled.
Sometimes however a kid would run in exactly the wrong direction to his own try-line and the parents would be yelling, "turn around, turn around".
It never happened to me but it wasn't uncommon. It was fun.
In those early years playing 15th grade and then working up the grades, rugby was a real physical slog. We wore enormous and heavy leather boots, woollen jerseys (with a single rubber button on the collar) which weighed us down when it rained.
And it always seemed to rain.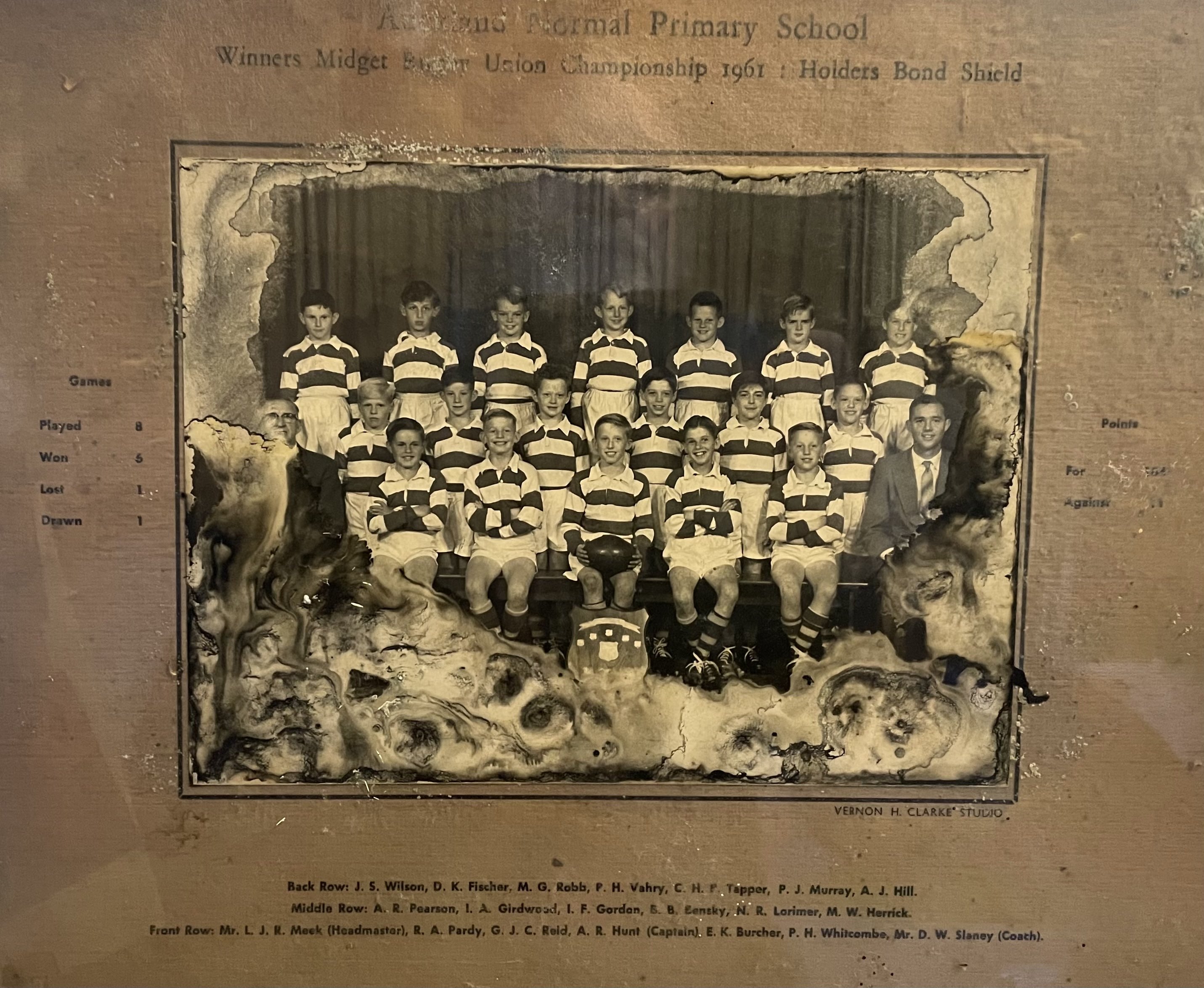 Fields were quagmires in those days before drainage and huge, deep muddy patches formed all over the fields at Cornwall Park, Waikaraka Park, Seddon Tech (the field built on a tip so sharp objects and bits of glass would rise to the surface) and elsewhere.
They didn't call them paddocks for no reason.
My greatest fear was that I'd get trapped at the bottom of a ruck, my face buried in mud and water and that I would drown before everyone got off me.
Rugby was hard work: our training mostly involved running lengths of the field and maybe a bit of scrum and line-out practice. Then even more running up and down.
And I played a lot of rugby: two games every Saturday and practice twice a week. That's because I played for both club and school teams: the first game on Saturday usually starting at 8.45am then a change of gear and the race to the next game somewhere else afterwards.
On wet mornings I'd lie in bed waiting for the cancellations hoping that all matches were called off. They mostly weren't and so it was on with the uniform and the polished boots with clean white laces.
Rugby was all about the parents who would turn out in considerable numbers to cheer or jeer. At the end of the match the roster kicked in and a mother would get to take home the sodden jerseys and shorts to rinse and wash and hang on the Hills Hoist in the back garden. I never heard my mum, or any mum, complain about that.
I used to complain about chipping or soaking mud off my boots, waiting for them to dry and then polishing them again.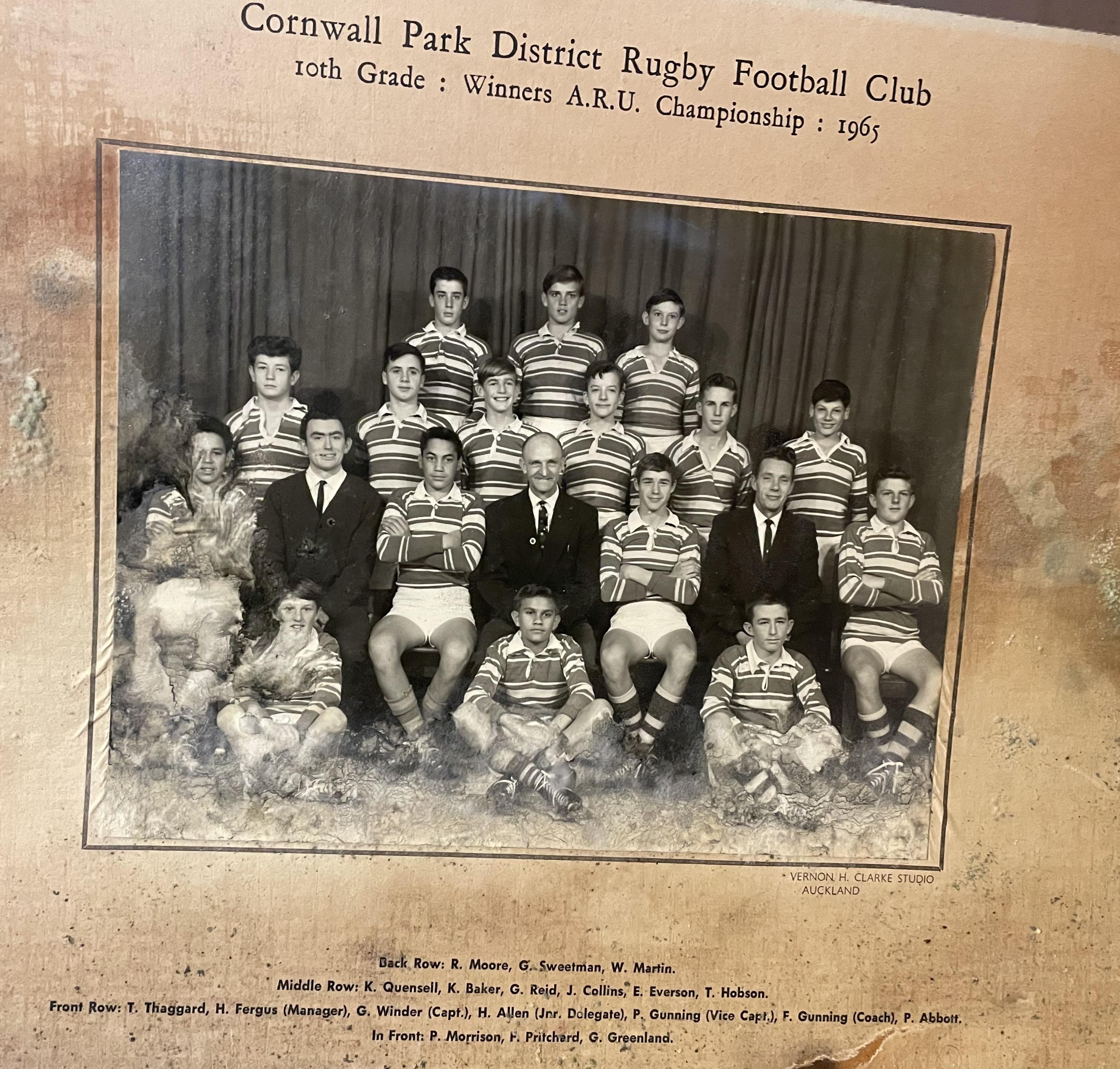 Every week some parent was rostered to bring the half-time oranges, cut in quarters.
The oranges were rich, juicy and sweet and I've never forgotten the taste.
I didn't exactly enjoy playing rugby but for the most part I was good at it. I was reasonably fast so spent time on the wing, was for many years a reliable fullback and then a bit later on played breakaway (Fly half?).
I was quick off the side of the scrum and over the years scored my share of tries.
But my real skill was penalties and conversions. I was uncannily accurate and, given my slight frame, very powerful. I could take a conversion from anywhere in the opposition's half – even from the sideline – and most of the time get it between the uprights.
When I think of it now, that was impressive given the weight of a large, wet and mud-soaked leather ball. And my frail frame.
I practiced kicking: ball vertical, run-up straight and the big flat toe of my right boot connecting at the bottom of the ball to lift it high and long. From the bottom of our long back lawn – a full-length grassed-over tennis court – I could get the ball over our house which was three storeys high from where I kicked it.
My mum kept a scrapbook of clippings from the weekly Rugby News which covered club and school results with comments from the coaches and my name appeared regularly.
One game for Cornwall Park I scored 17 points and as I lined up to take yet another shot the coach Bill Mackie said to my dad, "If he gets this I'll buy him a watch".
I missed.
I got more than a few player of the day cups (which you returned the following week) but as time went on I liked the game less and less.
We started to have an assistant coach and even a manager one time. Adults started taking it more seriously and so did we.
The tackling got harder – harder when you were hit, harder to pull down big guys – and the whole thing became ridiculously competitive very quickly.
As a young teenager I rarely thought about where the club or school team were in the competition, you just went out to play and hopefully win.
But then when you came up against a team like Marist you knew there would be literal bloodshed. They fought rugby rather than played it.
The Grammar team playing Kings or St Kents was always a big deal, like history or something was on the line.
The opposition seemed to get bigger and by the time I was in my late teens and still pathetically skinny, I was up against guys who towered over me and seemed to spend all their days in the weight room.
More and more I got pummelled, especially when I was a fullback under a high ball.
When I got to university there were trials to get into whatever grade it was and on the sideline serious looking, unfamiliar men known as "selectors" eyed us up as we went on. They took down notes.
Even as I jogged on I could see everything was different now, it was no longer just a game you played on Saturday.
That day we were split into two teams and most of us knew each other from school or club games in the past.
At one point I was in a ruck and had the ball in hand being carried forward by the momentum behind me. As we pushed onward a guy next to me in my team shouted "give me the ball, give me the ball". But I couldn't get it loose, there were too many other hands on it.
"Give me the ball" he shouted over and over and then, out of frustration I guess, he punched me in the face, then again, and wrestled the ball off me.
He was out to impress the selectors.
I remember being utterly bewildered and angry: a friend, on my team, punching me just to get the ball . . .
I never played rugby again.
I've also never tasted oranges as sweet as those at halftime when I was soaking wet, covered in mud and 10 years old.
.
These entries are of little consequence to anyone other than me Graham Reid, the author of this site, and maybe my family, researchers and those with too much time on their hands.
Enjoy these random oddities at Personal Elsewhere.