Graham Reid | | 1 min read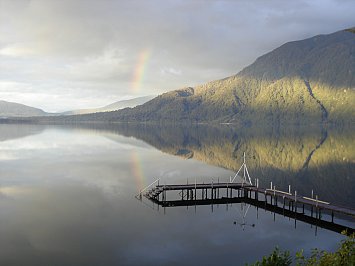 This superb and astonishingly easy recipe comes courtesy of Scotty Newcombe, chef at Lake Brunner Lodge in the South Island of New Zealand.
Lake Brunner Lodge is one of those ideal retreats where you have nature on your doorstep and you can fish for brown trout or salmon, wander through the bush or along the shores of photogenic Lake Brunner, or just indulge in the peaceful ambience of the lodge.
Add to that dinners by Scotty and you are somewhere near Paradise. Scotty has been most things in his life, but cooking is his calling. Try this recipe and you'll see what I mean.
It'll serve four but you can meddle with amounts for fewer or more people.
INGREDIENTS
a dozen or so slices of salmon
filo pastry
spinach
decent sized scallops (a dozen should do it)
For the buerre blanc: 1 onion finely diced; 1 clove of garlic mashed; 2 teaspoons of dill (fresh is fine but dried is better); 1 teaspoon of tumeric; 300mls of white wine (chardonnay for preference); 150mls of fish stock; 1 litre of cream; 2 red capsicum finely diced; and salt and pepper as required.
METHOD
Lay two sheets of filo pastry (brushed with butter) on a greased tray, layer with slices of fresh salmon. (It is better to ask your fishmonger to slice the salmon for you, it can be awkward and you might miss one of those annoyingly small bones)
Layer over two more sheets of buttered filo then add on some washed fresh spinach which has been wilted in a straight dry pan of heat.
Then two more filo sheets and a layer of fresh scallops (a dozen at least, says Scotty).
Two more sheets of buttered filo, then fold the ends into a parcel.
Top with a further sheet of filo to keep the folded ends sealed.
Bake for 15 - 20 minutes at 200 degrees C until golden brown.
(Note from Scotty here: there is no seasoning added for a good reason, the salt from the salmon and scallops brings out the taste.)
Now make the buerre blanc: Sweat the onions in garlic and add half the capsicum and tumeric. Add the wine and reduce by half. Add the stock and bring to the boil. Add the cream and reduce to the required consistency, which is thick but runny. (You may cheat here and thicken with butter and flour).
Add the dill just before you are ready to serve.
Pour sparingly over the filo parcel, and keep the rest on the table for those who go, "Oh wow, that's superb. What is that?"