Graham Reid | | 1 min read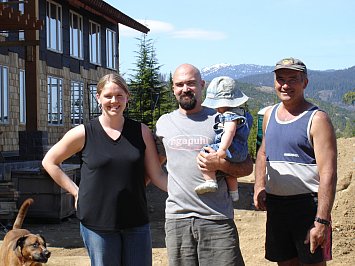 In early 2005 Megan and I went on a drive around the Pacific Northwest of the States: San Francisco to Sacramento then up through Oregon to Seattle, and back down the coast.
Before we left I mentioned on www.publicaddress.net we'd be going to see friends in Victoria on Vancouver Island. I got an e-mail from Shayne Stuchbery who with his wife Andrea and in-laws was opening a lodge way up in the mountains about halfway up the island.
So we drove up to see them. They have a beautiful place, but to this day we still talk about the lunch they whipped up with halibut which became our new favourite fish. They are promising to send me a recipe for hapuku which is the closest we have, meantime however try this wonderful recipe from Andrea.
And check out their website and that story, it's some place they have.
INGREDIENTS
six boneless, skinless chicken breasts
two cups whole pecans
salt and pepper
olive oil
METHOD
Grind pecans in food processor and chop until they are quite fine, place ground pecans in a shallow dish and season with salt and pepper. Press chicken breasts into nut mixture until they are well coated.
Heat pan and add small amount of oil. I like to spread the oil with a pastry brush.
Cook chicken about 1 minute per side or until slightly crisp.
Bake in preheated oven at 400 degrees 20-25 minutes or until chicken is fully cooked.
Serve on salad greens with a fresh fruit salsa or guacamole.
You can also try other nuts and nut combinations for a different flavour -- Shayne's favourite is pistachio crusted chicken -- just make sure you have a helper to shell the pistachios!
Enjoy.