Graham Reid | | <1 min read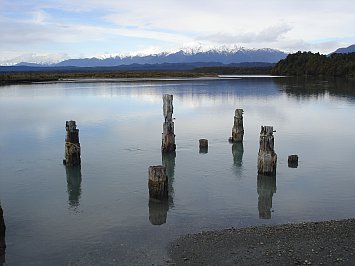 Dyan offers this one (and another salad) for the summer months, and also notes she is an obesity expert!
She says "it is a matter of extreme mirth to all my friends & family that I should be an obesity expert as i am a legendary eater and a damn fine cook and pastry chef. But I am a strong believer that if you make food out of good products, and never lose your innate taste for 'exercise' or what we used to call 'playing outside' (we are all born with it and PE teachers drive it out of successive generations) then everything else takes care of itself."
This seems astonishingly sensible --- and her recipes are terrific. Cheers to you Dyan.
(Dyan says this will serve two, but we got four servings out of it. Adjust as necessary)
INGREDIENTS
10 new potatoes
3/4 cup fresh raw peas
1/4 cup fresh mint
1 ripe avacado
1/4 cup mayonnaise
METHOD
Steam the potatoes, skins on, and allow to cool entirely. Shell peas, chop mint, chop avacado and add homemade (or if you are not that organised, good quality gourmet) mayonnaise. Serve well chilled.
Salt & pepper to taste. Serve with salmon, or whatever is coming off the barbecue.
And with a crisp white wine at a guess?