Graham Reid | | <1 min read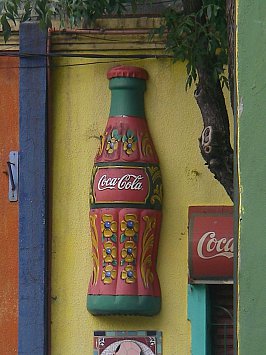 Richard admits that he may have seen something like this in "weekend magazine" supplement, but he's tampered with it a little until it is now perfect -- or at least to his taste.
Sounds dead easy and vaguely Spanish. And I do like his style: "Massive handful of parsley" sounds as exact as we need be for this one I think.
This serves two, so double everything for guests or the following day.
INGREDIENTS
4 chorizo sausages (I like the Spanish ones at Woolworths Australia Ltd's subsidiary, Foodtown)
1 big onion
1 250ml packet of beef stock
4 potatoes with the red skins
3 cloves garlic
teaspoon of fresh chilli
massive handful of parsley
3 tbsps olive oil
salt and pepper
half a cup of freshly grated parmesan
METHOD
Heat oil in big frypan. Add chopped onion, chooped garlic, chilli and chorizo and cook until onions soft. Add chopped parsley and cubed potatoes. Fry until potatoes get the chorizo colour rubbing off on them.
Add a bit of salt and pepper. Add stock and bring to the boil. Simmer until stock pretty much reduced.
Check whether potatoes are done. If not, add water until they are.
Serve with a sprinkle parmesan and pepper to taste.
Side salad of fresh lettuce with a squeeze of lemon.