Graham Reid | | 1 min read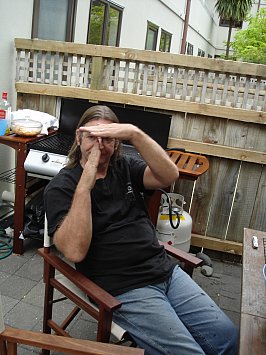 Joanna says "this goes really well with lots of red wine. The leftovers go really well with the hangover in the morning" so we can't say we aren't warned. And we've just learned a little about Joanna too, haven't we?
(This should serve four)
INGREDIENTS
8 agria or other yellow potatoes
4 chorizo sausages
2 cans of chickpeas
4 red onions
half a dozen garlic cloves
a pack of feta
some parsley
a couple of spring onions (some chilli flakes if you like a bit of the hot stuff)
METHOD
Scrub and dice agria or other yellow potatoes into 1.5 cm cubes. They must be EXACTLY this size, or the whole kitchen might explode, so take care.
Boil potatoes until they're just about done slice and fry chorizo until crispy, drain on paper towels. Rinse and drain a couple of cans of chickpeas. Dice a couple of red onions and smush in the garlic cloves cube or crumble feta.
Roughly chop a couple of handfuls of parsley, slice up the spring onions.
Put a couple of glugs of virgin olive oil in a very hot large pan - I use my big electric wok - and heat it up. Throw in the onions and garlic. Add in the potatoes. Fry until the potatoes are starting to brown. Adding salt at this stage will help with the browning/crisping process.
Add in the chickpeas and stir through. Add in the chorizo, and some chilli flakes if you like it a bit spicy.
When everything is heated through and the potatos are browned and looking yum, add in the feta, parsley and spring onions. Glug over some extra extra virgin olive oil and serve.
Offer your guests more olive oil and chilli flakes to taste.