Graham Reid | | 1 min read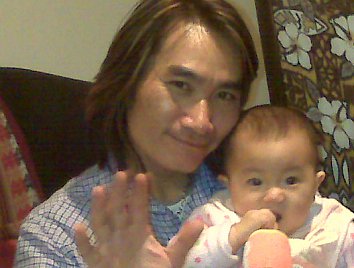 James is my Thai friend and a wonderful chef (see his Authetically Thai Chicken recipe), and this is a rare treat.
It helps in the presentation to have one of those fish-shaped trays with candles underneath to keep the dish warm on the table, and should definitely be served with sticky rice because the sauce is sublime.
There are also ingredients here which might mean you have to make a trip to your local Thai or Chinese store, but making this one is more than half the fun.
INGREDIENTS
Whole snapper or terakihi (for ease ask your fishmonger to gut and scale it, and take the fins and tail off, but leave the head on)
bottle of pickled garlic in brine
bottle of pickled plums
a dozen button mushrooms
a handful of fresh coriander
a lemon
sugar
two spring onions
some red chilli
three stalks of lemon grass
fish sauce
can of baby corn
half a cabbage
METHOD
slice corn lengthwise and quarter the button mushrooms. Place in a dish with a little chopped cabbage. In another dish put finely chopped spring onions and coriander with three heads of finely chopped lemon grass and a touch of chilli, and half the lemon sliced.
Then, in a large pan, guess the amount of water necessary to just cover the fish and bring to the boil. Lightly slice the flesh of the fish (to allow the sauce to penetrate) and add to the boiling water. Add the dish of corn and mushrooms etc and keep on a slow boil until the fish goes white.
Then add the contents of the second dish to the broth with two tablespoons of fish sauce, and the juice of the rest of the lemon.
Keep the broth on a low boil and add four or five pickled plums then a tablespoon of pickled garlic water and three of the pickled garlic heads.
About now you may wish to add more fresh coriander and sliced spring onions because at this point it is all down to taste. You may like to add more sugar (to sweeten and reduce the tang of th fish sauce) or you may prefer a little more lemon. It's your call.
But James says you just experiment with what you like.
Then place the fish and broth into the serving tray, and produce the sticky rice.
Eat knowing this is pretty damn good for you as well as being extremely delicious. And raise a toast to my generous friend James.