Graham Reid | | 1 min read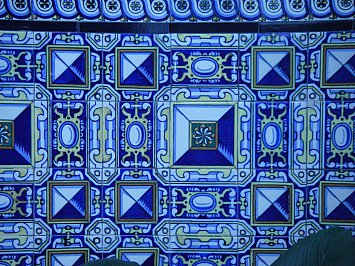 If you don't have a barbecue with a lid you might want to do this one in the oven, but there is nothing quite like the steamy aroma of the Moroccan flavours when you open the lid to check on this one.
That'll have guests working up an appetite.
This is a somewhat cobbled together recipe from a number of sources, but it works and should serve four to six, especially if you have a side order of snarlers.
Goes great with baked veges, or couscous obviously. Have a go, you can't really get it wrong. But you do need to start on it early.
INGREDIENTS
Large cut of rib-eye beef (2kg will get servings for about six)
olive oil
2 lemons
a splash of sherry
cup of canned tomatoes, spicy is best
an onion
a dozen pitted prunes
cinnamon
pepper and salt
chilli powder
coriander
grated ginger
METHOD
The beef is going to stand in a marinade for a few hours, the longer the better, so if you start at lunchtime for an evening bbq you'll still be okay.
To make the marinade: in a large pan big enough to hold the beef mix together the juice from two lemons, a splash of the sherry, one third a cup of good olive oil, the finely chopped onion, half a tin of the tomatoes * and the dozen diced and pitted prunes.
Add half a teaspoon of salt and of pepper, one teaspoon cinnamon, a handful of chopped corainder, two teaspoons of chilli powder, and a teaspoon or so of grated ginger.
Place the meat in the marinade and spoon the marinade all over it. Leave in the fridge, turning in the marinade every hour or so.
An hour before you want to start cooking the meat remove from the fridge, cover and let it come to room temperature.
Scrape off the marinade and save in a pot.
Heat bbq and sear the meat on all sides on the before placing on a metal tray coated genereously in olive oil. Close the lid and cook for around 45-60 minutes at 200 degrees C.
Check occassionally, turn it a few times and baste with a spoonful of the marinade, it is cooked when you can push a thin knife or skewer into it and no juice comes out.
Towards the end of the meat cooking, heat the marinade in a pot slowly for about 10 minutes, stirring frequently.
Remove the roast when it is done and let it stand for a few minutes then slice thickly and pour over some of the marinade. (The rest you can put in jug on the table).
You work here is done, enjoy.
* Save the rest of the tomatoes for a sausage marinade with a touch of worchestershire sauce and pepper.