Graham Reid | | 1 min read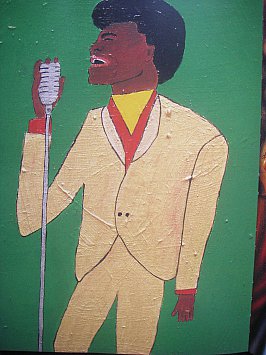 Many years ago Rhino Records -- a reissue label out of LA -- put out a booklet-cum-CD package of old soul and funk with an eating theme, specifically food for barbecues.
Tracks on the CDs included Hot Barbecue by Brother Jack McDuff, Grits (James Brown), Chicken Strut (the Meters), Jambalaya on the Bayou (Fats Domino) and so on. You get the picture: tasty music and, in the recipes supplied in the booklet, tasty barbecue.
This is one that I love, it'll serve about six.
As the recipe says, "a barbeque just ain't a barbeque without some funky music and a big, bronzed bird boasting megajolts of flavour. Garlicky, bourbon-soaked, and sounding citrus notes, this dish has all the rhythm and none of the blues".
Couldn't have said it better.
INGREDIENTS

two large chickens
orange juice concentrate
some lemons
a lime
brown sugar
fresh garlic
Jack Daniels or a woody bourbon
salt and pepper
METHOD

The night before your barbecue make the marinade in a large bowl (you may need to split the marinade into two bowls to accommodate the amount of chicken) Mix half a cup of lemon juice, half a cup of brown sugar, a tablespoon of fresh pressed garlic, a quarter a cup of Jack Daniels, and a touch of salt and pepper to taste.
Rinse the chickens and quarter them, add to the marinade making sure each piece is thoroughly coated. Refrigerate overnight.
The following day let the chicken come back to room temperature, stirring from time to time to make sure each piece is well coated in marinade.
Get your barbecue going (this recipe works best on a wood or charcoal barbie, but gas will do if that's all you've got) and in a small bowl whisk together half a cup of orange juice and the rind of a lemon.
Grill the chicken skin-side down until the skin is crispy and the juices run clear when the meat is pierced.
Turn occasionally and baste frequently with the orange and lime mix. When the chicken is done serve on a large platter and pour the remaining orange and lime mix over the top.
Make sure you have cold beer on hand. And a funky Southern soul compilation . . .