Graham Reid | | <1 min read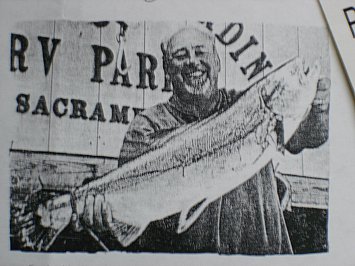 Cannot tell a lie, this one is lifted directly from the Salmonman flier that we picked up somewhere.
Salmonman sells all kinds of salmon -- from smoked fillets to steaks and marinated kebabs -- as well as prawns and shrimps. And delivers to your door in New Zealand. Check out the website here.
This one was dead easy, as you may see.
It is rich, but delicious.
INGREDIENTS
200grams hot smoked salmon chunks (from www.salmonman.co.nz of course)
500gm pasta
50ml cream
sweet chilli sauce
3 spring onions sliced
2 garlic cloves crushed
one tablespoon oil
one tomato peeled and chopped
juice of a lemon
METHOD
Cook your pasta (your choice, but vermicelli is good) and separately fry the spring onions and garlic in oil in a large pan for a minute or so. Add the diced tomato and cook for another minute or so, then add the cream, two tablespoons of sweet chilli sauce and simmer for a couple of minutes.
Add the hot smoked salmon and lemon juice.
Remove pasta when cooked and drain, then place on plates. Then pour over your salmon mixture.
Easy as that. Yum.