Graham Reid | | <1 min read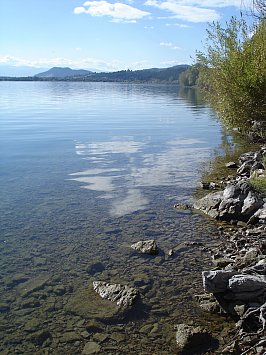 Camilla -- aka Milly -- who supplied this Firm Family Favourite says it's her "never fail, loved everywhere" recipe.
Having flicked through the recipes at Elsewhere she decided there was a yawning chasm in our offerings: not enough sweet stuff.
So here for your pleasure . . .
INGREDIENTS
185g butter
185g caster sugar
1 egg
1 egg yolk
335g plain flour
1 tspn baking powder
3 peaches, each cut into 8 pieces (or tinned peaches, apricots or pear)
200g blackberries (or any other kind strawberries not so great unless fresh)
2 Tbspns caster sugar
Icing sugar, to serve
METHOD
Set oven to 180?C
Grease a 20cm springform tin
Cream the butter and first measure of caster sugar together till pale. Add egg and extra yolk and beat well. Mix in flour and baking powder to form a soft dough.
Roll out half the dough to fit the base of your cake tin and line the base with dough. Place the fruit and remaining caster sugar over the dough. Roll out the remainder of the dough and place on top of the fruit.
Bake till golden and cake is set, approx 30 minutes.
When ready to serve, dust with icing sugar and serve up with natural yoghurt. Yummo!!!