Graham Reid | | 1 min read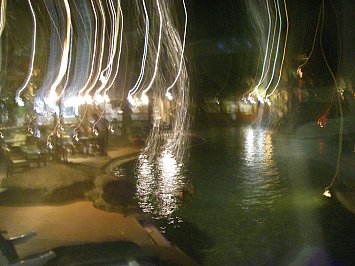 Cannot tell a lie, this is a variation on something from Nigella Bites -- but with a twist. Real tasty starter, but it does involve gettin' squishy with it because you really do need fresh squid which you have to clean and take out all the yucky and hard bits -- like excrement and eyes.
But really, it's worth it in the end.
INGREDIENTS
Three medium-sized whole squid (ie. tubes about 12-15 centimetres long)
Cornflour
Sea salt
Whole black peppers
Chilli powder
Limes
Cooking oil
METHOD
Clean the squids thoroughly getting out the gooey bits and cutting out the eyes and so on. There's also that long thin transparent "bone" to be dealt with. You can probably pull it out in one piece.
Slice the tube into ringlets and cut the tentacles at the top trying to keep them together in groups of two or three. (They just come up better when deep fried.)
In a plastic bag mix half a cup of cornflour, and some ground up sea salt and black peppers (about half a teaspoon of each)
Add some chilli powder: half a teaspoon if you want it mild, more if you are brave.
Place the squid bits in the bag and shake until each piece is liberally covered.
Heat cooking oil in a pan and when very hot add the squid pieces one at a time. And carefully.
When they are cooked (each will take maybe two minutes) remove and place on newspaper (to get off the excess oil) and then squeeze over the juice of some limes.
Serve immediately while they are hot.
Great starter.