Graham Reid | | <1 min read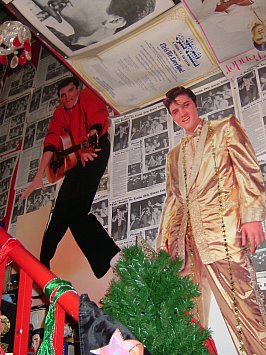 Nobody in their right mind would want to follow Elvis' eating regime, but every once in a while maybe you should live like a King.
This was one of his favourite recipes and I got it off an oven mitt I bought at Graceland. Sharing the secret!
INGREDIENTS
Two large bananas
Six slices of white bread
Half a cup of butter
A cup of peanut butter
METHOD
Peel and mash the bananas then mix in the peanut butter thoroughly. Toast the bread lightly and spread the mix on the bread. Melt butter in a pan and brown the sandwiches slowly on each side until golden brown.
Play Polk Salad Annie very loudly. !
Note: There are better, more healthy and certainly more interesting proper recipes at Elsewhere starting here, some supplied by readers. If you have a favourite you are willing to share let me know.