Graham Reid | | <1 min read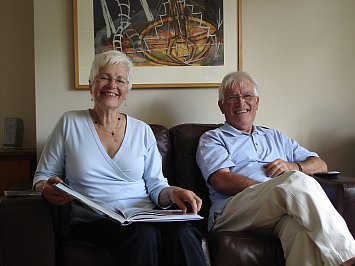 When you've got in-laws who have a large persimmon orchard you tend to learn all kinds of things that can be done with the underrated persimmon.
My father-in-law Horst slices ripe ones and sprinkles with a little salt, chilli flakes and a squeeze of lime. Delicious.
But so is his persimmon paste which goes great with cheeses. This is a great dessert that Sue conjures up in the kitchen. Takes only minutes.
INGREDIENTS
Two eggs
Cinnamon
sugar
salt
butter
milk or cream
lemon juice
persimmon pulp (buy half a dozen persimmons and then let them ripen until soft, use then for pulp)
the doings to make a pie shell
METHOD
Beat two eggs with half a teaspoon of cinnamon, half a cup of sugar and one quarter a teaspoon of salt. Add two cups of milk or cream, one cup of persimmon pulp, two tablespoons of melted butter and one teaspoon of lemon juice.
Pour into an unbaked pie shell. Bake in a very hot oven at 230C (450F) for 10 minutes* then reduce temperature to 180C (350F) and bake for a further 30 minutes.
Let cool before cutting. Serve with plain or vanilla ice-cream.
*Don't panic in any of this baking: the pie may look soft and runny in the middle but it will firm up nicely in those last five minutes. Oh, and the Very Best Persimmons come from Olaga Fou Orchard at 639 Ngunguru Rd outside of Whangarei on the way to the coast through Glenbervie. And that's the fact, Jack!