Graham Reid | | <1 min read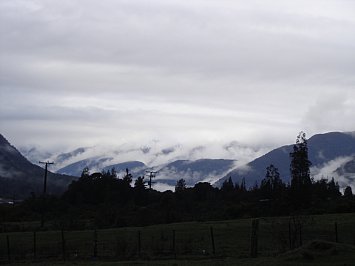 The Bluff oyster season usually opens in March in New Zealand so people might be looking for something more to do with those big, rich delights than just eating them raw or with a splash of balsamic.
I can't remember where I got this recipe from, but it never fails -- well, it does if you dont get in quick. Someone else will wolf it down while you have gone off to get the serviettes. Start by making it for yourself to test the recipe then let your friends try some.
INGREDIENTS
Half cup of reisling
Half cup milk
Tablespoon of cream
Half a small brown onion (peeled but left whole)
A clove
A bay leaf
butter
Self-raising flour
Fish stock
Dijon mustard
A dozen oysters in their shells
METHOD
Simmer the riesling in a saucepan until reduced by half then set aside. Combine the milk, cream, onion, clove and bay leaf and heat gently until warmed through. Remove the onion, clove and bay leaf and set aside.
Melt 20g of butter, add one tablespoon of the flour and stir, gradually add the milky combination stirring constantly to make a smooth sauce.
Bring to boil then add the riesling, 40ml of fish stock and teaspoon of the Dijon. Stir until smooth.
Remove from heat, let cool then refrigerate.
Preheat oven to 220C and make a dozen little cups using aluminium foil, place an oyster on each to warm gently then remove and spoon over the mixture.
Eat and be merry.