Graham Reid | | 1 min read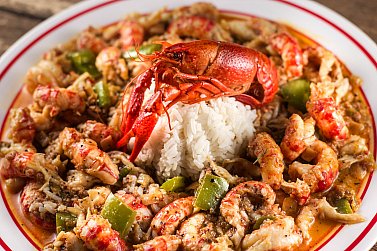 In my travel book Postcards from Elsewhere I write about being in cajun country in Louisiana where the bayou seems mysterious and the food is exceptional. That chapter about Breaux Bridge and the people we met is reproduced here for your amusement.
As I say, one of the great things about that part of the world is the food, so here is a recipe which is alarmingly simple and utterly terrific.
Just follow the instructions exactly and you can't go wrong. This will serve two or three people.
INGREDIENTS
6 tbsp of salted butter
quarter a cup of flour
a cup of onion, chopped
half a cup of celery
half a cup of green pepper finely chopped
one tbsp of finely minced garlic
two cups of shrimp, peeled and deveined (actually prawns are even better)
one tsp salt
quarter tsp fresh ground ppepper
quarter tsp cayenne
one tsp fresh lemon juice
half a cup of spring onions thinly sliced
one cup cold water
two cups hot water
rice
METHOD
Melt the butter in a deep pan on a low heat. Gradually add the flour stirring constantly. Cook on a low heat until a medium brown roux is formed (might take about 15 minutes)
Then add the onion, green pepper, celery and garlic. Continue to cook stirring often until the veges are all tender.
Add the shrimp/prawns, salt, pepper, cayenne, lemon juice and spring onions. Mix well. Add the cold water and bring to the boil.
Lower the heat and simmer for 10 minutes, stirring often until the shrimp/prawns turn pink.
Remove from the heat.
Prepare the rice.
Before serving slowly heat again, gradually adding one to two cups of hot water to create a gravy.
Serve over boiled rice. Have cold beer handy.