Graham Reid | | 1 min read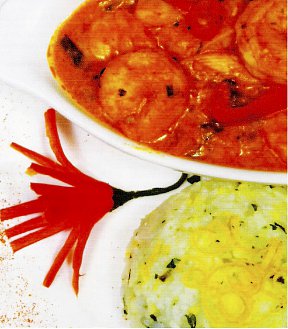 Cannot tell a lie, I borrowed this one from a CD-cum-recipe set in the generic series called The Ideal . . . Dinner Party, and you fill in the gap there with Thai, Chinese, Indian, Italian, Mexican or French.

The accompanying CD is gentle dinner party ambient music which refers too those regions. The chef whose name is attached to the series is Bettina Samain and with the Thai one she offers recipes for spicy sweet corn patties, steamed vegetable with noodles and peanut sauce, this one (Panang Goong) and baked coconut pudding.
A whole themed dinner party right there, with a soundtrack!
All recipes serve four.

INGREDIENTS

1 tbsp vegetable oil

1 red chilli deseeded and finely sliced

1lb/500g shelled king prawns (uncooked)

1 stalk lemon grass

1 red bell pepper sliced into strips

1 tbsp fish sauce

6 spring onions cut in diagonal slices

2tbsp thai red curry paste

8 fluid oz/250ml coconut milk

1 inch/2.5cm stem ginger root finely grated

1 tbsp fresh chopped coriander

METHOD

Heat the oil ln a large preheated wok, on a medium heat until hot.

Stir fry the spring onions, red bell pepper and red chilli gently until softened. Approx 2 minutes.

Bruise and split the lemon grass stalk using a rolling pin and add this to the wok, along with the ginger, coconut milk, red curry paste and fish sauce.

Heat the curry until almost boiling.

Now add the chopped coriander and the cleaned, shelled prawns. Making sure that the black vein that runs along the prawn is removed.

Cook gently for 7-9 minutes until the prawns have turned pink and become tender.

Serve hot with fragrant Thai jasmine rice.
Have a decent Thai beer handy, play the CD.