Graham Reid | | <1 min read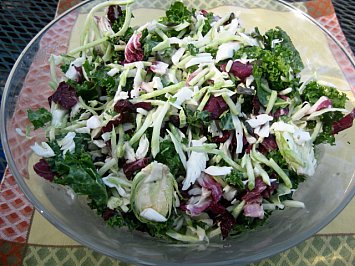 Hawaiian guitarist Makana -- who is one of the guests at the forthcoming Womad in Taranaki -- offers a slack-key style of blues, jazz, Hawaiian and bluegrass sounds.
He turned professional when he was 14 and recently was nominated for a Grammy for his contributions to the soundtrack of the George Clooney film, set in Hawaii, The Descendants.
He's a man who also likes fresh food and so here shares a recipe which he and his sister Tiffani Nicole have come up with.
Feel free to change the ingredients a little (cold roasted kumara goes very well with a kale salad).
INGREDIENTS
Raw Kale (torn)
Ambrosia Apple (sliced)
Candied Pecans (broken into pieces)
Raw Cashews
Hemp Seeds
Coconut Oil
Dates (chopped then mashed)
Raw "nutty" Sheep Cheese (sliced)
Sea Salt (raw)
METHOD
Put all ingredients in bowl
Hand-crush for a minute or so, Put some muscle into it! The kale should become fully soft and coated with the coconut oil and dates
Add a little squeeze of lemon
Enjoy!
For more details on Womad 2014 artists with sound samples and Elsewhere's opinion simply go here.