Graham Reid | | <1 min read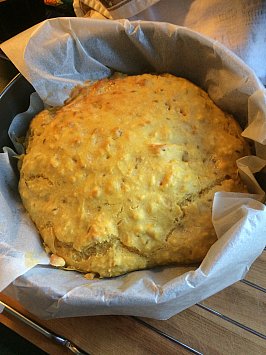 Okay, this costs you a bottle of beer (small one though) but believe me it is worth it.
Add whatever herbs you like but as you may see from what Megan writes, cumin or fennel is excellent.
She says . . .
This is very easy!
It comes out a bit like a bread scone and is best eaten within two days.
375 g or 3 cups of of self-raising flour *
1 x 330ml bottle of beer
3 tsp sugar
1 tsp of salt
Melted butter
Whatever herbs and/or seeds you want to add to the mix (we like cumin or fennel seeds and a bit of tumeric for colour)
* = if you don't have SRF, use normal flour and for every cup add in 2 tps baking powder and 1/2 tsp salt. You therefore probably don't need the 1 tsp of salt listed above.
In a large bowl sift the flour (optional) and add in sugar, salt and herbs then beer
Mix to form a wet dough
Pour into a bread tin or round cake tin
Drizzle a bit of melted butter on top
Bake at 180 C until golden and crisp on top - about 50 mins (or if using fan oven about 20 mins)