Graham Reid | | 3 min read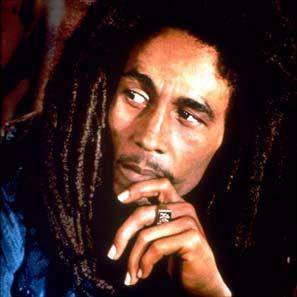 Summertime in the late Nineties and I am walking in the Blue Mountains west of Sydney. Around the corner come two Maori guys who greet me with eyebrow flashes and a hefty, "Kia ora."
We run down a quick exchange: "Do you live here?" "Nah, just over for a few days ..."
And so on.
Finally I ask: "How d'you know I was from New Zealand?"
"The T-shirt, bro," says one through hooded eyes and with a knowing smile.
It wasn't the first time my "Dread Lion: Bob Marley" T-shirt had attracted comment in Australia.
In that golden decade between Johnny Nash's Stir It Up in 71 (written by Marley incidentally) and the day in late May 81 when the Marley funeral cortege made its way through the streets of Jamaica, reggae largely went past Australians.
Sure, reggae bands played there and Marley was acknowledged as the High Priest of Herb.
There were even aboriginal reggae bands like No Fixed Address . . . But they mostly rubbish pub-rock bands with a few skanking riffs. There was nothing like the deep consciousness of reggae as there was in New Zealand, or the recognition of Bob Marley as a spiritual, philosophical and musical figurehead.
And nor was there in the States, where Marley hadn't really broken through despite a strenuous tour in 78 which saw him fill Madison Square Garden. His final Stateside tour opened with two shows with the Commodores, an attempt to take him into mainstream consciousness. But it was not to be.
Like Bob Dylan, Lou Reed and Patti Smith, Marley didn't sell as many albums in his lifetime as you might think, but his influence was always greater than his record sales.
In Britain he was always well known but today, outside of black culture and white dance floor, it's more as a poster icon, like Che Guevara as Marijuana Messiah.
But in New Zealand/Aotearoa he has been revered. Marley was always big among Maori and Polynesians and it doesn't take a great deal of social analysis to guess why. His was a voice for the politically and financially disenfranchised and the socially oppressed. Yet he stood for dignity, spoke with eloquent simplicity ("get up, stand up, stand up for your rights") and celebrated life and spirituality.
His albums were alternately political and party time. He denied racism and loved kids.
Out of that complex convergence you can see why he held great appeal.
That he had a broad-based Pakeha audience is more knotty but his acceptance - outside of those who simply saw him as legitimising dope smoking - suggests a much greater common ground of shared aspiration and understanding between Maori and Pakeha than some would have us believe.
Marley articulated racial harmony at a time when others would divide us from within for their own agenda, and the coincidence of his birthday and Waitangi Day being one and the same gave us plenty to debate and think about.
For five years from the mid-Nineties the annual One Love Unity Celebration in Auckland acknowledged the birthday of this reggae legend.
And it was possible to see in that celebration on Waitangi Day an alternative view of our nation. We make our celebrations about the things which mean something to us and the One Love Unity Celebrations were the biggest Waitangi Day events in the country.
It was a cross-racial family day and a celebration of unity on our national day which had been most often marked by confrontation. It drew up to 15,000 peaceful people gathered together under the banners of unity and "one love".
It was however and irony that for the past decade that the celebration/commemoration went into decline as Marley was getting bigger internationally.
Since his death there have been posthumous albums, compilations and a box set and numerous biographies, the most significant being Timothy White's Catch a Fire, which clocks in around 30 revised editions since the first publication in 1982.
His former home at 56 Hope Rd in Kingston, Jamaica is now a Marley museum and that country's most popular tourist site.
bobmarley.com offers his life story and related Rastafarian and Jamaican information alongside merchandise such as clothes, hats, books, posters, Bob mousepads and watches, videos ...
And today Marley is merchandising as much as music in most parts of the planet.
Rita Marley launched the Marley luggage collection (nylon bags which can accommodate more than 45kg of stress according to Vic Vanjari of Moonglow Trading Ltd) and in Bali in the reggae shop you can buy his likeness slapped onto any red, green and gold product right alongside a marijuana leaf.
From the T-shirt shops of Los Angeles and the Gold Coast to Ghana and Japan, to reggae bars in Thailand and Kuala Lumpur, Marley's iconic likeness is big business. In 1999 a Marley Tribute to Freedom theme park opened at Florida's Universal Studios.
In this part of the world we don't need such shrines. We don't mourn his death but celebrate his life, music and message of dignity, tolerance and racial unity.
It's a message worth remembering as we think about the meaning of Waitangi Day and the coincidence of it being Bob Marley's birthday, this year three decades since he arrived in New Zealand, was accorded an enormous powhiri and changed the way many thought about life, music and their future.