Graham Reid | | 6 min read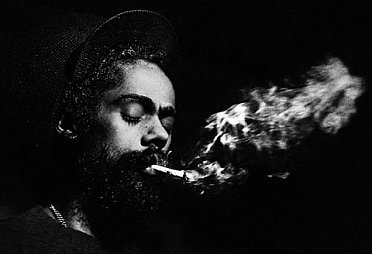 The most common complaint from those who have stardom thrust upon them -- the tabloid coverage and paparazzi, the private chef serving you rather than some kid on minimum wage -- is that nothing prepares you for this life.
Okay, it's tough at the top -- it's not that easy at the bottom however -- and no, you can't go to school to learn how to be famous.
But there is one man who was well positioned to know what was coming if he became successful -- Damian Marley, the youngest son of reggae's most prominent figure Bob and the 1976 Miss World Cindy Breakspeare.
"Oh yeah, I knew some things," he says. "Definitely, mon."
His answer, delivered with a deep and knowing chuckle, has come when asked how things are for him now when he goes back to Jamaica. Because he's no longer just Bob's boy but a star in his own right.
Damian Marley's latest album Welcome to Jamrock recently picked up two Grammys (best reggae album, best urban/alternative performance) and followed the Grammy success (best reggae album) for his previous release Halfway Tree.
The title track of Welcome to Jamrock -- a blunt warning to casual tourists in his homeland that they ignore poverty at their peril, was called "a contender for reggae song of the decade" by the New York Times and named best single of 2005 by New York Magazine.
The Jamrock album debuted in the Billboard charts at number seven, a placing usually reserved for long-established acts.
All this makes Damian -- 27, polite and articulate -- a hot property, more so back home where reggae hasn't enjoyed this kind of international success since his brother Ziggy's US chart singles Tumblin' Down and Look Who's Dancing in the late 80s.
So are some people back home now trying to ride his train?
"Yeah, some. Some people see a lot of things is happening in our camp right now so they want to be a whole part of it.
"But my family has always had that precedent in Jamaica from my father, and even when Ziggy and the Melody Makers were at the top of their game. We were always the family that set the standard where music was concerned. So we were always known."
And the years have sharpened this wisdom in spotting hucksters and those want to be part of the picture?
"Definitely, mon."
These days this Marley spends much of what little downtime he has in Miami where his family have long had homes. It's close to Jamaica, but easier to keep in touch with the business.
Marley acknowledges he has an industry around him, and that this is most definitely work. You don't debut that high in Billboard without putting in the effort.
"We did a lot of touring and that was the way we had to publicise ourselves because we didn't have no mainstream exposure, or radio play that much. We did a lot of touring between [Halfway Tree and Jamrock]."
In mid 04 he also went out on the 27-city Bob Marley Roots, Rock, Reggae Festival Tour with brothers Ziggy, Julian, Stephen (who co-produced and appears on the Jamrock album) and Ky-Mani.
The momentum built by the touring ensured a ready audience for the album -- an astute marriage of roots reggae, dancehall, toasting, and rap from guests Nas and Black Thought -- when it dropped.
Marley acknowledges he was trying to reach the black American urban audience -- the one which eluded his father's generation -- although that wasn't the reason for inviting in Nas and Black Thought to contribute to his update of his father's Pimpa's Paradise. Or Bobby Brown for the slippery Beautiful.
"I love those styles, it's the kind of music we are part of [and] to do songs with Nas or Black Thought definitely helps us branch out into these other markets."
And he doesn't forget the heroes he had when he grew up in the famous family home at 56 Hope Road. As a young man he looked up to dancehall stars Bounty Killer and singjay specialist Eek-A-Mouse, both of whom also appear on the Jamrock album but may have been forgotten by many in the rush to embrace new styles.
"I am a big fan of Eek-A-Mouse music and likewise Bounty Killer. It's important to showcase these elders and we have the chance to do that for them. And their talent is still there, for sure."
By mixing his family connections, old school reggae and American rap Marley steps lightly across the generations, and that is evidenced by the audience he pulls in the States.
"Most of the audiences are mixed, from youths to elders and people from all different nations."

But do the elders want him, or want to see his father filtered through him?
"Maybe both," he laughs. "Whether they have expectations of me they don't tell me though, and I don't worry too much. But some of them are there because they are my father's fans and the relationship they have with my father is very strong."
Damian Marley formed his first band at 13 with the son of guitarist Cat Coore from Third World, and five years later released his debut album Mr Marley on which he covered some of his father's songs but also announced himself on the track Me Name Jr Gong.
His style, a cross between Jamaican toasting and loose and lyrical rap, is only one of his voices. By Welcome to Jamrock he had developed an almost world-weariness that made him sound wise beyond his years. And even though the album has some snappy pop-reggae manoeuvres evident -- notably the Vocoder-driven Hey Girl and All Night -- there are consciousness lyrics everywhere.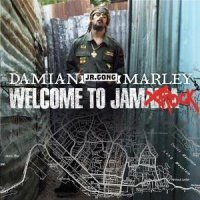 "Luckily for me the truest song broke me. Welcome to Jamrock really won exposure for us. That's a hard song and has set me up where people would expect that kind of lyrics from me.
"In other words I didn't get popular by doing commercial music. I became popular doing the militant music, and we'll just stick to that now."
When he says some "worship the bling and deny the King" he's taking a direct swipe at how hip-hop lost its way from the politicised stance of Public Enemy and NWA. It sets him apart and, as with his father, gives him and his music a sense of higher purpose.
"That's something I feel strongly about when it comes to my music and my mission as a person, but maybe it's not fair to expect the same of everyone. Not everybody is a moral leader or a spiritual leader."
There's a lofty assertion, is that how you see yourself?
"Umm. I don't see myself as a moral leader maybe -- but being a musician I am in a position where I have an influence on those who listen to my music, so that's what I end up being -- whether or not I like it."
Not that he has had much opportunity to consider what has been happening to him lately.
"I was trying to explain to some people recently that so much great things have been happening in the work that I haven't really had the chance to really take a breath and enjoy all of the achievements.
"I feel very, very proud that it's the first time in the reggae category that we won one and one," he says, meaning consecutive awards for his last two albums.
But there is still much work to be done. Throughout Jamrock he reminds his audience of youths who are suffering and he unflinchingly addresses the same violence and poverty that his father sang about over 30 years ago on songs like No Woman No Cry and Johnny Was.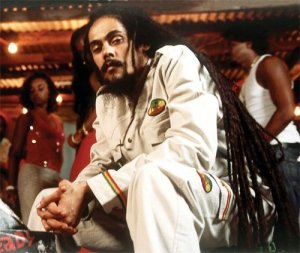 "The changes are happening and we want it to happen faster. But change still occurs. In the 60s and so forth Rastas couldn't socialise freely and you'd be crucified on sight really for wearing locks.
"But now you can see locks is becoming a fashion statement throughout the world. So a lot of things have improved and grown. But there is still a lot of work to be done and we are putting our contribution to those works now."
Dreadlocks as an international fashion statement hardly helps poor people though?
"Well, yeah. But you gotta start somewhere," he laughs. "The first is maybe there are fashion locks and maybe one day they'll check out where the dreadlocks is coming from.
"My role is to raise that consciousness."