Graham Reid | | 3 min read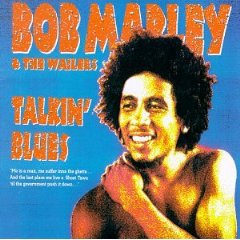 Shortly after Bob Marley died in May '81 a journalist asked former-Wailer Peter Tosh what the passing of this charismatic reggae figure meant.
Tosh considered the matter carefully, then offered this insightful -- but eloquently, unusually -- observation: "No more music from Bob."
Rasta/Zen reduction right there. And nearly right.
Two years after Brother Bob's death his longtime label Island Records delivered Confrontation, a collection of previously unreleased Marley songs, some of which -- like Buffalo Soldier and Mix Up Mix Up -- stood alongside Bob's finest material.
Then, on the 10th anniversary of his death, Island released another, even better Marley album: Talkin' Blues.
It was a stone cold gem collection of unreleased Marley material, but at the time -- Bob passing beyond cultural memory, and more so these days -- it was overlooked. And is now largely forgotten.
Marley had some pivotal periods in his life and music: the late Sixties when he penned the seminal Soul Rebel (a song I've long argued is the most significant in his life, as opposed to his "career"), Duppy Conqueror and It's Alright; the '73/'74 Burning and Looting/Natty Dread time (No Woman No Cry, I Shot the Sheriff) and the late Seventies when he expanded his vision in song s such as the mighty grooves of Exodus and War.
Talkin' Blues sits right in the middle of that central, critical and popular Burning/Natty Dread time.
In late '73 Marley and the Wailers were tossed off the support slot of a Sly And The Family Stone tour (too good for the things-go-better-with-coke Sly apparently).
They ended up in San Francisco and a local radio station put them in a studio where they recorded live most of the 11 tracks on Talkin' Blues, among them a seven minute, deep roots, Nyabinghi version of Rastaman Chant. And what sound like the definitive recording of Burning and Looting.
And here also were urgent versions of Get Up Stand Up ("the devil created disco", said Peter Tosh in '79. "Telling people to 'get down'! I-man say to black people 'Get up, stand up for your rights!' ")
Tosh was still in the band at the time of these recordings and Joe Higgs (who schooled Marley and Tosh in harmony singing) was standing in for Bunny Wailer who refused to tour after finding the UK too cold.
To hear Tosh and Marley exchange vocals on Get Up Stand Up, and Marley taking over Bunny's dubby-pop Walk the Proud Land is a sheer delight.
The others were the previously unreleased track at the time (anywhere, as far as I could tell) Am-A- Do with Marley at his most downright seductive and sexy then, flipping into the rude-boy rudeness on Kinky Reggae.
The long Burning and Looting has a ferocious keyboard part from Earl 'Wire' Lindo and Marley sounds at his most world-weary but ululating as he sings "burning all illusion tonight".
Lissen up.
There is also a live I Shot The Sheriff recorded at the Lyceum in '75, the night before the concert which appeared as the classic Live! album.
Yes, much of this is grounded in that bubbling keyboard sound of its period -- great swathes of Jimmy Smith-cum-Booker T, which is no bad thing if you know the references perhaps.
But what most of Talkin' Blues restores, beyond reminding of the clarity of Marley's vision -- is the notion of Bob Marley as the rebel outsider, an aspect diminished by his image becoming a poster and his life reduced to the posthumous compilations such as One Love and Legend.
But here was man who "woke up this morning in a curfew" and "felt like bombing a church" because he found the preacher was lying. And he had his blood run cold and racial conscience aroused when he heard "the crack of the whip" (on Slave Driver).
Rarely has any musician had, and embodied, such a collective racial memory.
Marley's religious philosophy may have predicated that he should preach peace, but not peace at any price.
Between the songs on this exceptional album are snippets of '75 interview with Marley offering his views (in typically idiosyncratic and sometime impenetrable patios) on music, life, Haile Selassie (who had recently died) and Rastafarianism.
They are too good to be reproduced here in pallid print.
They need to be heard -- as you can on this unusual and rare album which offers unforgettable music, excellent recorded sound, a unique voice, the jazziest and darkest rhythm section around at the time, the I-Threes of Rita Marley, Judy Mowatt and Marcia Griffiths . . .
Marley could sing something as eloquent and uplifting as "walk the proud land" and Tosh could drive home the message on "can't blame the youth".
This was rude-boy/gospel-pop, Bob the rebel at the forefront of Jamaican music before the whirlwind of fame and the crippling embrace of the ferocious counter-culture gripped him. And before he changed the direction of popular music forever.
Or at least for a couple of decades.