Graham Reid | | 4 min read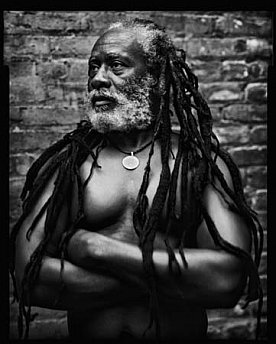 Burning Spear lets go a deep, resonant laugh which starts as a chuckle then becomes increasingly full-throated. Savour that moment, it's the only break in his gravitas during this friendly, respectful conversation.
Burning Spear - aka Winston Rodney - is the conscience of reggae, keeper of the flame of its roots, and the music's most visible senior statesman. And he takes his role seriously, proud of retaining his integrity through 30 years.
As he observes on As It Is, the autobiographical opening track on his late-Nineties Calling Rastafari album, "The music attention was in a different direction ... Spear been through his struggle with a lot of patience and discipline, never bow down ... "
"Yes," he says from New York, where he is gearing himself up "to do good work for de people" on another extensive tour, "dat telling the 'istory of Burnin' Spear ... even though de music was in so many different direction, I didn't lose my patience or my cool, I maintained my gravity. I didn't do the wrong t'ing, I'm still here doin' the right t'ing."
Perhaps those sentiments endeared him to Grammy judges because Calling Rastafari - while not his best work yet retaining his distinctive, majesterial tone - won best reggae album of '99. Maybe it was acknowledgement that where some artists rouse themselves every four years for an album, Spear, as Carter Van Pelt noted in The Beat, "is a record company's dream in terms of consistency and reliability, and he has maintained a nearly annual schedule of recording and releasing albums since 1992."
The Spear story began long before that. Born in Jamaica's parish of St Ann - the same as Bob Marley - Rodney began recording in 1969 at Coxsone's studio at the suggestion of Marley.
"We just reason man-to-man and I-man say wherein I would like to get involved in the music business. Bob say, 'Check Studio One.' Like that. I went on a Sunday, audition day, and they select me."
Rodney was joined by Rupert Willington and Delroy Hines and they adopted the band name Burning Spear after the first prime minister and president of Kenya, Jomo Kenyatta, who styled himself the Burning Spear of Kenya.
"I was told about the name by an elderly person," says Spear, who also took the name as his own.
"That name match up with the sound I be singing."
In 1974 their single Marcus Garvey - recorded at Jack Ruby's studio - reminded Jamaicans, and Rastafarians in particular, of the black prophet and social activist Garvey who enjoined black Jamaicans and Americans to look to Africa where a black king would arise. Rastafarians took this to be Haile Selassie I of Ethiopia, emperor from 1930.
Burning Spear repeated the success with the single Slavery Days, a broody reminder of 400 years of enslavement, with the hook "Do you remember the days of slavery?"
That memorable melody and rhythm Spear now uses for As It Is, asking the somewhat more mundane question "Do you remember Burning Spear?" If Grammy judges hadn't, their consciences were prodded and they rectified the matter. He defends the revision: "People have been sampling a lot of Burning Spear, if I sample myself there be nothing better than that."
Since the late 70s Spear has been a solo artist and acknowledged as a Rasta shaman/philosopher whose music is grounded in the Nyabinghi traditions of chant'n'percussion, even though his band has always been augmented by horn sections and sometimes sky-scaling rockist guitars.
At 55 and suggesting retirement from touring, the mighty Spear can reflect on a succession of life-threateningly impressive albums and their dub versions, notably Slavery Days/Slavery Dub and Marcus Garvey/Garvey's Ghost in the mid 70s and, recently, his Living Dub series.
Spear was often reclusive and between tours and recordings in the 70s and 80s would retreat to his garden in St Ann's Bay to tend crops and sell produce at roadside stalls. One album from this period was pointedly titled Man in the Hills.
While styles came and went and younger musicians got into ska, toasting, dancehall and ragga, his sensibility remained unchanged.
"I have full understanding that young people have to go through a lot of phases and various musicality. Many of these music don't carry the right kind of substance and understanding, or proper lyrics wherein people could be connected.
"Music should be clean at all times, regardless of being a rapper, pop or whatsoever, therefore the more harmony in the house of reggae, the more right thing we do with music."
His Garveyite philosophy is a common ground for the various philosophical schisms in Rastafarianism.
"Before Rasta, Marcus Garvey was one of the first Rastamen who set the pace for black people and taught about black consciousness and development."
As with most Rastafarians, Spear doesn't concede the death of Selassie in 1975 after a military coup had overthrown his corrupt regime: "What we say is we don't have no proof on that, we unsure and there is nothing that I'n'I could identify to say it is true. Not saying it is not possible, but there is nothing to convince a lot of people ... Rasta people were saying why did the death of this man be so secret, why did the whole world not involve in that kind of [state] funeral?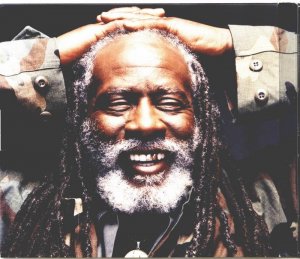 "It became shaky and people start to have a lot of doubt."
Burning Spear, a dynamic stage performer, is a man with a vibrant social conscience who speaks out against oppression and repugnant immigration laws and stands up against those who "would 'criminate de black yout'."
His mission is to unify - and that's a higher calling to be taken seriously.
So what raised that laugh? Telling him that in East Africa Jomo means "farmer" and Kenyatta means "musician." And wasn't Spear a farmer-musician, too?
It's a laugh worth waiting for.