Graham Reid | | 2 min read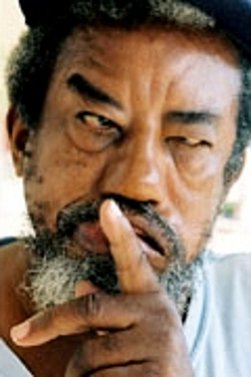 King Stitt is something to see all right. His glazed eyes appear to look in different directions. There are huge bags beneath them, his greying dreadlocks are tucked under a huge tea cosy, his wiry beard unkempt.
But his most distinctive features are a bottom lip the size of a sausage and a single sharp tooth which projects out of his otherwise empty gums.
When he speaks you wish for subtitles.
But King Stitt - aka Winston Spakes - is one of Jamaica's earliest and best DJ toasters and was there at the start of Studio One, the classic JA record label founded by Clement "Coxsone" Dodd.
A partial list of Studio One artists includes the Abyssinians, Big Youth, Burning Spear, Ernest Ranglin, the Ethiopians, Freddie McGregor, and the young Wailers of Bob Marley, Peter Tosh and Bunny Livingstone.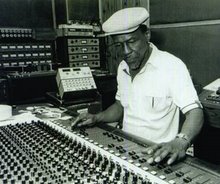 Studio One is such a seminal label it is often called "the Motown of Reggae", and not just because Dodd (like Motown's Berry Gordy) ran his studio like a Detroit production line with an in-house band supporting an ever-changing roster of acts.
As a youth Dodd (right) went to Florida as a farm worker in the mid-50s and fell in love with black r'n'b and blues. He returned to Kingston and started his Downbeat Sound System in dancehalls at which he would, in the manner of US radio jocks he'd heard, talk and improvise before playing records he'd bought in the States.
It was the start of DJing and Downbeat became the No 1 show in town with Dodd its star. He'd go to the US to buy records which he'd bring home and scratch names off so rivals such as King Stitt wouldn't know who they were by. When the music changed to rock'n'roll in the late Fifties Dodd recorded local acts at RJR studios - but only for one-off discs which he could play through the handmade speakers of his sound system which he designed.
So popular was Theophilus Beckford's Easy Snapping he released it as a single, then he recorded other acts at various studios before opening Studio One in '63.
At his sound system Coxsone would often play dub plates from the studio session (a one-off pressing) to test them on audiences. With this in-built market research and the forum to advertise his music Dodd had local acts queuing to record, among them the Skatalites who created the template for Fifties ska which then got slowed down and became reggae.
Dodd recorded lovers' rock (Delroy Wilson's Dancing Mood) and primal reggae. Many classic Studio One tracks have undergone innumerable versions since: Michigan and Smiley's Nice Up the Dance has appeared in dozens of variations under as many titles.
And it wasn't just great musicians associated with Studio One: PJ Patterson who became Jamaica's President in '93 was a roadie and sometime manager for the Skatalites in the 60s.
The Studio One story is still being told and sold, notably by Soul Jazz Records which has reissued original albums and natty compilations from the label, repackaged them in generic artwork and colourful sleeves, and delivered 12-inch singles for DJs.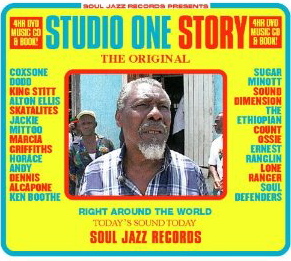 It has outdone itself with the handsome Studio One Story collection which is a 100-page book of photos with a synopsis of the label's career, and a 16-track CD which opens with Easy Snapping, includes Nice Up the Dance, and the Abyssinians' philosophical Declaration of Right alongside Alton Ellis' I'm Still in Love With You.
But the real goods come in the four-hour DVD which tells the studio's story through interviews with Dodd and dozens of others.
Dodd wanders the streets and goes back to dancehalls he DJed in 50 years ago . . .
Engrossing. And rare.