Graham Reid | | 1 min read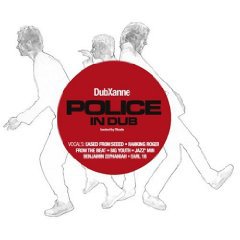 This is how I like my Police. Without Sting.
As with that yelping guy in Yes and few others, I find Sting's voice very hard to take. Although I concede that when I consider their album sales (45 million and rising) as well concert ticket sales I am in a very small minority. So be it.
Always quite liked the music, rarely liked Sting's singing. So this could be my album: 13 Police songs dubbed up and in some cases with guest vocals by the likes of Ranking Roger from the Beat, Big Youth, Benjamin Zephaniah and others.
The people behind this are Okada, a Hamburg-based collective who were apparently given permission to use the Police catalogue (why would you need permission?) and they have also hauled in percussion players, a horn section to bring a real Trojan Records sound to some tracks, and clearly know what they are doing in the dubbing up stakes.
This isn't the first such project along these lines -- Reggatta Mondatta of '97 was a reggae tribute to the Police featuring Chaka Demus and Pliers, Aswad, Shinehead, Maxi Priest and many other worthies -- but there is something kinda fun about this one. It is a tribute album in a sense, but also a departure point as the music swoops and keens around in some dark dubby corners.
Police people would like this, and those such as myself less enamoured by that band will also find much here to enjoy and immerse themselves in.
As with all such projects, not everything is succesful (ironically I'd rather have had Sting's more desperate and edgy sound on Roxanne rather than Eased from Seed) but the best outweighs the rest.
Save this one for summer.