Graham Reid | | <1 min read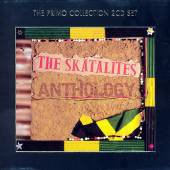 This 35-track double disc pulls together essential Skatalite material alongside work that appeared under the names of some the group's members (Rolando Alphonso, Baba Brooks, Don Drummond, Tommy McCook) and is a primer on the sound of Jamaican ska in the mid Sixties.
The rhythm might be the choppy ska style but over the top you can hear the influence of big bands and New Orleans r'n'b (Yard Broom with its New Orleans swing and nod to Somewhere Over the Rainbow and even Glenn Miller, Magic with its references to Louis Jordan.)
These were jazz-influenced musicians and the loose swing feel is utterly endearing, especially when coupled with lazy tenor playing by McCook or Alphonso or Drummond's trombone.
The band only lasted little more than two years in its first incarnation -- internal tensions, lack of money, disputes with producer Clement Dodd etc -- but in that time they laid down a template for a particular style of slower and swinging ska.
This collection focuses on that period and while it misses some tracks from the period (their famous Guns of Navarone by Drummond, Trojan has an excellent collection to fill those gaps however) with 35 slices of Skatalites collected in one place you can hardly argue.