Graham Reid | | <1 min read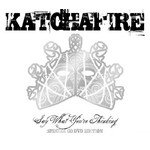 This will be brief because the original 2008 album (the third by this constantly working New Zealand reggae outfit) was reviewed at Elsewhere here, but just to note this expanded package now comes with extra tracks (two album tracks remixed and two live songs, one being Collie Herbsman off their debut album Revival, the other this album's title track).
There is now also a DVD disc which includes a doco of the making of Say What You're Thinking, three live tracks (all off that impressive debut album) from a showcase gig in Los Angeles, and their video for Working off this album which was directed by Adam Jones.
Katchafire are a band with history and depth, and although there have been small line-up changes they have got a true compass and still make some of the deepest, most meaningful reggae in Aotearoa.