Graham Reid | | 1 min read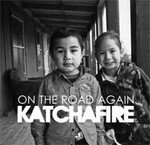 The title song/opener here is appropriate: for most of the past decade this hard-working band have been playing everywhere from small town bars and main centres around New Zealand to "London, Scotland, Ireland, Hawaii, Vegas, Cali, LA . . ." and more, which they tick off on the promise of "Fire layin' it down" in your town.

Now on their fourth album, their winning reggae template hasn't been changed much although the consciousness roots message has – with only a couple of exceptions - mostly been made more soft and soulful (the groove-riding, lovers-style on Sweet As, Feels Like and Irie).

Katchafire have sometimes put the spotlight on hard times and race relations and here they weigh in with the memorable Lead Us with its reference to brothers falling on the street or ending up in jail, and the assertion "they try to take our culture, they try to segregate".

On the Pacific-influenced You're Dreaming ("now you can control your feelings by taking a role in the helping of your peeps") there is an enjoyable Jimmy Cliff-style rolling rhythm and vocal.

Most moving is the gentle and soulful Seek Ye First – with appealing hints of George Benson cruisey guitar – in which the promised kingdom to come is placed alongside the importance of Maoritanga.

Not everything is as strong: the MOR pop-reggae of One Stop Shop – with vocoder – has a weak lyric ("I'm your one-stop shop when you're ready to drop") as does Chance Are which just sounds clumsy ("remember that time at Sweetwaters . . . we got to hurry because Herbs is on, got no more money . . ."). It's also hard to know what to make of the "they wanna lick you up like a crème brulee . . . you have the right to a dance parade" on the crispy chopping beats of Is This Familiar.

At such times – and on Serious which opens with "may I pick a lily from your daisy room" – Katchafire sound like that time on the road has taken a toll on their writing.

While they deliver sophisticated and intelligent arrangements, as well as first class playing, some of these lyrics – many about the joys of love and keeping calm amidst the haste – are over-sweet on an album which comes up short in the tartness they are capable of.