Graham Reid | | 1 min read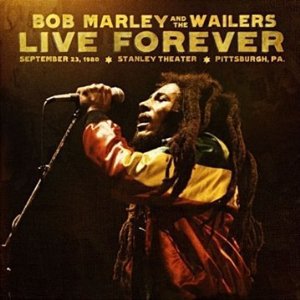 Some albums are accorded greater cachet because of the circumstances of their creation. Does anyone really think George Harrison would have won a Grammy for his instrumental Marwa Blues if he had been around to collect it?
That was a vote driven by sentiment -- and probably regret and embarrassment that his contribution to music post-Beatles hadn't been more widely acknowledged in his lifetime.
So it is with this album: the final concert Bob Marley ever played.
It was September 23, 1980 in Pittsburgh and he was already gaunt from the cancer that would claim him eight months later. He'd collapsed two days before while jogging in Central Park and was unwell when he arrived in Pittsburgh.
This was to be the tour in which Marley finally cracked the US, a country/market which had been largely immune to his genius. But the word was spreading rapidly and he'd sold out two nights at Madison Square Garden (although still on a bill with others, in this case Kurtis Blow and the Commodores), and there was briefly talk of adding a second Pittsburgh show -- but he was too ill.
Given his poor health it is remarkable that he got through a set this long (this is a double disc) and that he was uncompromising in delivering. But there is an audible flatness (line it up against the classic Live! from '75, or Babylon By Bus in '78, and it is wanting.)
That said, you cannot help but hear some of it differently: "I know it's impossible to go living through my past" in Natural Mystic leaps out now for very different reasons.
But the extended grooves, soloing, dub-lite passages and electric keyboards show that this was Marley ratcheting up his deeply spiritual and politically fuelled material for a stadium audience . . . but even in this theatre setting he seems quite distant. And although he rises to the occasion in places (Crazy Baldheads) at other times he sounds weary to the point of exhaustion, both physical and emotional.
Songs like Rastaman Vibration sound leavened out and hardly a reflection of their uplifting sentiment.
And it's telling that Marley doesn't speak much to the crowd.
Never intended for release (and part of the encore not taken from the desk recordings because the tape ran out), Live in Pittsburgh is historic by virtue of the circumstances, but it is hardly among Marley's essential albums.
So remember him this way? Perhaps not.
But the final song he ever sang was Get Up Stand Up -- and that is always worth hearing, and remembering.
Like Bob Marley? Then start here for more at Elsewhere.