Graham Reid | | 8 min read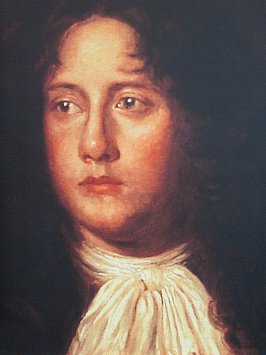 When I was in primary school, at least once every year, I'd be teased about my name. Not the unexceptional one on this article, but my full name which some sneaky kid would discover by going through the teacher's roll.
For a couple of days after, there would be finger-pointing kids in the playground, and me running red-faced behind the bike-shed at Mt Eden Primary.
Even my older sister would sometimes call me "Slavers" when I annoyed her.
In New Zealand's golden weather of the late Fifties, before mass immigration and Beyonce, my complete and handsome name stood out in a class of mundane Michaels and Peters: Graham John Claverhouse Reid.
"Ah, Bonnie Dundee," said Professor Nicholas Tarling much later when I was enrolling at university. Indeed. Because Bonnie Dundee, famed in Scottish song and a poem by Sir Walter Scott, was John Graham of Claverhouse, Viscount Dundee (1648-89).
My mother told me he was very good at killing Englishmen and at the Battle of Killiecrankie in 1689 -- the first Jacobite rebellion -- his ragtag army of Highlanders defeated a well-trained English regiment, despite being outnumbered two-to-one.
What mum didn't tell me was prior to this historic, heroic act -- in which he was killed and thus denied writing his name larger in Scottish history -- he was also known as "Bluidy Clavers" for his enthusiastic persecution of Protestants.
Whether I was named for him -- and for which one of those two sides to his character, although we weren't religious -- I was never sure.
But a recent trip to the Edinburgh of my childhood allowed me to do some genealogy research.
Sort of, "who do you think you are, Bluidy Slavers?"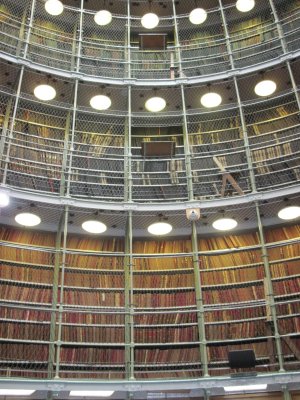 While not hoping to elevate my status by association with Bonnie Dundee, I was curious to see what, if any, link could be established.
Or whether that had just been "a boy named Sue" parental prank to toughen me up.
Scotland keeps excellent records of births, deaths and marriages and in 2009 -- designated the Homecoming, inspired by the 250th anniversary of the birth of Robert Burns -- it welcomed expats and those of Scottish ancestry keen to explore their heritage.
Edinburgh is rightly proud of its National Archives, hundreds of thousands of documents dating back to 1855 when there was compulsory civil registration. It also boasts an extensive on-line catalogue for researchers. Prior to that there are parish registers.
Audrey Wyper in the General Register Office just off Princes St did some quick family searches for me in advance, and one afternoon we poured over photocopies of old documents written in long, beautifully looping penmanship.
My family has a limited and therefore confusing pool of names: both my late father and I are Graham; my late mother and older sister both Margaret. When my father suggested the name for my younger sister my mum's response was along the lines, "So who the hell was Barbara?"
Naming a son Graham or John was epidemic on my father's side. My grandfather was also Graham, his father John, his father Adam unusually, and his father before him another John.
On my mother's side things were more problematic: my mother was christened Margaret Noble Lamb Stevens and her mother's maiden name was Margaret Noble Lamb Stephen.
Stevens and Stephen?
There was also a confusion of Johns and Janes, with the occasional Robert making a guest appearance.
A first son would commonly be named after the father's father, a second after the mother's father, said Wyper. And a first daughter named after the mother's mother a the second after the father's mother.
Or after someone called Barbara?
I'd assumed we were many-generation Edinburgh, but my forebears were peripatetic between Dundee, Aberdeen, Glasgow and Edinburgh. I'm also descended from a long line of shoemakers on both sides, with the odd cabinetmaker, seamstress and brewery mashman thrown in.
But the devil is in the details: My great-great-great grandfather John, a farmer near Aberdeen, and his wife Agnes had a son Adam baptised before their 1810 marriage.
Not uncommon according to Wyper, you needed to know if a woman was capable of having children before you committed to marriage.
Another son John died of the DTs at sea in 1883. Hmmm.
My great-grandfather John, a master cabinetmaker -- who was 19 in 1866 when he married yet another Margaret, his senior by three years -- died in Glasgow's Barnhill Poorhouse 1908. Sad but again, Wyper says, not unusual: he may have been too ill to live at home in his final days.
They were all long ago and far away however: I was more interested in my parents' lives in Scotland.
My father was born in Melbourne when his Scottish parents were migrating to New Zealand. He returned to Edinburgh in his mid-20s and married my mother in 1941 who -- 18 and a decade younger -- was a "newspaper clerkess" on their marriage certificate. She worked at The Scotsman as a receptionist.
Newspaper ink is in my blood.
Dad was in the British Merchant Navy as a wireless operator on Atlantic convoys at the time. They shared the same address: her parents' house.
When I was young we moved regularly which is why I was schooled in both Edinburgh and Auckland.
It was confusing, and our family has not been good at keeping up connections: my parents both had severe fallings-out with their families so I have relatives in New Zealand and Scotland I know nothing of. An Australian cousin my age looks exactly like me, I'm told.
I've shown an alarming lack of curiosity in all this and have no idea why, for example, we lived in a caravan camp just outside of Edinburgh for a while. Perhaps waking with my eyelashes frozen together scared me into amnesia.
But my sisters and I always aware there was something about my mother's grandmother, spoken about in hushed tones. Now I know: Jane Forsyth was a serial wife.
In 1881 she married Frederick Crabb, a footman, when she was 19 but divorced him three years later ("that would have been rare at the time," said Wyper). She then married William Stevens (blacksmith, later policeman) and on his death in 1893 she took up with a cousin James Hall (his or hers we aren't sure) who was a witness at William's death. She died of multiple ailments including chronic rheumatism at 49 in 1910.
Apparently she, and my grandmother Margaret, had "second sight". Witches in Scottish parlance.
None of this got me to John Graham of Claverhouse whose name I bear, but a Graham line comes perilously close on my mother's side about seven generations back.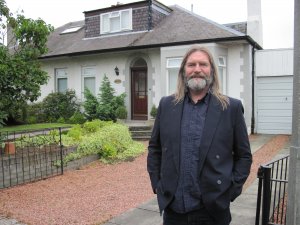 "The link is not proven . . . yet," said Wyper with a smile. He'd been down these paths before.
People are from places however, so I went to the house I grew up in, my old primary school, and tried to locate that damnable caravan camp.
Finding 18 West Craigs Crescent, Corstorphine where I spent many pre-school years was easy. Today it is a pretty semi-detached suburban house in a nice street . . . and I didn't recognise it. It meant nothing.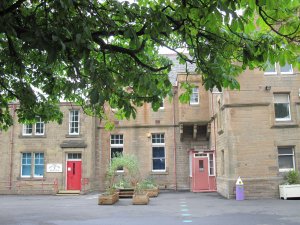 Curiously, I remembered my old primary school, or at least the area at the back where I doubtless bragged about my illustrious name and ancestor.
The house my parents lived in before West Craigs Crescent, a grim-looking pebble-dash place, reminded me -- as previous visits to Edinburgh have done -- I was lucky they escaped to the South Pacific.
Finding the caravan camp was harder: my older sister remembered it near a school or a hospital. I knew there had been a petrol station at the front and a railway line at the back.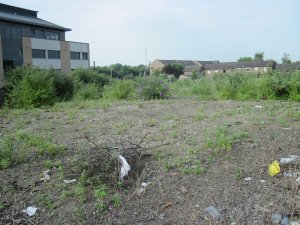 One afternoon my wife and I passed an enormous place west of the city in Haymarket near Corstorphine which looked like it had been beamed in from Brideshead Revisited. This was Donaldson House, formerly a school for the deaf: the place my sister had been thinking of. There was no service station now, however the Seventies-style office block in the suburban rows might have been built on the site of the garage.
Down a side street behind was a field covered in weeds and rubbish . . . and at the far end was a railway line. My heart raced: this was where I had dug a hut beneath the tracks and had been playing when a train rumbled over and the walls started to cave in; the tracks where I placed pennies until my mum found out and predicted a dire train accident and bad wee bairns like me marched off by the po-lice . . .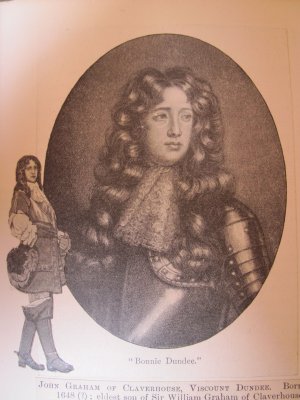 I was thrilled by the discovery, and it was just a wasteland of wind-blown rubbish.
A few days later -- with The Great Scottish Songbook in the car stereo, which included a dreadful version of Bonnie Dundee -- we drove to Killiecrankie, the gateway to the Highlands where John Graham of Claverhouse wiped out General Hugh MacKay's army.
I needed to see the place of my namesake's great victory and demise, whether related to him or not.
Sadly I thought, the great leap across a gorge by an Englishman running away got more play than brave Bonnie Dundee who is buried in St Bride's Kirk nearby. Legend said he could only be killed by a silver bullet: a bullet pierced a silver button on his jacket which fatally entered his body.
It's a good story but there's no evidence to support it.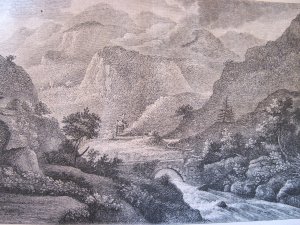 However there at the ruins of St Bride's I felt curiously moved by the rolling hills, the moss-covered walls and the silence of the centuries.
So who do you think you are, Graham John Claverhouse Reid?
I'm who I've always been: a Scottish-born New Zealander who calls this country home but has part of his heart and history in Edinburgh and the beautiful Highlands.
Maybe I'm not connected to Bonnie Dundee. I'll continue researching, but it will just be an exercise, it won't make any difference. We are who we are, not who our people -- shoemakers, seamen, seamstresses or whatever -- once were.
I like my name and sometimes fought hard for it at Mt Eden Primary after we moved to Auckland.
But none of my three sons -- wonderful, instinctive musicians like my dad whose band Roy Reid's Columbians played around Auckland in the early Thirties -- is a Graham or a John, let alone a Claverhouse. My eldest did get a middle name Graham after my dad though. The line goes on.
I wish I'd been more curious and had asked my parents questions when I had the chance; about their lives, my grandparents, and the name I carry.
But perhaps most importantly, "Who the hell was Barbara?"