Graham Reid | | 6 min read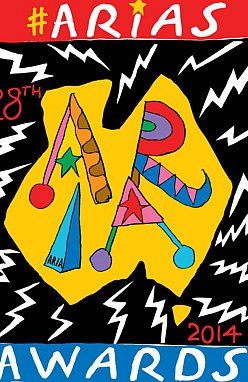 The Star in Sydney – a block-occupying casino-cum-hotel with restaurant and bar complexes so large it needs needs no other name than that for a taxi driver – has at least half a dozen entrances.
As I discovered.
But to find the red carpet for the ARIAs – the Australian music awards – was easy.
I just followed the screams.
Last night among other guests were One Direction, the very excellent Peking Duk, the unbelievably popular Australian family group Sheppard (they meant nothing to me and even less after I heard them play) and more Aussie pop stars than I could ever recognize.
Other than the old folks like Russell ("I am the real thing") Morris.
Maybe Shihad (up for best hard rock album), Neil Finn (up for an album with Paul Kelly) and a few other Kiwis like Jay Laga'aia (best children's album) walked the red carpet.
I wouldn't know.
I was firmly shut out of a view by dozens and dozens of young girls in Hollywood make-up and almost as many young boys equally dressed up, any one of whom could have been a Directioner for all I knew.
If you want to experience that Big Brother/Little Brother schism between Australia and New Zealand then you only need to fly from Sydney to Darwin, try to drive in morning rush-hour in Melbourne or – for a more pleasant experience – compare our New Zealand Music Awards with the ARIAs.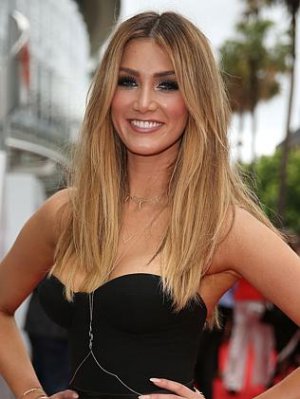 We have Jono and Ben as presenters, they have Delta Goodrem.
We have Willy Moon and his wife, they have Katy Perry.
They did however also have INXS so ...
But we also have Lorde, and they have no one like her. When she welled up at our awards I believed she was genuinely overcome by emotion. I didn't feel that about any very long acceptance speech I heard in Sydney.
The ARIAs are Very Big Deal Indeed and although I was in Sydney to see important art exhibitions (the Chuck Close overview and Pop to Popism) the opportunity was there to tag along to Australia's musical night-of-nights.
I'm sure it was great . . . but I was in a media room full of people on tablets and so busy tweeting they didn't actually watch the awards.
Not that we could.
In one of the most bizarre media events of my life (and it's been a long and diverse one in this regard) the accredited media were all in a small room and obliged to watch an out-of-synch feed of the proceedings ... which frequently stopped when a few award winners came through to have their photos taken and do an inane chat on the couch.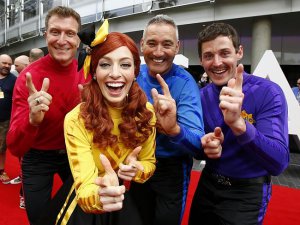 While the Wiggles were there – and god love 'em, one of them said "Harry [from One Direction] shook our hands and there was a flicker of recognition" – some Seriously Big Awards were being handed out.
Although we couldn't see or hear them.
Unless you were eyes-down tweeting or whatever you wouldn't know that someone was on stage, and even then you couldn't actually hear them.
Ummm, music awards?
The live music segments were just non-existent to us.
So no music for music journalists at their music awards?
Pathetic.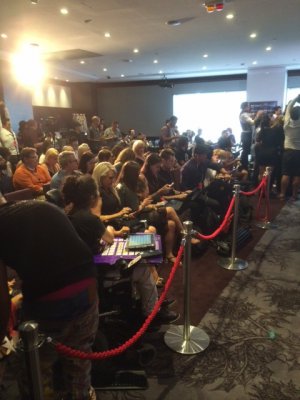 Although it didn't seem to matter to the tweet-kids.
So that meant the Comedy Album of the Year person – who seemed utterly forgettable as most such people are – sat and made jokes while the real thing happened beyond earshot, or even on the screen.
It was farcical in the extreme, made more so by how seriously the Australian twitterati and such were taking it.
It struck me they were less interested in who won than what they had to say about it.
The ARIAs are a ludicrously long event also: the speeches seem unmoderated (no sound cue to get the blabberer off) and the number of entries in categories just absurdly long (10 entries in song of the year? Seven in best live act?)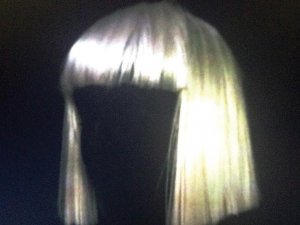 Still, I had a good night.
I ran into the blue Wiggle (literally, and apologised); I laughed far too loud in the Very Serious Media Room when the announcer mentioned the hygienically-safe family group Sheppard were signed to Decca "the same label that signed the Rolling Stones"; and found it funny that Sia (right) – who just last week on The Graham Norton Show had her back to the camera and talked about being anonymous – was there quite visible in numerous clips as they showed her nominations in the song of the year and best female artist categories.
The night was kicked off by local heroes 5 Seconds of Summer who are cliched hey-hey-chorus boy-band/pop rock outfit but, to their great credit, are highly energetic and play the cliches like they've just discovered them.
They don't make music for me but I liked them, and would think if I had a teenage daughter she would too. And that would be alright because they seem as safe as Sheppard (who I remind you are signed to the label which – more than five decades ago – signed the Stones!)
Anyway all that happened . . . . and in the media room I felt so detached from it all that I went into the lobby to call home and say what an annoying day it had been: the 7am flight over from Auckland had been delayed by 30 minutes and when we arrived in Sydney there was a medical emergency on the plane so we couldn't disembark and then I had to get a hire car and drive in morning traffic to a place I didn't know . . .
And so I hadn't eaten all day and it was now (NZ time) about 10pm . . .
And while I was doing this in the silence of the lobby, the damnedest thing happened. Slowly -- then suddenly -- dozens and then scores and eventually perhaps hundreds of people started pouring into the space.
The ARIAs are so excessive they have an interval!
That was when I ran into Jon Toogood from Shihad who had been up for best hard rock/heavy metal album. They didn't win but he was laughing because the band which did – and I saw Shaun or Shane or Someone on the interview couch talking about it – had said he was chuffed to have been sitting in front of Shihad.
And so the night went: there were clips of Molly Meldrum (being inducted into their hall of fame, which seems highly deserved). That was nice: there he was in clips interviewing the young U2 and Madonna (she and he hit it off because he was clumsy and she was cool but Maddy remembered Molly was there for her before she broke big in the US).
It just seemed a shame an unguarded moment live caught him looking sadly old and rather strange.
There was a whole bunch more of such stuff I am sure (Neil and Paul won best adult album I was told), but I just couldn't bring myself to go back into that self-obsessed media room where people seemed so detached from the music that it was supposed to be celebrating.
I left.
I congratulated John Butler on the way out. He'd acknowledged the original inhabitants of the land in his speech ... and had to answer a question from the media about that. That just would not happen in my country where tangata whenua are an integral part of the picture.
So – after a long day with no food but great art – I went back to my little hotel which I had seen for no more that eight minutes around 10am, and had a steak and some fortifying red wine.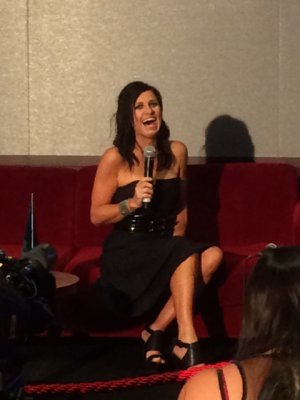 My thinking on the ARIAs in the comparison with the New Zealand music awards: The women and girls in Sydney are more shrill and orange (it's a sunbed thing); the young men in Australia spend more money on clothes and phones than I would on a car; for the media it's not about the artists but what you tweet about you and your friends; the photographers for the mainstream media are businesslike and as jaded as ours, and there's not a great deal of Australian music I envy them having.
Kasey Chambers (right) is still a star however, I like Chet Faker and Peking Duk, and as an event there is just sooo much more of it.
So much so they take a break in the middle.
Just more of everything.
I prefer our awards, not because I know and care more about the people, but because the ARIAs are persuasive proof that less is actually more.
Unless it comes to steak and a red wine, of course.
The full list of ARIA winners is here.