Graham Reid | | 7 min read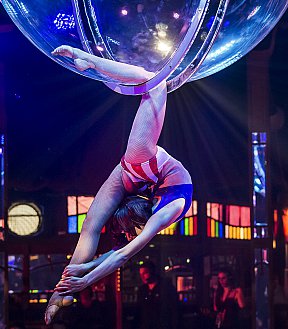 When Lucia Carbines says some bodies are more flexible than others you believe her, because this affable, Christchurch-born 20-year old is the elastic proof.
As "Miss A In A Bubble" – wearing a stars'n'stripes one-piece, her long hair tucked into a red bob wig – Carbines performs her balletic contortions at the Empire show in the Spiegeltent to audiences hushed into silent awe.
"Yes," she laughs. "It took a while not to get disheartened by the quiet because other acts get applause. But it's a mesmerising act."
Carbines opens the show contorting herself inside a clear plastic orb suspended above the small stage, and admits it can be sweltering inside so it is a difficult performing space.
"I'd never experienced heat being an issue before," says the former aerialist, "but it's like a sauna inside. The minute I sweat the stuff I use on my hands to prevent me from sliding stops working. I was used to trapeze and silks," "where it doesn't matter if you get sweaty. But when I started in the sphere I was sliding around. In Sydney and even here they have to keep the bubble cracked open with the air-conditioning blowing to keep it cool for me."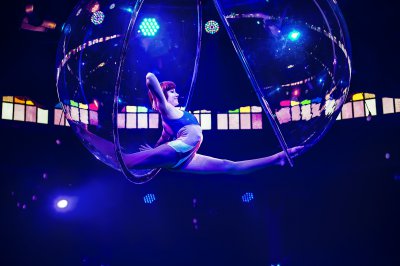 Not that any of this is evident to Empire audiences who are just struck by her almost unnatural ability to bend her body.
"I'm naturally flexible and my spine is built differently. The top thoracic section is normal but on the lower thoracic section – about six or seven vertebrae – my vertebrae are slightly smaller or further apart, so there's more range of movement. When you bend there is only a certain amount of space you can bend into. But basically one part of my spine is like a hinge and can bend all the way back."
Although she still has family in Christchurch, her parents moved to the Gold Coast when she was two where the climate was better for her father's health. He suffered from what he likens to an arthritic condition of the spine but – having been to Australia on holiday before Lucia was born – they knew the warmer climate ameliorated it. They also adopted a different diet.
"I was brought up with that diet because I had the gene marker for the condition. But in a female there's only an eight percent change you will develop the condition, but in a male it is 50:50. So for my father's sake we were brought up gluten-free, wheat-free, dairy-free, sugar-free . . .
"On tour I can eat wheat and sugar, which I did initially because it was, "Yes! My opportunity to eat whatever I want'. But the difference in my flexibility was marked. Partly because of my father's condition I'm prone to certain inflammation in my neck and spine and when I'm contorting I can instantly feel the resistance [if I don't observe my usual diet]."
Carbines says she was that little girl who wanted to run away and join the circus and as a child was a daredevil and performer.
"Mum used to say when we had guests over I would clear the table and do performances on it.
"From the age of three I started doing ballet until I got bored. I'm quite easily bored but I did that for five years. I had the bone structure and physique for it although I wasn't tall. I had a massive growth spurt at 14. My ballet teacher wanted me to train five days a week but told me I wouldn't be able to climb trees, jump on a trampoline and do anything else. So saying that to me made me quit ballet."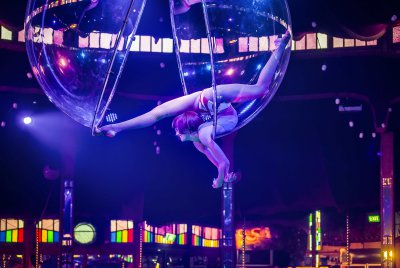 After a short period in a Steiner school, she was home-schooled, did classes in tap dancing and jazz ballet, joined musical theater productions and "at 11 found horse vaulting, on a real horse as you'd see in the circus".
She won a national championship at 12 but fractured a vertebrae in her neck when the horse she was on halted abruptly.
"I was standing on the horse while it was cantering. They'd put me on one of the newer horses because I was the most confident, but she got a scare and I went flying over and landed head first. It healed really well and I had a neck brace for six weeks which I didn't like the look of, but it healed well. I have a string neck from training in trapeze.
"Mum was terrified of that sport so was looking for something so I could move on from vaulting, Also there's nowhere to go from there because you just win medals. There's no career and it's just a sport for fun.
So she joined an aerialist academy at 14 and learned performing on swings and silk ropes: "It was exciting and I could progress on my skill base. Through it I found I was extremely flexible so started training in contortion. What I do now is an aerial contortion routine.
"I loved to dance but always found it a little boring. As a child I wanted to do more and the horse riding was thrilling, but the aerialing was different. I loved that it was in the air, I loved the heights and doing the drops when you wrap yourself up in a combination and do the drop and unwrap.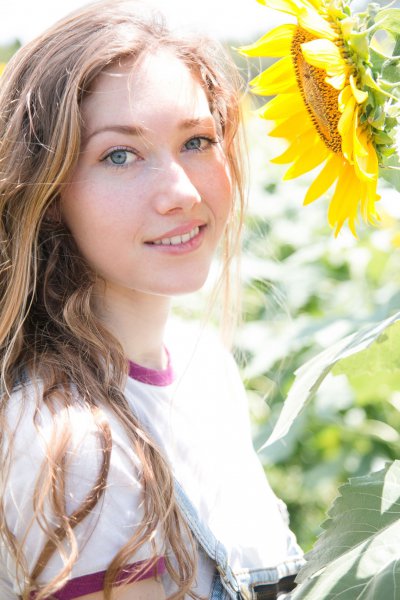 "I was also finding with horse vaulting or other sports your progression relied on the animal or the thing you were using, so it was hard to move forward. I found that frustrating because I was always wanting to get better and better.
"So as soon as I started aerial it was something that was exciting but I could also progress in purely on my skill base. And it had other possibilities."
At Aerial Angels on the Gold Coast she trained fulltime and was an assistant teacher in children's classes.
"At 16 I took classes but joined their professional training team in a back-up role. Officially you had to be 18 because they did corporate functions, say JetStar's Christmas party or events at the Gold Coast or Brisbane Casino. And we did some in Papua New Guinea and Hong Kong.
"So I was the backup. If any one of the six others got sick I could step in, and at 17 they just decided to let me perform anyway. So I did that for a year."
Aerial Angels created a separate company for other shows and that lead to a six week production at Jupiter's Casino called Lumiere with acts from Russia and the Ukraine. Through that she met Phoenix Harrison who was a motorbike performer and did the Wheel of Death, and they thought they could work together.
She got the call to join Empire in Melbourne last year when she was 42 metres in the air training for a motorcycle act on the high wire which she and Harrison were performing at the Grand Prix Formula 1 event. The company's contortionist had appendicitis and Carbine had 24 hours to learn the routine.
"The sphere has unique problems: It's aerial but spinning so there's no focal point which makes it more disorientating. It's also you can see the audience looking at you, and it's slippery although the spray helps. I had to learn not to look out at people but look at my foot. But now I love seeing the audiences' faces.
"This was always what I wanted to do, and it still is. But I never expected to be here so quickly. When I was an aerialist doing corporate events I was thinking, 'In five years I want to be in a world class touring circus show' and a year later I was here. It's everything I want it to be, but I'm not going to be doing this forever."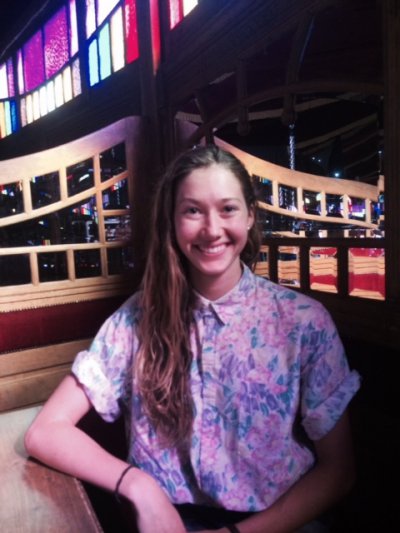 She says where once Cirque du Soleil used to be top of the totem pole for aspiring performers "and still is in many ways", it has been going for a while and in recent times many others shows – like Empire which she expects to be with for two years – are popping up and are on a par with the famous company of out Montreal, where she will be going with Empire soon.
She constantly teaches herself new routines, is working up a pole act and attends an aerial studio in Auckland to keep up her skills in that area: "It's right on Queen St, above McDonald's," she laughs.
"We have Mondays off but we always go to beautiful attraction so we end up taking circus photos, so we are always doing handstands and contortions for a scenic photo on a Monday.
"But with shows like this – 10 shows a week – I generally leave my training to the show and train before the show a few days a week to work on new moves, new tricks. Before the show I warm up and during the show where there is the branch balance act – that goes for 15 minutes – I go backstage and do abs and handstand work and do a hard core workout."
When she can't perform any more she might travel and offer seminars. She is working out how to brand herself and her partner is starting to create a website for her.
"If I can't perform any more when I'm maybe 30, maybe 28 – or I might have had enough at 26 – seminars are a good way of going and you can travel with those as an ex-performer. You can market it for people who are into fitness and wanting it for those reasons."
She could perhaps open her own studio?
"Yes, but the same studio every day? I'd get very bored."
Empire is at the Spiegeltent, Daldy St, Wynyard Quarter until February 15 (no shows Monday). Performance photos here by Danielle Colvin, used with permission.