Graham Reid | | 1 min read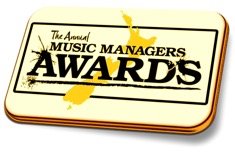 In the past two decades a very clear music business has emerged in New Zealand.
Being a musician is a viable career option these days – it's still going to be struggle however – but around the songmaker are circles of support, notably band managers who negotiate the minefield of contracts, record companies, distribution and touring.
And then some.
Getting a manager – the right manager – is one of the most important career decisions any musician can make. These days for most artists, having a manager is imperative . . . although there are a few artists who are self-managed.
And hats off to them.
The Music Managers Forum is an organisation which acknowledges and supports the role of managers, and the annual MMF Music Managers Awards celebrates the very best of those New Zealand music managers who support their artists every step of the way. The awards have become one of this country's most respected music industry events, with attendance from managers, industry professionals and artists.
This year's MMF Music Managers Awards will be held at The Tuning Fork in Auckland on Wednesday 11 May.
The finalists for this year's awards are:
Recorded Music NZ Manager of The Year
Alastair Burns (Marlon Williams, Julia Jacklin)
Ashley Page (Broods, Jarryd James, Joel Little, Alex Hope)
Scott Maclachlan (Sol3 Mio, Leisure, Thomston, Parson James)
Breakthrough Manager of The Year
Alastair Burns (Marlon Williams, Julia Jacklin)
Jaz Kapow (Bailey Wiley, Laughton Kora)
Mel Parsons (Mel Parsons)
NZ Music Commission International Achievement
Alastair Burns (Marlon Williams, Julia Jacklin)
Ashley Page (Broods, Jarryd James, Joel Little, Alex Hope)
Scott Maclachlan (Sol3 Mio, Leisure, Thomston, Parson James)
Self-Managed Artist of The Year
Mel Parsons (Mel Parsons)
Nick Atkinson (Hopetoun Brown)
Tami Neilson (Tami Neilson)
Best Independent Tour
James Southgate (Devilskin 'Mountains and the Moon' Tour)
Mel Parsons ('Drylands' Album Release Tour April/May 2015, Theatre Tour Oct/Nov 2015)
Teresa Patterson (I Am Giant 'Kiss From A Ghost' Album Release Tour)
OneMusic Best Small Venue
San Fran, Wellington
The Tuning Fork, Auckland
The Wine Cellar, Auckland
OneMusic Best Large Venue
Isaac Theatre Royal, Christchurch
The Powerstation, Auckland
The Studio, Auckland