Graham Reid | | 4 min read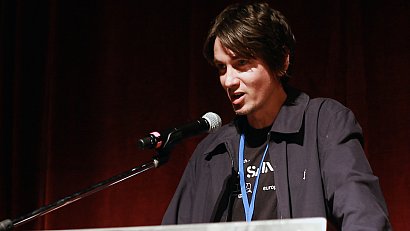 With the Going Global Music Summit about to land on our shores -- at various venues and locations in Auckland this coming weekend Sept 1 and 2 (for details opf speakers, artists and events see the link below), it is timely to let some of the delegates have their say about their experiences in the music industry, what sounds shake their tree, what's going in their world and maybe reveal something persnal about their interests and incentives.
We start with Sydney-based journalist Lars Brandle of the music industry bible Billboard. . .
What five songs would best depict the soundtrack to your day, today?
I started my day in Sydney's Kings Cross with an all-body hangover. Aphex Twin, "#3"; Easybeats, "Friday on my Mind"; The Monkees "Daydream Believer"; Trevino, "Eclipse"; Ariel Pink, "Put Your Number in My Phone."
What is your favourite music-associated movie, and why?
Music biopics are usually terrible so I'd typically go with a documentary, like "Lemmy" directed by my good mate Wes Orshoski. If I must choose a feature film I'd go with "The Runaways," a great snapshot of a life we'll never live and Michael Shannon is perfectly creepy as their manager Kim Fowley. Honourable mention goes to the David Bowie-starring "The Man Who Fell to Earth," which is part fiction, part documentary.
What is the craziest music industry experience you have had?
Too many to mention. I've attended Midem in Cannnes, Popkomm in Berlin and Cologne, moderated a panel with Nile Rodgers at Amsterdam Dance Event. Hung out with David Gilmore at The Ivor Novello Awards, drunk way too much at the NMEs, Brits, ARIAs, Mercury Prize, APRAs, Kerrangs, The MTV Europe Music Awards
I saw Adele's first showcase at Madam JoJo's in Soho. Hung out backstage with Paul Weller at Royal Albert Hall, did a keynote interview with Paul Kelly on a rooftop in Perth and another with my hero Carl Cox on stage in Melbourne. Had long (separate) chats with Jimmy Barnes and The Prodigy's Leeroy Thornhill about soccer.
Craziest moment? That would be when I met Steve Jobs at the launch party for iTunes in Europe back in 2004 at London's Billingsgate Market. I was interviewing Universal Music boss Lucian Grainge for Billboard's lead story when Steve strolled in and started chatting away. I already had my recording device in hand so I aimed it at Jobs and asked a question. As he was responding, a freaked out Apple PR got her security guys to pull me away from their boss. It was all on the tape. It's pretty crazy for a journalist to get manhandled for speaking to the CEO at a press conference.
Do you have an amazing social media story pertaining to your business, either good or bad?
It's a crazy story in that the social media platforms I work with each day have such massive followings. I handle the socials for Billboard's Facebook and Twitter accounts each day. That's 9.5 million followers and 5.1 million followers. So with a few clicks I can reach out to roughly three times the population on NZ. And yes, I do regularly remind myself: "don't stuff it up."
What is the best social media campaign you have run?
The best campaigns are those who which attract millions of eyeballs. Which happen pretty regularly. When I last visited NZ for Going Global, I wrote a story on 14 NZ artists to watch.
I'm reliably informed it was a hugely popular post. So that's pretty neat. Stories I'm proudest of? There are so many. One that springs to mind is a tribute I worked on for the great David Bowie. My father, a multi-lingual, Swiss-born retired professor, assisted me with research by pouring through all the main European newspapers the day after Bowie's death. To write a tribute about your musical hero, with help from your dad, was pretty special. And we did a good job. We repeated the process again when we lost Prince a few months later.
What are your favourite music videos?
Aphex Twin, "Windowlicker"; Gooch Palms, "Hungry"; Arcadia; "Missing; The Pharcyde, "Drop;" Boards of Canada "Reach for the Dead"; The Verve, "Bittersweet Symphony"; HAIM, "If I Could Change Your Mind"; Foo Fighters, 'Everlong"; Duran Duran, "Girls on Film (night version)"
Have you ever been to New Zealand? If no, what are you expecting? If yes, what was the best part?
This will be my sixth visit dating back to 1985, when I was 12 and the cinema in Christchurch refused my entry to Mad Max III because I was underage. My wife and I found some cheap flights in 2009 and, after a drilling a few bottles of wine, booked them without bothering to study the map. Our flights took us to Christchurch, we needed to get to Hamilton. Small oversight, but it forced us to see the country on a roadtrip. My favourite experience was being snowed in at National Park a few years ago on a separate trip. I attended Going Global a few years ago and couldn't stop bragging about it to my friends. Catching new bands was a highlight.
What New Zealand bands are you listening to?
QUIX is making solid tunes. And like so many others, I tune in to Lorde. Broods and Gin Wigmore, a class act and should be a superstar.
What is your favourite long-haul airplane activity?
Drinking and watching movies.
What one song represents New Zealand, to you?
Split Enz, "Message to My Girl." The moment I hear those warm keys, I'm transported back to my childhood. My 10 year old daughter loves this song, it'll outlive all of us. There's a magic about so much of what the Enz did. Neil Finn is, quite obviously, a giant among songwriters.
Flat white, long black or fluffy?
Flat white, make it large. Two shots. In a takeaway cup. One raw sugar. Sorted.
For more details on the Going Global Music Summit check their website here.