Graham Reid | | 11 min read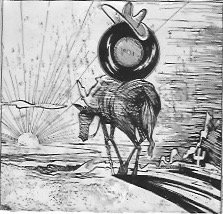 There was an article doing the internet rounds recently in which some sage from the US announced that the CD was "dead".
One of the things you learn if you've been around a bit is you are unwise to write anything off as dead.
I'd guess I've seen "rock is dead" being announced with certainty at least half a dozen times, but – yes, despite the prevalence of r'n'b and hip-hop on charts – rock music seems far from the grave.
Jazz isn't dead either, nor it seems is punk or folk. God, even rockabilly exists out there.
When it comes to technologies however we may be on firmer ground. Not a lot of people these days rely on a Walkman or have a Beta tape player.
The wind-up cylinder and turntable gramophones are most certainly moribund if not dead (I however have one of the latter) and despite some people's best efforts it is hard to see cassette tapes suddenly rising from their marginal position into mainstream acceptance again.
But you have to be careful.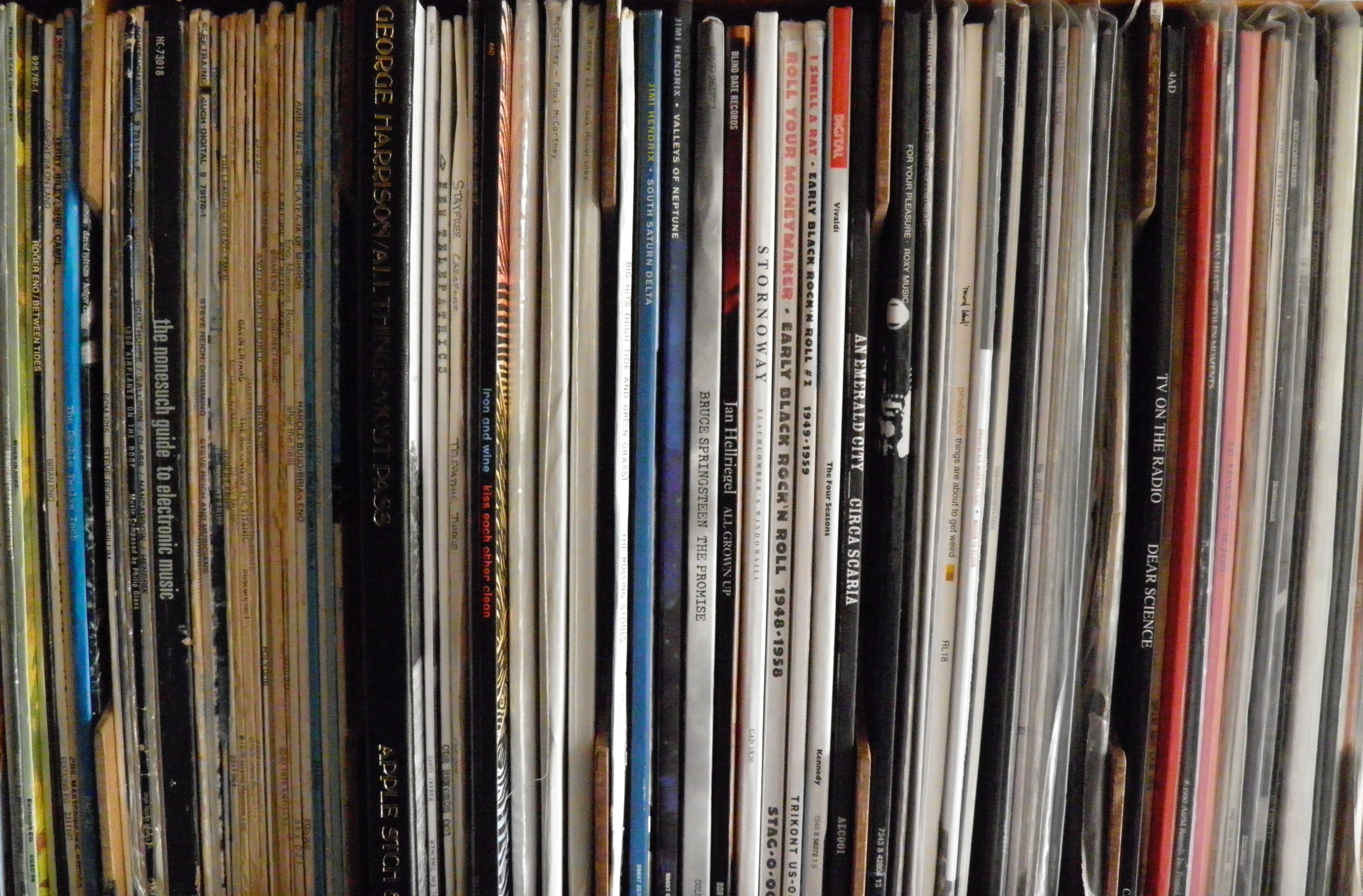 At some time in late Eighties/early Nineties I wrote a piece about the demise of the much loved record album – the LP if you will – and the article was illustrated by the Richard Dale image you see at the top of this page.
At the time it certainly seemed like records were indeed riding off into the sunset.
But . . .
Okay, the percentage increase in LP sales looks impressive but actual sales are modest. But they are growing incrementally and now carrying a record album is an important fashion accessory and signifier, just like when the schoolboy Mick Jagger approached Keith Richards when he saw him carrying a record by Chuck Berry.
Records are signifiers and signals, like wearing a band t-shirt. They announce you.
And as anyone over the age of hmm-manyyears will tell you, record shops were where you met friends, like-minded music fans, and crashing bores who knew more about the Groundhogs or Dinah Washington than you needed to hear.
Bands formed in record stores, or at least made the initial connections be they from a "guitarist wanted" poster or just people gravitating to same bin.
You don't have to be nostalgic to see the emotional, cultural and musical value in records and record stores.
So here comes Record Store Day again – Saturday April 13 – and while we may be cynical about the major companies repressing something from their vaults on red vinyl, there are still many tasty records released on that day which are enticements to get you back into a record store.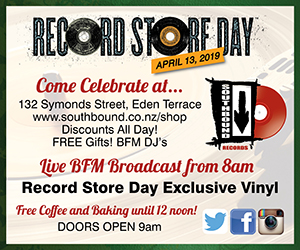 We here at Elsewhere are aware of the some events taking place around the country but we are just going to throw the spotlight on the record store closest to our place, the ever-popular and well-stocked Southbound Records which has everything from world music and jazz to mainstream pop and rock and stuff that exists in the margins and shadows.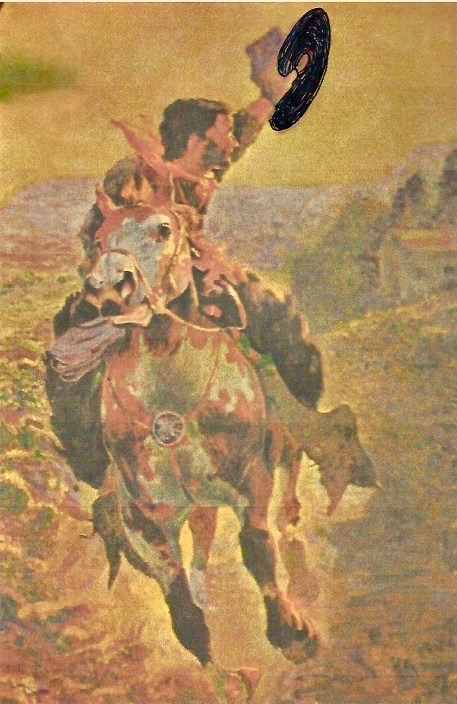 This year Southbound has 95bFM broadcasting live from 8-11am, followed by bFM DJs in-store all afternoon. And as part of creating a good experience they are offering customers some free old-fashioned home baking (believe me this is worth dropping by for!) and great coffee.
There will be discounts all day, free music-related gifts, and some of the best Record Store Day exclusive releases from around the world.
(Check their website here and they are at 132 Symonds Street, Eden Terrace in Auckland.)
From that extensive list of imports and releases we were just going to single out half a dozen as examples and enticements. But to hell with it, here below is the (almost) full list of what Southbound will have in stock on vinyl.
And while many will rabbit on about the superior sound quality or whatever we just want to add this: new records smell great!
Go in on Saturday April 13 and have a deep sniff.
Seems like vinyl, once riding into the sunset, is galloping back towards us again.

THE SOUTHBOUND LIST
A.R.KANE - New Clear Child VL
ACID MOTHERS TEMPLE - Does The Cosmic Shepherd Dream Of Electric Tapirs? VL
ALICE CLARK - Alice Clark LP
BANANARAMA - Drama 2LP
BANANARAMA - Viva 2LP
BANANARAMA - Bananarama Remixed: Vol 1 coloured 12"
BARDO POND - Big Laughing Jym VL
BARK PSYCHOSIS - Independency (singles Collection) VL
BASIL KIRCHIN - Worlds Within Worlds (Part I and II) LP
BLANCMANGE - Living On The Ceiling 12"
BLIND WILLIE MCTELL - Statesboro Blues/Three Women Blues 10"
BOOMBOX - 45 Box Set 7"Boxset
CHAPTERHOUSE - Whirlpool - The Original Recordings VL
CHUCK MOSLEY - Joe Haze Session #2 7"
CORNELL CAMPBELL - Greenwich Farm Sessions LP
CZARFACE - Double Dose Of Danger 12"w/Comic
DANIEL PEMBERTON - Black Mirror: Uss Callister (original Soundtrack) VL
DAVID J - V For Vendetta VL
DEXTER WANSEL - Life On Mars (Paul Simpson Funkin' On Mars Remix) 12"
DILLINGER - CB 200 LP
DJERV - DJERV (COLOURED VINYL) LP
DR JOHN - Recorded Live In Tokyo, Japan VL
DREAM SYNDICATE - The Days Of Wine & Roses VL
ED O.G & DA BULLDOGS - Life Of A Kid In The Ghetto LP
ELVIS PRESLEY - THE COMPLETE '50S MOVIE MASTERS & ALTERNATE RECORDINGS (2LP 180 GRAM VINYL 24 PAGE GATEFOLD) DLP
ELVIS PRESLEY - MADE IN GERMANY – PRIVATE RECORDINGS (2LP 180 GRAM VINYL 24 PAGE GATEFOLD) DLP
ERYKAH BADU & JAMES POYSER - Tempted 7"
GRAHAM PARKER - Squeezing Out Sparks - 40th Anniversary Solo Acoustic LP
GRODECK WHIPPERJENNY - The Grodeck Whipperjenny LP
GROUNDHOGS - Thank Christ For The Bomb (major Edition) VL
GROUNDHOGS - Thank Christ For The Bomb (private Press Edition) VL
HALF JAPANESE - Charmed Life VL
HAUNTED, THE - ROAD KILL DLP
HERBIE HANCOCK - Dedication LP
HOWE GELB - Dreaded Brown Recluse VL
HUMBLE PIE - OFFICIAL BOOTLEG COLLECTION VOL 1 2LP
IDLES - Meat Ep / Meta Ep VL
JACOBITES :- NIKKI SUDDEN , DAVE KUSWORTH - Robespierre's Velvet Basement VL
JACQUES BREL - Amsterdam 12"
JAMES BROWN - Sho Is Funky Down Here LP
JAZZ BUTCHER - Sex And Travel VL
JOHNNY THUNDERS - Que Sera, Sera (Resurrected) 2LP
JOSEPHINE FOSTER - Hazel Eyes I Will Lead You VL
KRISTIN HERSH - Crooked VL
LEE 'SCRATCH' PERRY - Lee 'Scratch' Perry and Friends – Back To The Ark 4LPboxset
LEE SCRATCH PERRY - Big Ben Rock (woodie Taylor Remix) VL
LEMONHEADS - Can't Forget / Wild Child VL
LILLINGTONS - Death By Television Picture Disc LP
MAL-ONE - Punk Times 7"
MARTY WILLSON-PIPER - Hanging Out In Heaven (Blue Vinyl) LP
MOONSPELL - LUSITANIAN METAL DLP
OBLITERATION - BLACK DEATH HORIZON (BROWN VINYL) LP
PETE ROCK - Return Of The SP1200 LP
PETER DOHERTY & THE PUTA MADRES - Who's Been Having You Over / Paradise Is Under Your Nose VL
POOH STICKS - The Great White Wonder VL
POPGUNS - Love Junky VL
REDSKINS - Bring It Down (This Insane Thing) red vinyl 10"
RHODRI DAVIES/DAVID SYLVIAN/MARK WASTELL - There Is No Love VL
ROBERT JOHNSON - Kind Hearted Woman Blues/Terraplane Blues 10"
ROBERT PARKER & WYNDER K. FROGG - Ep VL
ROGER GLOVER AND FRIENDS - THE BUTTERFLY BALL AND THE GRASSHOPPER'S FEAST 2LP
RUDY RAY MOORE - Return Of Dolemite: Superstar LP
SAMAEL - ERA ONE /LESSONS IN MAGIC #1 DLP
SLEEPER - Live EP Colour 12"
SPACEMEN 3 - Live In Europe 1989 VL
STUDIO ONE - Showcase 45 Box Set 7"Boxset
SUNN O))) - Life Metal CD
TANGERINE DREAM - POLAND: THE WARSAW CONCERT 2LP
TEENAGE FANCLUB - The King LP
TELEVISION PERSONALITIES - Some Kind Of Happening: Singles 1978-1989 VL
TELEVISION PERSONALITIES - Some Kind Of Trip: Singles 1990-1994 VL
THE FALL - Unutterable - Testa Rossa Monitor Mixes LP
THE FALL - IMPERIAL WAX SOLVENT LP
THE FALL - Astoria 1998 LP
THE FALL - Frankfurt 1993 DLP
THE FALL - Kings Lynn 1996 DLP
THE FALL- New Orleans 1981 DLP
THE FALL - Nijmegan 1999 LP
THE FUTURE SOUND OF LONDON - Yage 2019 LP
THE MIGHTY DIAMONDS - Thugs In The Street 2LP
THE MINUS 5 - Stroke Manor (Die Cut Cover) LP
THE NJE WITH ADRIAN SHERWOOD - Afloat In Dub VL
THE RESIDENTS - B.S. LP
THE WEDDING PRESENT - Davni Chasy 7"
TMNT - Turtles in Time Soundtrack 7"
VA - New Orleans Soul 68 VL
VA - New York Soul 1968 VL
VA - Mighty Instrumentals R&b Style 1964 VL
VA - Music For Dreams : Summer Sessions for Record Store Day 2019 LP
VA - AA Sessions Volume 1 LP
VA - The House That Cr2 Records Built 2 x 12" clear, heavyweight and numbered deluxe vinyl
VA - The Wit & Wisdom Of Donald Trump VL
VA - Soho Scene '59 (jazz Goes Mod) VL
VA - This Is Ska VL
VA - Max's SKAnsas City LP
VA - Texas Soul '68 VL
ZIAD RAHBANI - Abu Ali 12"
RSD-Alarm, The - Strength Live '85 [2LP] (most songs have never been released before in any form, limited to 1000, indie exclusive)
RSD-Alien Weaponry - Tu [LP+7''] (Brown & Orange Splatter Vinyl, limited to 500, indie exclusive)
RSD-Allman Brothers Band - Bear's Sonic Journals: Fillmore East. Feburary 1970 [LP] (glow in the dark poster, numbered/limited to 1500, indie exclusive)
RSD-Anderson East - Alive In Tennessee [2LP] (limited to 1000, indie advance exclusive)
RSD-Angelo Badalamenti, David Lynch - Twin Peaks: Season Two Music And More [2LP] (180 Gram, Dark Green & Blue Vinyl, gatefold, 16-page booklet, limited to 4000, indie exclusive)
RSD-Aretha Franklin - The Atlantic Singles 1967 [5x7'' Boxet] (featuring Aretha's five 7'' singles from 1967, limited to 2000, indie exclusive)
RSD-Art Ensemble Of Chicago - The Spiritual [LP] (180 Gram, Transparent Red Vinyl, new cover art, limited to 1500, indie exclusive)
RSD-B-52's, The - Mesopotamia [LP] (Opaque Light Blue Vinyl, limited to 2750, indie exclusive)
RSD-Bill Evans - Evans In England: Live At Ronnie Scott's [2LP] (180 Gram, liner note insert with rare photos, limited to 2000, indie exclusive)
RSD-Charlie Parker - Charlie Parker With Strings: The Alternate Takes [LP] (Blue Colored Vinyl, limited to 2500, indie exclusive)
RSD-Cheech & Chong - Up In Smoke [7''] (Marijuana-SHAPED Picture Disc, limited to 4000, indie exclusive)
RSD-Chic - Le Freak [12''] (2018 Oliver Heldens Remix on vinyl for the first time, limited to 2000, indie exclusive)
RSD-Crosby, Stills, Nash & Young - 4 Way Street (Expanded Edition) [3LP] (180 Gram, limited to 5000, indie exclusive)
RSD-David Bowie - Pin Ups (2015 Remastered Version) [LP] (Picture Disc, limited to 5500, indie exclusive)
RSD-Death Grips - Steroids (Crouching Tiger Hidden Gabber Megamix) [LP] (limited to 3500, indie exclusive)
RSD-Dennis Quaid & The Sharks - Out Of The Box [LP] (first time on vinyl, limited to 1000, indie exclusive)
RSD-Devo - This Is The DEVO Box [6LP] (Different Colored Vinyl corresponding to the color of the jacket, limited to 2750, indie exclusive)
RSD-Elvis Costello & The Imposters - Purse EP [LP] (4 songs co-written by Elvis Costello with Paul McCartney, Burt Bacharach, Johnny Cash and Bob Dylan, limited to 3000, indie exclusive)
RSD-Eric Clapton - One More Car One More Rider [3LP] (Clear Vinyl, gatefold, limited to 3000, indie exclusive)
RSD-Frank Black - Frank Black [LP] (Orange Vinyl, first time on vinyl in the U.S., limited to 2500, indie exclusive)
RSD-Generation X - Your Generation (Winstanley Mix) [7''] (Translucent Red Viny, two previously unreleased mixes, limited to 1500, indie exclusive)
RSD-Good Old Boys, The - Drink Up And Go Home: Live At Margarita's Cantina, Feb. 20 & 21, 1975 [2LP] (feat. Jerry Garcia, limited to 1200, indie exclusive)
RSD-Gorillaz - The Fall [LP] (Forest Green Vinyl, first time on vinyl in North America, limited to 5000, indie exclusive)
RSD-Grateful Dead - The Warfield, San Francisco, CA 10/9/80 [2LP] (limited to 6500, indie exclusive)
RSD-Greta Van Fleet - From The Fires [LP] (Purple Vinyl, first time on vinyl, limited to 1000, indie exclusive)
RSD-Hawkwind - The 1999 Party: Live At The Chicago Auditorium 21st March, 1974 [2LP] (first time on vinyl, gatefold, limited to 2500, indie exclusive)
RSD-Jeff Tweedy - WARMER [LP] (10 previously unavailable studio recordings, limited to 3500, indie exclusive)
RSD-Jeff Tweedy - WARMER [LP] (10 previously unavailable studio recordings, limited to 3500, indie exclusive)
RSD-Jerry Garcia Band - Electric On The Eel [4LP Boxset] (limited to 2000, indie exclusive)
RSD-Kool Keith - Complicated Trip [12''] (Multi-Etched Vinyl including Playable & Animated Etching, Parallel Multi-Groove, download, limited to 2000, indie-retail exclusive)
RSD-L7 - Burn Baby [7''] (Yellow Vinyl, limited to 1500, indie exclusive)
RSD-Leon Russell - Live At Gilley's [LP] (limited to 1500, indie exclusive)
RSD-Madonna - La Isla Bonita: Super Mix [LP] (Green Vinyl, replica of the Japan-only EP release, limited to 4500, indie exclusive)
RSD-Madonna - True Blue (Super Club Mix) [LP] (Blue Vinyl, replica of Japanese pressing, obi-strip, limited to 4500, indie exclusive)
RSD-Magpie Salute, The - The Killing Moon [10''] (Picture Disc, limited to 2000, indie exclusive)
RSD-Mastodon - Stairway To Nick John [10''] (memorial for the band's long-time manager Nick John, limited to 3500, indie exclusive)
RSD-Matthew Sweet - Pleasure Island, Live [LP] (Colored Vinyl, first time on vinyl, printed inner sleeve, limited to 1200, indie exclusive)
RSD-Olafur Arnalds - Re:member + String Quartets [LP+7''] (PVC transparent sleeve, limited to 1200, indie exclusive)
RSD-Otis Redding w/Booker T. & The M.G.'s + The Mar-Keys - Just Do It One More Time! Live At The Monterey Pop Festival [LP] (Marbled Red Vinyl, first time on vinyl, ltd to 3000, indie exclusive)
RSD-Parliaments, The - Baby I Owe You Something Good [LP] (limited to 2000, indie exclusive)
RSD-Queen - Bohemian Rhapsody / I'm In Love With My Car [7''] (Yellow & Purple Colored Vinyl, limited to 3000, indie exclusive)
RSD-Ramones, The - Live At The Palladium, New York, NY (12/31/79) [2LP] (first time on vinyl, numbered/limited to 3500, indie exclusive)
RSD-Rolling Stones, The - She's A Rainbow / Live At U Arena, Paris / 25.10.17 [10''] (Yellow Vinyl, one-sided, limited to 5000, indie exclusive)
RSD-Rolling Stones, The - Through The Past, Darkly (Big Hits Vol. 2) (UK) [LP] (180 Gram, Orange Vinyl, octogon gatefold, limited to 7000, indie exclusive)
RSD-Roots Radics - 12 Inches Of Dub [LP] (Colored Vinyl, sticker, limited to 1500, indie exclusive)
RSD-Roots Radics/Dub Syndicate - Dub The Planet Vol. 1 [LP] (Green Vinyl, limited to 1000, indie exclusive)
RSD-Roxy Music - Roxy Music - Remixed [2LP] (limited to 3000, indie exclusive)
RSD-RZA - Birth Of A Prince [2LP] (Blue Smoke Colored Vinyl, gatefold, first time on vinyl, limited to 1500, indie exclusive)
RSD-Skatalites, The - Greetings From Skamania [LP] (Green Vinyl, first time on vinyl, poster insert, limited to 800, indie exclusive)
RSD-Stereophonics - Live From Dakota [2LP] (180 Gram, White Vinyl, limited to 1500, indie exclusive)
RSD-Steve Gadd Band - Steve Gadd Band [2LP] (new Grammy-winning album from drum legend, gatefold, limited to 500, indie-advance exclusive)
RSD-Townes Van Zandt - The Best Of Townes Van Zandt [2LP] (180 Gram, Tigers Eye Colored Vinyl, gatefold, download, limited to 2000, indie exclusive)
RSD-U2 - The Europa [LP] (180 Gram, 4-page color insert, limited to 5000, indie exclusive)
RSD-Van Morrison - Astral Weeks Alternative [10''] (Mini LP, limited to 4500, indie exclusive)
RSD-Various Artists - Lost In Translation (Soundtrack) [LP] (Violet Colored Vinyl, limited to 3750, indie exclusive)
RSD-Various Artists - Malcom X (Soundtrack) [LP] (Translucent Red Vinyl, first time on vinyl in the U.S., limited to 1500, indie exclusive)
RSD-Various Artists - New Jack City (Soundtrack) [LP] (Silver Vinyl, first time on vinyl, limited to 1500, indie exclusive)
RSD-Various Artists - Sugar Hill Records: The 12'' D.J. Boxset [6x12'' Boxset] (many of the label's classic A-sides in their full length mixes, limited to 1500, indie exclusive)
RSD-Various Artists - Woodstock 3 Days Of Peace Music (Mono PA Version) [3LP] (actual Woodstock versions of several songs that have never been issued before, limited to 3750, indie exclusive)
RSD-Various Artists - Woodstock 3 Days Of Peace Music (Mono PA Version) [3LP] (actual Woodstock versions of several songs that have never been issued before, limited to 3750, indie exclusive)
RSD-Anderson .Paak - Bubblin' [7''] (Cream Colored Vinyl, limited to 3000, indie exclusive)
RSD-Buffalo Tom - Buffalo Tom (30th Anniversary) [LP] (180 Gram, Clear Vinyl, gatefold, poster, limited to 1200, indie exclusive)
RSD-Cecil Taylor - The Great Paris Concert [2LP] (180 Gram, limited to 2000, indie exclusive)
RSD-Courtney Barnett - Everybody Here Hates You [12''] (limited to 4500, indie exclusive)
RSD-Dr. Dre - Nuthin' But A ''G'' Thang [12''] (download, limited to 4000, indie exclusive)
RSD-Frank Black - Teenager Of The Year [2LP] (White Vinyl, first time on vinyl in the U.S., limited to 2500, indie exclusive)
RSD-High On Fire - Bat Salad [LP] (180 Gram, Clear with Black and Green Splatter Vinyl, download, feat. brand new song & 2 covers, limited to 4000, indie exclusive)
RSD-James Cotton - Late Night Blues (Live At The New Penelope Cafe) [LP] (new original cover art painting of the blues legend, limited to 1200, indie exclusive)
RSD-Lou Reed - Ecstasy [2LP] (reissue, limited to 3250, indie exclusive)
RSD-Marshall Allen, Danny Ray Thompson, Jamie Saft, Trevor Dunn, Balazs Pandi with Roswell Rudd - Ceremonial Healing [3LP] (Colored Vinyl, gatefold, limited to 1500, indie exclusive)
RSD-Mavericks, The / The Sweet Lizzy Project Split 45 - The Flower's In The Seed [7''] (limited to 1500, indie exclusive)
RSD-Ol' Dirty Bastard - Intoxicated [LP] ('Wu-Tang' Yellow Vinyl, download, limited to 2700, indie exclusive)
RSD-Prince - His Majesty's Pop Life / The Purple Mix Club [2LP] (replica of 1985 Japanese limited edition Prince release, limited to 7500, indie exclusive)
RSD-Robyn - Body Talk [2LP] (White Colored Vinyl, limited to 5000, indie exclusive)
RSD-Steve Earle - El Coyote / Don't Let The Sunshine Fool You [7''] (limited to 2000, indie exclusive)
RSD-Tony Joe White - Live From Austin, TX (Austin City Limits) [2LP] (White Vinyl, limited to 1500, indie exclusive)
RSD-Various Artists - Sun Records Curated by Record Store Day, Volume 6 [LP] (limited to 4000, indie exclusive)
RSD-Wes Montgomery - Back On Indiana Avenue: The Carroll DeCamp Recordings [2LP] (180 Gram, collection of previously-unissued recordings, limited to 1500, indie exclusive)