Graham Reid | | 3 min read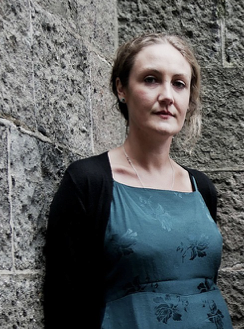 Lara Robertson is one half of the Dunedin rather tall folk duo called Tall Folk alongside Jack Ringhand.
Because their debut album Wiser is so impressive we invited each of them to answer two different Elsewhere questionnaires.
Jack from the US got the highly personal version and Lara here answers the songwriter version.
Although, of course, each could have answered the other.
As we said about Jack, these are not just excellent country-folk singers and songwriters, they are also interesting people.
They're on tour right now (dates at the end) and we commend their Wiser album to you which we reviewed very favourably.
But now it is Lara's turn . . .
.
The first song which made you think, 'Now that's a well crafted piece of work' was . . .
Californication by the Red Hot Chilli Peppers. It was the song that inspired me to start learning the guitar!
Complete this sentence: The first song I wrote was . . .
When I was 14 years old about a boy I fell for who was leaving for Australia. It included lines such as 'It felt so cold, like the window.. open' and the chorus: 'You've got to be strong in these tough times, the days still go on and the sun still shines, I won't forget all the good times, but I will remember to put the past behind'
The one songwriter you will always listen to, even if they disappointed you previously, is?
As songwriters: Lennon-McCartney or Jagger-Richards; Dolly Parton or Joan Baez; Johnny Cash or Kris Kristofferson, Lucinda Williams or Emmylou Harris?
Lennon-McCartney, Joan Baez, Johnny Cash and Emmylou Harris
The three songs (yours, or by others) you would love everyone to hear because they are well crafted are . . .
The three Tall Folk songs I'm most proud of are 'Empire', 'Could be Worse' and 'Wiser'
Melody first? Words or phrase first? Simultaneous?
For me it is simultaneous. I often play chords and sing along, if I end up liking it I'll record a voice memo on my phone/write it down.
If you could co-write with anyone it would be . . .
The last CD or vinyl album you bought was . . .
The last vinyl album I received for Christmas from my brother Bradley. It was Adrianne Lenker's songs/instrumentals
One song, royalties for life, never have to work again. The song by anyone, yourself included, which wouldn't embarrass you would be . . .
The title track 'Wiser' from our album
One line (or couplet) from a song -- yours or someone else's -- which you think is just a stone cold winner is . . .
"I find it hard to say, what's going on inside, got these little walls - couldn't break them if I tried' from Villagers' song 'Everything I am is Yours'. I love it when an artist can quite simply portray an emotion in their lyrics. This line is one that resonates with me every time I hear it.
Songwriting: what's the ratio of inspiration/perspiration?
I must admit without the inspiration the song writing doesn't seem to happen for me. I often use song-writing as a reflective tool when I feel the need to process a certain situation or understand better how I truly feel. It's been a great experience writing for Tall Folk as it has challenged me to widen my songwriting scope.
In terms of the songwriting itself I'll often sit down with my guitar and see if anything 'comes up' per se. If it doesn't I tend to leave it again. Sometimes I'll need to begin singing someone else's song to trick my brain into not realising I'm about to write my own- otherwise there is often a block and I can't write anything! Other times they can just come straight out - I just have to remember to push record - otherwise I might miss it.
Ever had a song come to you fully-formed like it dropped into your lap?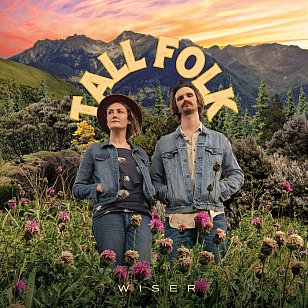 I've had a few like this - including 'Dani', 'Man Alone' and 'Wiser'. I find the songs of mine I end up liking the most have all fallen out as a full-formed piece. I haven't changed anything about these songs other than one chord in 'Man Alone' since they were originally written. 'Dani' for example took me 20 minutes to write.
And finally, finish this couplet in any way you like: "Standing at the airport with an empty suitcase at my feet . . ." (You are NOT allowed to rhyme that with "meet" however!)
'Wondering who's taken off with all my things down the street!'
.
You can hear and buy this album at bandcamp here
.
Tall Folk's Wiser tour dates
The Boathouse, Nelson, Jan 21
The Mussel Inn Onekaka, Jan 23
Meow, Wellington, Jan 26
Common Room Hastings, Jan 27
The Back Room, Thames, Jan 30
Leigh Sawmill, Leigh, Jan 31
Craft Beer & Food Festival, Dunedin, Feb 4 and 5
Christchurch Folk Music Club, Feb 13