Graham Reid | | 3 min read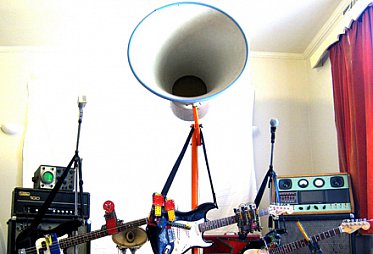 Standing at more than two metres tall and playing powerful rhythm guitar, Ham Hornhead of the Hamilton band the Trons, is a towering figure in New Zealand contemporary rock.
A distinctive vocalist but one rarely given to interviews, Hornhead prefers to let the music speak for him and the band of equally disciplined -- one might almost say, programmed -- players.
The Trons self-titled debut album of 2010 came with a DVD which perhaps explained their approach in greater detail than the often quite thriling music contained on the CD.
It proved that the true Tron experience is live -- and they play again soon, see details of their gig just north of Auckland at bottom of this Famous Elsewhere Questionnaire where the normally reluctant Hornhead bares, if not his soul, then at least the wire and rivets within . . .
The first piece of music which really affected you was…

Anything Could Happen by the Clean. The moment I heard it I built myself a 3 chord guitar and a motor hand and I was away!
Your first (possibly embarrassing) role models in music were…

Lennon or Jagger, Ramones or Nirvana, Madonna or Gaga, Jacko or Jay- Z?

Lennon, Ramones, Madonna, Jacko
If music was denied you, your other career choice would be…

Race car driver
The three songs (yours, or by others) you would love everyone to hear are…

La Dusseldorf – La Dusseldorf; Time's Up – The Trons; Saturday Night Stay at Home – The Suburban Reptiles
Any interesting, valuable, or just plain strange musical memorabilia at home?

Way too much stuff, but the fave is a 1957 record lathe from a defunct Hamilton recording booth which we now use to cut our records onto foil pie plates
The best book on music and musicians you have read is….

The Velvet Underground Uptight. In a stream of consciousness interview Lou Reed talks of his desire to build machines to make all the music. I really need to go visit him one day and say "Hi… can I join you band?"
If you could get on stage with anyone it would be…. (And you would play…?)

The previously mentioned Lou Reed ... and I would play Run Run Run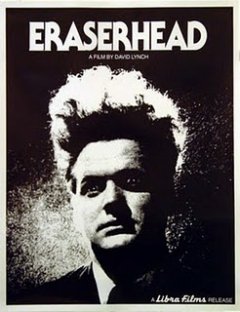 The three films you'd insist anybody watch cause they might understand you better are…

Eraserhead, Duel, Cherry 2000
The last CD or vinyl album you bought was.. (And your most recent downloads include…)

Gate: A Republic of Sadness. And also just acquired The Beatles White Album too. Time to stop dissing them and learn their ways!
One song, royalties for life, never have to work again. The Song by anyone, yourself included would be ….

Totally Wired, The Fall
The poster, album cover or piece of art could you live with on your bedroom forever would be …

Kraftwerk's Man Machine album cover
You are allowed just one tattoo and it is of …

Edison's first gramophone
David Bowie sang… "Five years, that's all we've got… " You would spend them where, doing…?

Touring in Europe, playing the craziest and the most beautiful spots we could find
And finally, in the nature of press conferences in Japan, "Can you tell me please why this is your best album ever?"

It's just us … who we are at the moment. It's real, man. Us the machines, being recorded by the machines, played by the machines.