Graham Reid | | 2 min read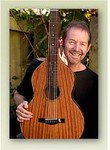 Wellington's Paddy Burgin is a wonder with wood. He can make it speak and sing. Burgin fashions it into guitars, some of which he plays in his band Paddy Burgin and the Wooden Box Band whose album My Sweet Town of 2009 was reviewed favourably at Elsewhere here for its intelligent music and literate lyrics.
Their most recent album is Gentle Landings and takes the form of emotional and literal journeys with members of the Phoenix Foundation, and it was recorded in Lee Prebble's Surgery studio.
Burgin put down his planes long enough to answer the Famous Elsewhere Questionnaire.
The first piece of music which really affected you was . . .

The second LP by the Band. I was mesmerised by the stories, tones and shades of their musical pictures.

Your first (possibly embarrassing) role models in music were . . .
Paul Simon and the Hollies.

Lennon or Jagger, Ramones or Nirvana, Madonna or Gaga, Jacko or Jay-Z?
Lennon

If music was denied you, your other career choice would be . . .
Makin' things with wood.

The three songs (yours, or by others) you would love everyone to hear are . . .
Lighthouse by Jessie James and the Outlaws. Second Life by the Dunstan Rangers. All the Right Reasons by the Jayhawks.

Any interesting, valuable or just plain strange musical memorabilia at home?
A guitar signed by the Chieftans. David Lindley's thumbnail.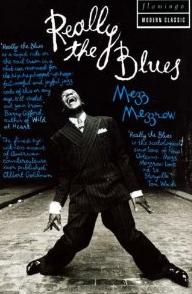 The best book on music or musicians you have read is . . .
Really the Blues, by Mezz Mezzrow. (1940s)

If you could get on stage with anyone it would be . . . (And you would play?)
Nina Simone and I would play the triangle.

The three films you'd insist anybody watch because they might understand you better are . . .
Secrets and Lies. Orlando. The Secret in their Eyes.

The last CD or vinyl album you bought was . . . (And your most recent downloads include . . .)
Vagabonds by Gary Louris (Jayhawks)

One song, royalties for life, never have to work again. The song by anyone, yourself included, which wouldn't embarrass you in that case would be . . .
Wood Girl from Gentle Landings.

The poster, album cover or piece of art could you live with on your bedroom forever would be . .
The original Lizzy Vullings painting which became the Gentle Landings cover.

You are allowed just one tattoo, and it is of . . .
No tattoos.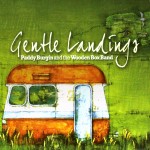 David Bowie sang, "Five years, that's all we've got . . ." You would spend them where, doing . . .?
Packing up the family and heading off to plant trees in remote parts of the world.

And finally, in the nature of press conferences in Japan, "Can you tell me please why this is your best album ever?"
I had a great time making Gentle Landings in the Surgery with some great musicians and engineers. I think it shows in the end result.