Graham Reid | | 1 min read
Savage -- known to his Samoan parents as Demetrius Savelio -- opens his new album Mayhem and Miracles with the assertion My Time. And if it is, it is his again because has already one major claim, the first New Zealand rapper to sell a million in the US (for his remix single Swing which appeared in the movie Knocked Up).
From success with Deceptikonz to a solo career, Savage has walked the line between hard edged rhymes and danceable rhythms. Tough but a sentimentalist, on the cover of the album holding a machete but also rapping about the importance of family and referencing the Bible. Mayhem and Miracles is reviewed here.
Time for Savage to answer The Famous Elsewhere Questionnaire.
The first piece of music which really affected you was . . .

?? HIP HOP obvious reasons
Your first (possibly embarrassing) role models in music were . . .
Bon Jovi and Milli Vanilli lol
Lennon or Jagger, Ramones or Nirvana, Madonna or Gaga, Jacko or Jay-Z?
Lennon, Nirvana, Neither, Jacko
If music was denied you, your other career choice would be . . .
Working with youth.
The three songs (yours, or by others) you would love everyone to hear are . . .
Twerk It, Because of You, and Swing .. lol
Any interesting, valuable or just plain strange musical memorabilia at home?
Lol. A piece of Xzibit tshirt that he threw off stage at the Big Day Out 2004 I think.
The best book on music or musicians you have read is . . .
How to learn the music business
If you could get on stage with anyone it would be . . . (And you would play?)
TuPac.. All eyes on me
The three films you'd insist anybody watch because they might understand you better are . . .
Menace to Society, Shawshank Redemption, and Lion King
The last CD or vinyl album you bought was . . . (And your most recent downloads include . . .)
Home Brew
One song, royalties for life, never have to work again. The song by anyone, yourself included, which wouldn't embarrass you in that case would be . . .
Tom Jones. It's Not Unusual.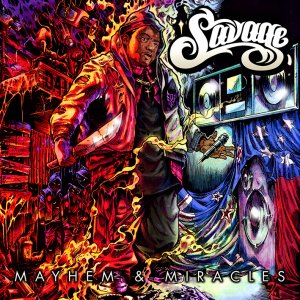 The poster, album cover or piece of art could you live with on your bedroom forever would be . . .
Definitely my Mayhem & Miracles cover art
You are allowed just one tattoo, and it is of . . .
My Hailo [daughter]
David Bowie sang, "Five years, that's all we've got . . ." You would spend them where, doing . . .?
Back to the islands, back to the Motherland..
And finally, in the nature of press conferences in Japan, "Can you tell me please why this is your best album ever?"
This album is a completion of my life. From beginning to now. Mayhem and Miracles.