Graham Reid | | 3 min read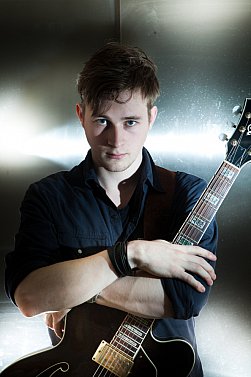 Every year many of the students in Auckland University's popular music course enter a Songwriter of the Year competition in which they perform their original songs backed by a professional band (and often with some fellow students pitching in).
This year's final was at the Raye Freedman Arts Centre on Thursday Sept 20 and Elsewhere thought we should throw the same questionnaire at the students as we did with the Apra Silver Scroll nominees (see here). Of course many of these students hadn't recorded their music (yet) so we can't post a track.
Here is Doug Robertson who is "armed with the sacred might of his wizardly spells, Doug has descended from the thunderous realm of fuzzy tones to command all mortals to trip out hypnotically and shake their tight, steamy buns. His eclectic fusion of Gypsy Jazz and Progressive Punk slithers its way into your noodle before migrating down to your pants area. From thereon in it's between you and the music. Doug tends to enter darker, more powerful dimensions when he performs, so be sure not to miss it." His Facebook page is here.
The first song which really affected you was . . .
Caught in the Middle - Dio. That was the wizardly, mystifying game changer.
Your first (possibly embarrassing) role models in music were . . .
I'll be honest, I was into my old, 80's metal, with the gorgeous spikes and leather and spandex and hair and uncomfortably high pitched vocals singing about mystic demon realms and slaying dragon kings.
The one songwriter you will always listen to, even if they disappointed you previously, is?
Joshua Homme, hands down. He has the Midas touch, and he touches your earholes so good.
As songwriters: Lennon-McCartney or Jagger-Richards; kd lang or Katy Perry; Madonna or Michael Jackson; Prince or Pink?
Jagger/Richards, Katy Perry, because I would totally go there, MJ, and really? You want me to compare Prince to Pink?
The three songs (yours, or by others) you would love everyone to hear because they are well crafted are . . .
"Ín the Fade" – Queens of the Stone Age, "Teenagers from Mars"- Misfits and my own "Pozzo on the Elephant" because I like plugging myself.
Melody first? Words or phrase first? Simultaneous?
I write in riffs. I start by conjuring up a sweet, fuzzy tone of seduction and destruction. Then my guitar oozes out a dark and strange, yet oddly satisfying riff like substance. Then I wander into the woods on a spirit quest until I have a story or a subject to write about.
The best book on music or musicians you have read is . . .
Music is just music. I don't think it's something that should be intellectualized into book form. I would rather shake my sexy buns to a good track than read about it.
If you could co-write with anyone it would be . . .
Would love to suss out some buzzy jams with Aaron Tokona.
The three songs you'd insist anybody listen to because they might understand your songwriting style better are . . .
"Feel Good Hit of the Summer" – Queens of the Stone Age, "Rhythm Futur" – Django Reinhardt and "Warsaw" – Them Crooked Vultures. Pretty much good rock. None of this Pink "hurr durr I'm such a rockstar" nonsense.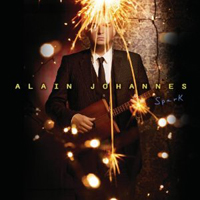 The last CD or vinyl album you bought was . . . (And your most recent downloads include . . .)
Alain Johannes, "Spark". Nobody can capture the sound of the desert quite like he can.
One song, royalties for life, never have to work again. The song by anyone, yourself included, which wouldn't embarrass you would be . . .
One of my Gypsy songs, "Avenue of Blues". Just to bring Gypsy Jazz back into the public eye. It's a fantasmagorically splendiferous genre that nobody plays anymore.
One line (or couplet) from a song -- yours or someone else's -- which you think is just a stone cold winner is . . .
"People in suits, they look so cute in hot pursuit of cash to buy the things that they don't need. Mature indeed"
Songwriting: what's the ratio of inspiration/perspiration?
Perspiration? I think not. If I feel inspired, I will write something, but I never stress, or strain over it. If a song doesn't feel right, I don't perspire over it, forcing it out is like some kind of deformed, rabid zombie baby - I wait until I feel inspired enough to make it into a song that does feel right. Songwriting is not a chore, it's a gift that you give to yourself that you want to share with others.
Ever had a song come to you fully-formed like it dropped into your lap?
Sometimes I get so Charlie Sheened that when I wake up the next morning, hungover and confused, I pick up a guitar and just play a random song that came to me, hardly remembering how or why I wrote it.
And finally, in the nature of press conferences in Japan, "Can you tell me please why this is your best song ever?"
This song is my super amazing best song ever in the world ever because it is my voice, my point of view, uncensored, unrestricted by what anybody else thinks, musically and lyrically. It grooves in a crooked way, for crooked people. It's driving music for villains and bandits.
To read the responses of other finalists in this competition go here.
To book tickets for the final: phone: 09 361 1000 or 0508 iTICKET If you are calling from outside of Auckland. Service fees may apply.
Concession may be claimed on production of suitable ID. $15 full price / $10 concessions / $5 school students