Graham Reid | | 5 min read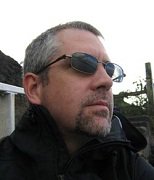 Jazz advocate and radio host Mark Robinson started buying 7" singles as a 10 year old back in 1974.
He was born in the Home Counties west of London and lived there until 27 then move up North. Seriously into soul, funk and jazz-funk until plunging heavily into jazz in late teens. He lived in Auckland for 18 years until relocating to Melbourne and has now been in Adelaide a few years ago.
In Auckland he presented It's A Jazz Thing from 2pm to 4pm every Sunday afternoon on George FM, ran the George Jazz internet station for three years, help start the Creative Jazz Club with Caroline Moon and Roger Manins.
He also hosted and MC'd at the Queenstown Jazz Festival for several years, presented shows on the wonderful low-power station KFM for a couple of years and in Melbourne presented various jazz shows on PBS 106.7FM .
He currently presents Primetime Jazz four times a month on Radio Adelaide (see here).
He admits to being passionate about music and radio broadcasting (and wine, food, travel, movies, books and life in general). And now he answers our questionnaire . . .
The first piece of music, jazz or otherwise, which really affected you was . . ?
Very hard to remember. I do remember as a 10 year old being given some cash for my birthday to buy some singles. I shudder to admit that the purchases were top 10 pop songs at the time (1974). The tune that I think affected me the most at that time was "Claire" by Gilbert O'Sullivan.
When did you first realise this jazz thing was for you?
I'd always been surrounded by jazz from my father's record collection and listening preference when at home. I began to take the music seriously in my early teenage years. As a 14 year old in 1978, slap bang in the middle of the "disco" era I realised that I preferred the "jazzier" side of the music (jazz funk) by bands such as "Players Association", "The Blackbyrds", "Spyro Gyra" etc. This opened the door for me into the amazing world of record collection and jazz.
What one piece of music would you play to a 15-year old into rock music to show them, 'This is jazz, and this is how it works'?
I tried this all the time when my daughter was 15 but it didn't work!!
For someone into rock at that age we'd have to ease them in via the jazz-rock music of Zappa perhaps? So I'll go for "St Etienne" from "Jazz From Hell". Although a ballad tempo the track speaks volumes.
Time travel allows you go back to experience great jazz. You would go to . . ?
I don't think many would miss the opportunity to go back to July 6, 1948
Onyx Club, 52nd Street New York to witness Charlie Parker's band. The gig that night was recorded on a tape recorder and has been released (remastered in 1994) on CD. The band that night perhaps the greatest in jazz history beginning to come to terms with Bird's new view on music;
Charlie Parker - alto saxophone
Miles Davis - trumpet
Duke Jordan - piano
Tommy Potter - bass
Max Roach - drums
Just imagine being at the corner of a very dark and smoky bar wondering what the hell those cats on the stand were doing!!!
Which period of Miles Davis' career do you most relate to, and why: the acoustic Fifties; his orchestrated albums with Gil Evans; the fusion of the late Sixties; street funk of the Seventies or the Tutu album and beyond in the Eighties . . .
Tutu and Amandla were released during the mid and late Eighties when I was mid 20s and therefore able to see Miles live in London at that time. I was on a ferry from travelling from the island of Tioman to Malaysia mainland having been out of contact with "civilization" for a few weeks when I read in the Malaysian Times of Mile's death. The memory of reading that article 24 years ago stays with me. For that reason I relate to that period more than any other. However I will only listen to those releases perhaps once a year whereas I will listen to releases from the "acoustic 50s" at least once a week. Coltrane's solo on "Flamenco Sketches" is, to my ears, one of the most beautiful passages of music ever recorded.
Any interesting, valuable or just plain strange musical memorabilia at home?
Mono first NZ vinyl pressing of "Kind of Blue.
100s of concert ticket stubs
Security passes from Soul Weekenders from Bognor, Caister, Prestatyn, Southport Soul Weekenders going back to 1987
Autographed (in person) black and white Spyro Gyra band photo
Frank Gibson signed vinyl copy of "Space Case 1"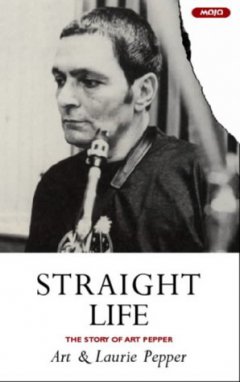 The best book on the jazz life you have read is . . .
Art Pepper – Straight Life
If you could get on stage with anyone it would be . . . (And you would play?)
Dave Weckl – I'd play electric bass and we'd kick arse!!!
The three films you'd insist anybody watch because they might understand you better are . . .
Arthur (original Dudley Moore version) (comedy)
Blade Runner (philosophy)
Round Midnight (Dexter Gordon) (love of sound)
The last CD or vinyl album you bought was . . . (And your most recent downloads include . . .)
Last vinyl was Thurston Moore – Demolished Thoughts
Last CD was a bloody long time ago and probably second hand from Real Groovy, Auckland before I moved to Oz
Last download – I get a lot of promo downloads for the radio show so they don't count. Last download I paid for was from Bandcamp "Allan Browne Trio with Marc Hannaford and Samuel Pankhurst - Aries (Williams ver.)"
One jazz standard you wished you had written . . .
Stolen Moments – Oliver Nelson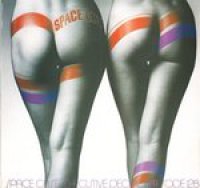 The poster, album cover or piece of art could you live with on your bedroom forever would be . . .
Space Case, Executive Decision
Three non-jazz albums for a desert island would be . . ?
Greetings From Asbury Park – Bruce Springsteen
Greatest Hits – Luther Vandross
The Whole Love – Wilco
Your dream band of musicians (living or dead) would be . . ?
Billy Cobham – Drums
Stanley Clarke – Bass
Airto Moreira – Percussion
Lyle Mays and Joe Zawinul – Electric Keys
Herbie Hancock – acoustic grand piano
Pat Metheny – Guitars
Mike Mainieri – Vibes
Michael Brecker – Tenor Sax
John Coltrane – Soprano Sax
Pepper Adams – Baritone Sax
Charlie Parker – Alto Sax
Steve Ture – Trombone
Roger Fox – Trombone
Miles Davis – Trumpet
Chet Baker - Trumpet
Dave Valentine – Flute
Marcus Miller – Bass Clarinet
John Luc Ponty – Violin
Cassandra Wilson – Vocals
Chakha Khan – Background Vocals
Luther Vandross - Background Vocals
Rachel Ferrell - Background Vocals
Gil Evens - Arranger
And finally, is there a track on your most recent album you would love people to hear. And, if so, why that one?
I don't have an album release. However one track people should hear is anything on the Rattle Jazz label because Steve Garden is wonder a magnificent job showcasing NZ music