Graham Reid | | 3 min read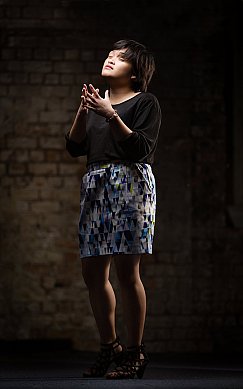 Every year Auckland University hosts a showcase for their talented music students. This year in addition to the five finalists for songwriter of the year there are also categories for best vocalist, best lyricist, best instrumentalist, best arranger and best song.
It's a big night with judges from the top of the music industry and once again Elsewhere is pleased to introduce the finalists for the songwriter category.
Details on the the where/when of the event are below, but meantime let's introduce one of the second year music students . . .
Ethereal, vibrant and heartfelt, Shana' Llorando's sound brings a striking mix of soul and synth that is known to move audiences. The core of Shana's music is passion and honesty. Whether it is through her carefully crafted lyrics, expressive vocals, colourful arrangements or charismatic stage presence, Shana strives to connect and resonate with anyone who listens. With that genuine notion, it's no wonder why people pay attention.
Her website is here.
The first song which really affected you was . . .

One Sweet Day' by Mariah Carey and Boys II Men. I don't know if this was the first song, but I remember singing it with my dad when I was about three and really getting into it!
Your first (possibly embarrassing) role models in music were . . .
I'm not going to lie – I wanted to be Britney Spears, Mariah Carey or one of the Spice Girls and marry a Backstreet Boy. Deep down inside, I probably still do.
The one songwriter you will always listen to, even if they disappointed you previously, is?
This is a hard question, because I have songs I always listen to as opposed to songwriters. If I had to pick, probably Alicia Keys.
As songwriters: Lennon-McCartney or Jagger-Richards; kd lang or Katy Perry; Madonna or Michael Jackson; Prince or Pink?
Lennon-McCartney, Katy Perry, Michael Jackson and Pink
The three songs (yours, or by others) you would love everyone to hear because they are well crafted are . . .
Depends! At the moment, 'Paradise' by Coldplay, 'Just Wanna Say' by Israel Houghton and 'I Would Do Anything For You' by Foster the People. Judging by these songs, I guess I'm buzzing out over the arrangement and structure side of things.
Melody first? Words or phrase first? Simultaneous?
Melody first, then I try to fit the lyrics into the melody. It means I'm quite picky with the words I use; they have to scan well, have the right vowel sounds and number of syllables. It also means I don't quite know what the song is about until the end.
The best book on music or musicians you have read is . . .
I'm not much of a reader, but I love watching 'behind the scenes' documentaries/videos of musicians. The last one I watched was Talahina Sky about the Kings of Leon, which was pretty interesting. I'm a massive fan of those guys!
If you could co-write with anyone it would be . . .
Lauryn Hill. I'd probably just fan-girl and feel too scared to write anything, but it would be awesome to learn her writing process – especially writing raps, which I'd love to do but have no guts for! Other than that, it would be great to pick the brains of Mark Foster or Chris Martin.
The three songs you'd insist anybody listen to because they might understand your songwriting style better are . . .
Cut It Out' by Kitten, 'Imagine It Was Us' by Jessie Ware and 'Brand New Me' by Alicia Keys.
The last CD or vinyl album you bought was . . . (And your most recent downloads include . . .)
The last CD I bought was Passion Pit's 'Gossamer', but that was a while back! I've recently subscribed to Spotify, so the most recent downloads off that have been Jessie Ware's 'Devotion', Foster the People's 'Torches' and Mayer Hawthorne's 'Where Does This Door Go?'
One song, royalties for life, never have to work again. The song by anyone, yourself included, which wouldn't embarrass you would be . . .
Doo Wop by Lauryn Hill. (But really, Thong Song by Sisqo - although I might be slightly embarrassed…)
One line (or couplet) from a song -- yours or someone else's -- which you think is just a stone cold winner is . . .
Turning the lights on won't turn me off' (from a song I wrote, called 'Broken Scars'). The line means a lot to me because it sums up the concept of perseverance and dreaming on, even when it gets tough…and man, does it get tough!
Songwriting: what's the ratio of inspiration/perspiration?
It really depends, especially on the song. Sometimes it's 90/10, other times its 50/50. I think the order is more important than the ratio. Inspiration definitely has to be there before any perspiration happens or else songwriting stops being fun, and the song suffers as a result.
Ever had a song come to you fully-formed like it dropped into your lap?
All the time! In all honesty, I thought that was how you wrote good songs – to wait for them to happen. I don't know about other songwriters, but I feel like my best songs come about this way, which is awesome but equally frustrating because I have no control over when these flipping songs turn up!
And finally, in the nature of press conferences in Japan, "Can you tell me please why this is your best song ever?"
Y'all know you have to go hard or go home. This song is a prime example of me choosing the former!
The University of Auckland's Songwriter of the Year Award 2013
Thursday 3 October 2013 7pm (for 7.30pm start)
The Maidment Theatre 8 Alfred Street, Auckland.
Tickets $5-$15. Book at the Maidment Theatre 09 308 2383.