Graham Reid | | 3 min read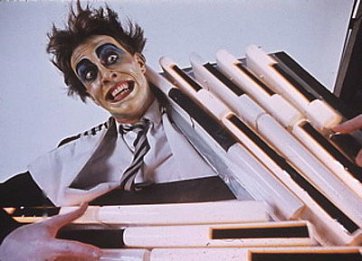 For the briefest moment Elsewhere considered adding "of Split Enz" after Eddie Rayner's name at the top. But that goes without saying and, in many ways, is far too limiting.
Since the heyday of Split Enz, the keyboardist without portfolio has built up an impressive CV which includes work with artists as diverse as Paul McCartney and The Orb, Crowded House and the Exponents.
He has released solo albums, done production work and notably wrote orchestral arrangements for a swathe of Split Enz songs which formed the backbone for the ENZSO projects (Enz and the NZSO) which became concerts and an album.
And now Rayner is back with another different take on the ENZSO concept, this time entitled ENZO, Stranger Than Fiction in which he helms a 15-piece ensemble through Spilt Enz material.
What is especially interesting is who is in the band: former Enz members Mike and Geoff Chunn, Emyln Crowether and Wally Wilkinson are there alongside guest vocalists Annie Crummer, Jackie Thomas, Tom Batchelor, Rikki Morris, Jesse Sheehan and Rima Te Waiata.
This one-off concert is at Auckland's St Mary's in Holy Trinity, Parnell on Saturday November 2. Time for Eddie Rayner to answer the Famous Elsewhere Questionnaire.
The first piece of music which really affected you was . . .
Chopsticks
Your first (possibly embarrassing) role models in music were . . .
Russ Conway, Keith Emerson, Winifred Atwell and Fred, my dad.
Lennon or Jagger, Ramones or Nirvana, Madonna or Gaga, Jacko or Jay-Z?
Difficult, they're all brilliant in their own way, some of them musically. Umm...Probably Lennon, then Jacko.
If music was denied you, your other career choice would be . . .
Furrier.
The three songs (yours, or by others) you would love everyone to hear are . . .
For Love, (Brian Baker/Eddie Rayner), In Pieces (Grace Brebner) and Silver Fern (Dave McArtney)
Any interesting, valuable or just plain strange musical memorabilia at home?
I'm a squirrel and keep at least one of everything..including loads of Enz memorabilia- reject photos, a huge ancient T-shirt collection, analogue keyboards... I have a virgin Space Waltz album, vintage radiograms, loads of 78s, a very unflattering sketch of me by Paul McCartney..
The best book on music or musicians you have read is . . .
Not having read books on musicians, I'd say John Thompson's Modern Course for the Piano.
If you could get on stage with anyone it would be . . .
I would have loved to have done a piano duet with Victor Borge or Dudley Moore. As it's now too late for that, playing with Don McGlashan would be my next choice.
The three films you'd insist anybody watch because they might understand you better are . . .
2001 A Space Odyssey, Good Fellas, Carry On Cleopatra.
The last CD or vinyl album you bought was . . .
Foxtrot by Genesis.. .I thought I should have gone for Yes' Tales from The Topographic Oceans, or King Crimson's 21st Century Schizoid Man... THAT"S how long ago I bought a CD or vinyl. Recently I downloaded Yours Is No Disgrace, by Yes. Magnificent.
One song, royalties for life, never have to work again. The song by anyone, yourself included, which wouldn't embarrass you in that case would be . . .
Summer Breeze by Seal and Crofts... or the amazing Alone Again Naturally by Gilbert O'Sullivan.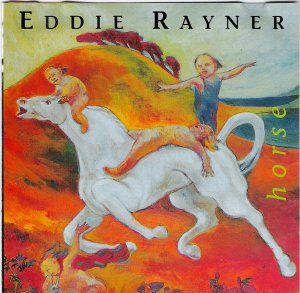 The poster, album cover or piece of art could you live with on your bedroom wall forever would be . . .
a painting by Raewyn Turner of a horse being ridden by four children, which happens to be on my wall, and which happens to be the cover of my Horse album.
You are allowed just one tattoo, and it is of . . .
a horse being ridden by 4 children.
David Bowie sang, "Five years, that's all we've got . . ." You would spend them where, doing . . .?
Mainly in my workroom, finishing projects, untangling my affairs, looking for my will and creating an easy-to-follow trail for those left behind...and I reckon I'd consume quite a lot of single-malt whiskey...
And finally, in the nature of press conferences in Japan, "Can you tell me please why this is your best album ever?"
Candid comments used to get me into trouble -the Enz guys called it 'clanger-dropping'...I was quite happy to admit that our latest album was a piece of crap..
Now I'm older and more circumspect, OF COURSE this is my best album ever?