Graham Reid | | 1 min read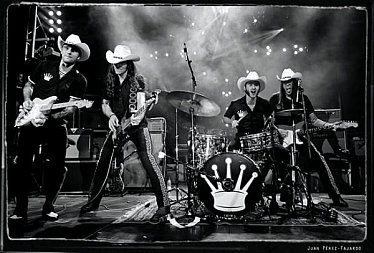 Guitarist David Krahe of the Spanish band Los Coronos wants to make one thing very clear, "We are not a flamenco band".
Certainly not. These guys kick in with twanging surf-influenced rock'n'roll with a Fifties/Sixties attitude and a distinctively Spanish sound woven through.
Since forming in Madrid in 1991 they have released four albums, toured widely in Europe and to Mexico, and this year join the Womad circuit for their first appearance in New Zealand.
Krahe, 43 and whose parents were musicians, grew up in Madrid and speaks Spanish, English, German and the international language of surf-rock.
He joins the list of Womad artists who have answered our questionnaire
Your first role models in music were . . .
Elvis Presley and Pepe Risi, the guitar player of a Seventies rock'n'roll band from Madrid called Burning.

If music was denied you, your other career choice would be . . .
Philology.

The three songs (yours, or by others) you would love everyone to hear are . . .
"Sweet Black Angel" by The Rolling Stones, "Cant dels Ocells" by Pau Casals, and the Spanish national anthem at the final match of the next FWC in Brazil.
Your favourite meal to share with friends would be . . .? (Care to share a simple recipe?)
Definitely Gazpacho, it's some kind of cold tomatoe soup, take a look on youtube here, it's delicious!
Do you have any upcoming releases (albums/ singles / videos) before March 2014?
In 2013 we've released two albums in a row, Adiós Sancho and El Extraño Viaje, so there are no plans of recording before March 2014.

What is your favourite thing about playing at WOMAD?
We expect to meet great people and awesome bands, I'm looking forward to meeting Pokey Lafarge, I missed his gig in Madrid and he's terrific.